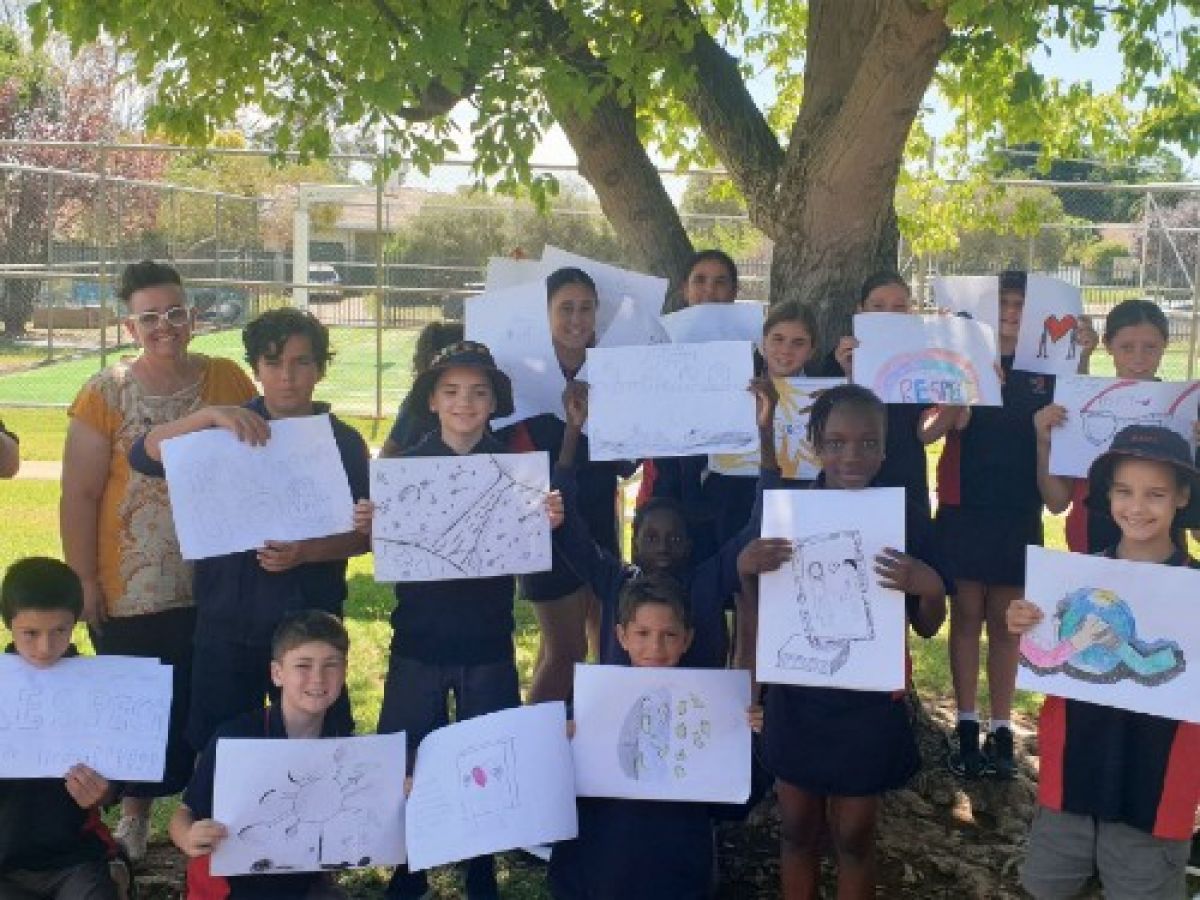 ---
Respect through art: children express their ideas about gender equity
Published: 24 Apr 2020 9:58am
Local students are learning about gender equity and respect as part of Enlighten for Equity, a youth-based initiative from the city's primary prevention project, theDVproject:2650.
Wagga Wagga City Council's Equity and Respect team commissioned Kamilaroi artist Juanita McLauchlan to work with over 800 primary school students, creating posters reflecting their understanding of equity and respect.
Red Hill Public School Assistant Principal Melissa Ristivojevic said teaching respect through art was a powerful way to involve students.
"Our students were able to represent their understanding through their drawings," said Ms Ristivojevic.
"They were inspired by Juanita and encouraged that everyone can be an artist and represent their understanding in different ways."
Sacred Heart Catholic Primary School teacher Tegan Cuthbert said it was extremely important for her students to be involved in the project.
"The students were able to eliminate stereotypes," said Ms Cuthbert.
"They subsequently changed and challenged previously prescribed opinions and points of view with clarity and a clear moral and ethical conscience."
Margaret Halicki, a teacher at Mater Dei Primary School, said students had embraced the opportunity to express their thoughts, ideas and opinions freely and creatively.
"The most important aspect of nurturing young minds is developing within them the principles of respect and respectful relationships," said Ms Halicki.
High school students studying design and technology will lead the second phase of the Enlighten for Equity project.
The students will be tasked with creating a series of interactive sculptures based on concepts and ideas developed in the primary school students' posters.
The sculptures will be permanently installed at Wagga Wagga's redeveloped Riverside precinct.
As students will be starting term two from home, planning is underway to accommodate virtual 3D tours of the Riverside precinct, ensuring students are able to map out their design requirements.
The final sculptures will be eagerly awaited by many young artists, keen to see what their high school counterparts make of their original artworks.
theDVproject:2650 was created to help educate the community on the causes of violence against women and their children, promote gender equality and respect for women, and challenge rigid gender roles and stereotypes. The three-year project is running until June 2021.
Find out more on the theDVproject:2650 page.