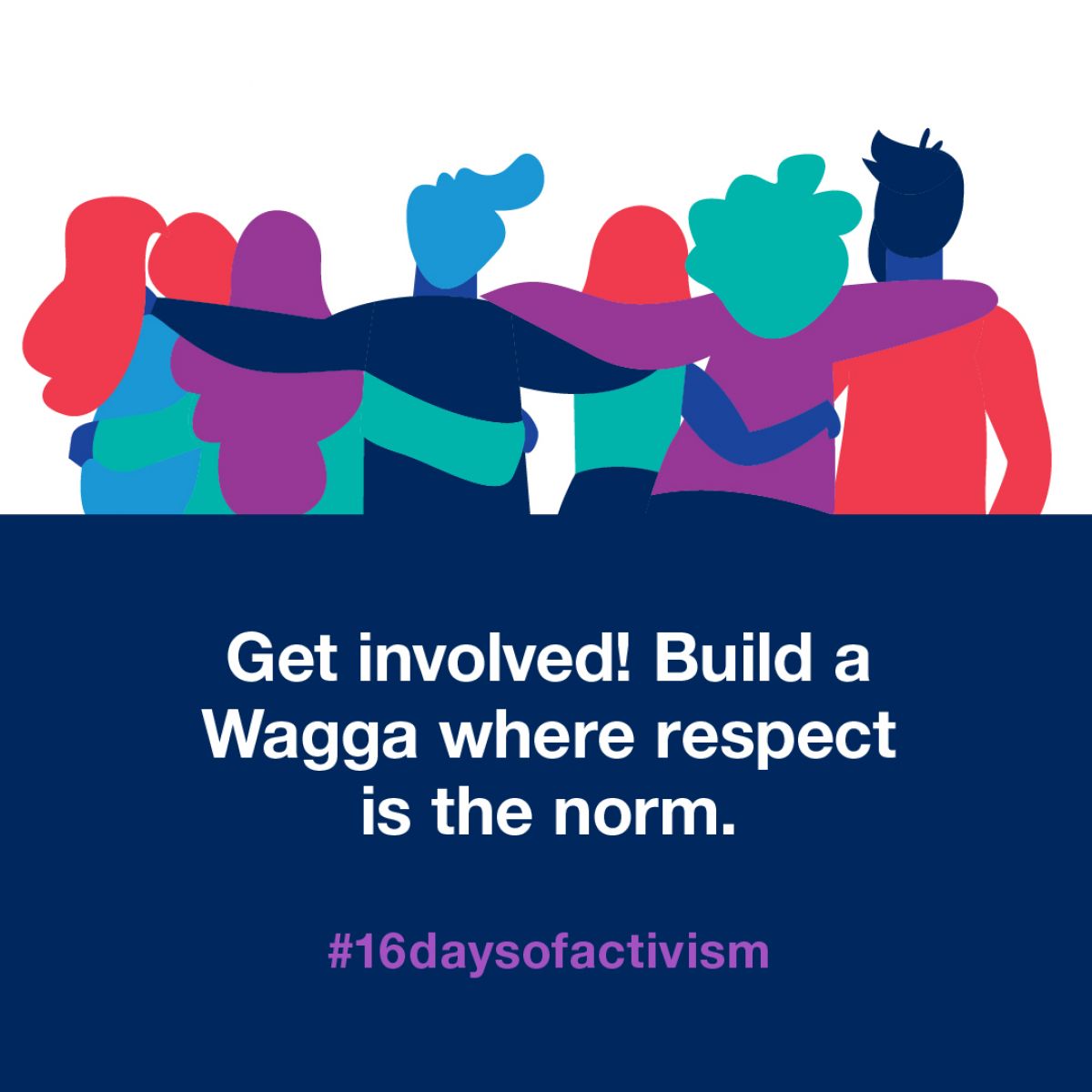 ---
Community
Local campaign against gender-based violence begins
Published: 20 Nov 2020 3:07pm
Wagga Wagga City Council is encouraging the community to get involved in the global 16 Days of Activism Against Gender-Based Violence campaign starting next week.
Emphasising the link between violence against women and human rights, the campaign starts on 25 November, the International Day for the Elimination of Violence against Women, and finishes on 10 December, Human Rights Day.
The campaign further embeds the efforts of theDVproject:2650, which Council runs in partnership with Wagga Women's Health Centre, to address the role equity and respect play in reducing domestic and family violence.
Equity Project Manager Maryna Bilousova said the campaign demonstrates a unified approach across the globe raising much needed awareness.
"Reaching 300 million people globally across 187 countries, the 16 Days of Activism campaign is a call to raise awareness about gender-based violence against women at national and international levels," Ms Bilousova said.
"Talking locally about campaigns like this will enhance our community's understanding of gender-based violence and serve as a reminder of our shared responsibility to make a long-term plan for prevention."
Ms Bilousova said that with a domestic and family violence rate 29.4 per cent higher than the NSW average, Wagga Wagga needs to do more to address disrespect and gender inequality.
"We need more education on the different forms of abuse which make up domestic and family violence. There are 10 forms of abuse, which go far beyond physical violence, things like emotional abuse or controlling someone's finances.
"It's important to remember that each of us can make a difference by reflecting on our words and actions, questioning an off-joke or a throwaway comment, or talking about respect with our family, friends and colleagues."
16 Days of Activism: local events open to all community members
Wednesday, 25 November, 9.00am–10.30am at Tolland Community Hub. Empowered women's morning tea. Community women are invited to attend a free morning tea.
Wednesday, 25 November, 9.00am–10.00am: online acknowledgement ceremony. Wagga Women's Health Centre, in partnership with male community leaders, are hosting a ceremony to acknowledge the women and their children who died due to domestic violence in the past year. For more information visit facebook.com/WaggaWomensHealth
Thursday, 10 December, 10.00am–1.00pm: Women's Domestic Violence Court Advocacy Service community event in the Victory Memorial Gardens. Come along and hear from local services and enjoy a free barbeque lunch.