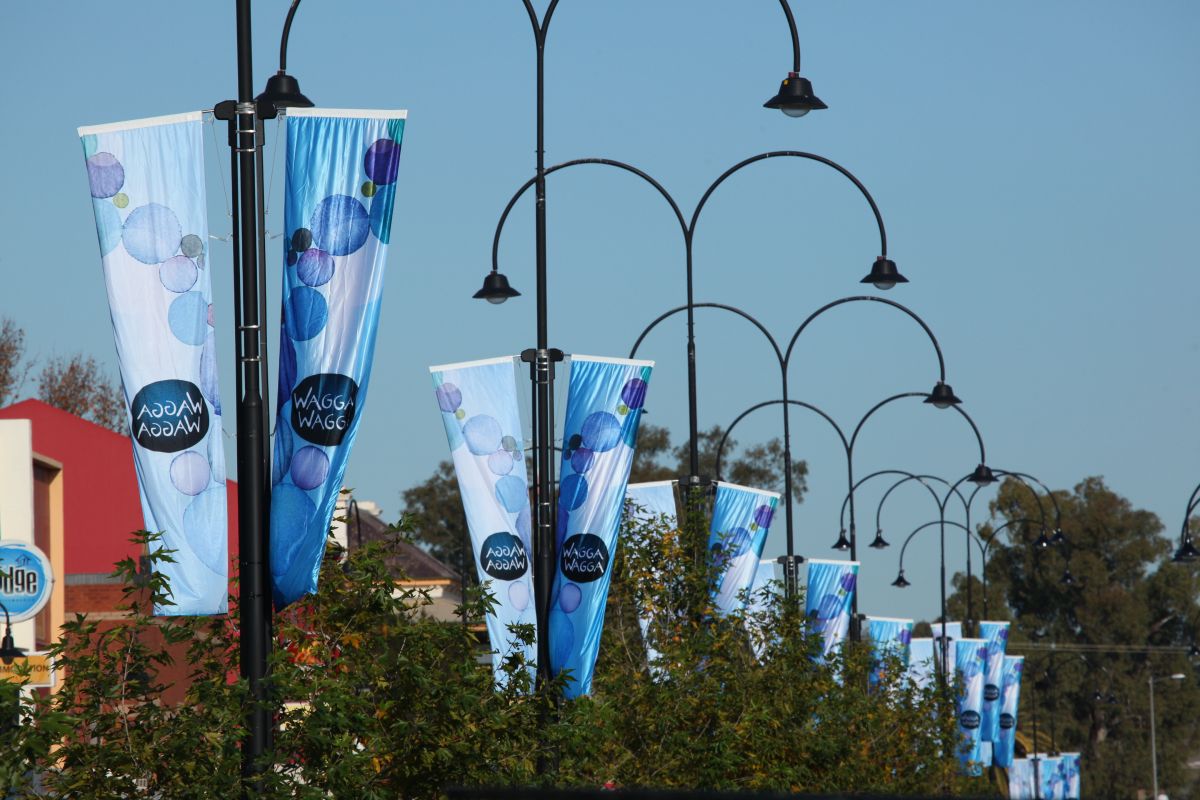 ---
Council
Summary of Council's 23 November 2020 Ordinary Meeting
Published: 23 Nov 2020 9:29pm
Friday night shopping trial in Wagga Wagga's CBD
Friday night shopping in Wagga Wagga's CBD will be trialled in the lead-up to Christmas after being endorsed by Council tonight.
Businesses in the city's CBD will be encouraged to remain open until 7pm on three Friday nights in December.
Greater use of the footpath will also be trialled to help ease congestion in stores and to create a more festive atmosphere.
Council approved an exemption from the need to obtain approval under the Activities on Footpath Policy (POL 041) for all businesses on Baylis and Fitzmaurice Streets on Fridays the 4th, 11th and 18th of December 2020 for dining, seating, goods display, signage and decorations.
A report to Council said during a recent Business Roundtable discussion, the Wagga Wagga Business Chamber presented a suggestion from their Central Activity District Committee members about the opportunity for greater utilisation of main street footpaths.
Thursday night shopping will continue in conjunction with the Friday night trial.
The initiative will support the "Live local" campaign as a CBD activity that attracts the community back into the heart of the city.
RP-12 FRIDAY NIGHT SHOPPING TRIAL - FOOTPATH ACTIVITY
Confidential information access report
Council has resolved againstreceiving a report that sets out the process of ability for Council to restrict the availability of confidential information to individuals found to have released confidential information in this term of Council and that is retrospective for this term of the Council.
The motion was put by Cr Paul Funnell.
NOM-1 NOTICE OF MOTION - COUNCIL INFORMATION
Support for reusable products rebate report
Council staff will investigate potential models for a reusable nappy and menstrual product rebate system to start in the 2021/22 financial year.
Councillors supported a Notice of Motion which also recognises the impacts of these products on the environment and the city's landfill.
The motion, put forward by Cr Vanessa Keenan, said a number of councils across Australia are implementing rebate systems in recognition of the benefits of waste diversion.
NOM-2 NOTICE OF MOTION - NAPPY AND MENSTRUAL PRODUCT REBATE
Development Applications approved
Council tonight approved two Development Applications:
DA20/0427 for demolition of existing dwelling and construction of three two-storey attached dwellings (multi dwelling housing) to be community title subdivided at 334 Edward Street Wagga Wagga, subject to conditions outlined in the Section 4.15 Assessment Report.
DA20/0442 for construction of dwelling and detached garage at 118 Lakehaven Drive Lake Albert, Lot 63 DP 1235752.
RP-1 DA20/0427 - DEMOLITION OF EXISTING DWELLING AND CONSTRUCTION OF THREE TWO-STOREY ATTACHED DWELLINGS (MULTI DWELLING HOUSING) TO BE COMMUNITY TITLE SUBDIVIDED AT LOT 9 DP 12441, 334 EDWARD STREET, WAGGA WAGGA, 2650
RP-2 DA20/0442 - CONSTRUCTION OF DWELLING AND DETACHED GARAGE - LOT 63 DP 1235752 118 LAKEHAVEN DRIVE LAKE ALBERT
Rocky Point Quarries DA enforcement
Council received an update report confirming the issue of an order for enforcement action for Development Application number DA09/0872, Rocky Point Quarries.
RP-3 ENFORCEMENT ACTION FOR DA09/0872
Financial Statements for 2019/20
Council has received the Audited Financial Statements, together with the Auditor's Reports, on the Financial Statements for the year ended 30 June 2020.
The 2019/20 financial statements show total income from continuing operations of $153.7M, total expenses from continuing operations of $132.7M, resulting in a net operating result for the year of $20.9M (including capital grants and contributions).
RP-4 PRESENTATION OF THE 2019/20 FINANCIAL STATEMENTS
Popularly elected Mayor referendum report
Council resolved to defera report outlining the process and indicative costs involved in the community consultation process to conduct a Constitutional Referendum for a popularly elected Mayor.
Councillors will consider components of the report at a workshop.
RP-5 CONSTITUTIONAL REFERENDUM - POPULARLY ELECTED MAYOR
Statistics for Code of Conduct complaints
A report outlining the costs associated with code of conduct complaints between 1 September 2019 to 31 August 2020 has been received by Council.
Staff resourcing costs in that period have been estimated at $20,000. The costs paid during the reporting period in engaging a Conduct Reviewer from Council's Code of Conduct Panel is $40,378.
The total number of complaints received in the period was 11.
RP-6 CODE OF CONDUCT STATISTICS
Financial assistance for animal welfare group
Council has provided financial assistance to the Animal Welfare League Association.
The $500 room hire fee was waived for the AWL's inaugural meeting.
Council declined a request for $850 in additional funds to Southern Cross Austereo for the Wagga Christmas Spectacular, noting Council had already contributed a $4000 grant to the event.
RP-7 SECTION 356 REQUESTS FOR FINANCIAL ASSISTANCE
Realignment for ATP Kapooka Link
Council has endorsed a revised route for the Kapooka Link of the Active Travel Plan.
The original approved route for the Kapooka Link along Fernleigh Road, from the intersection of Tobruk Street to the intersection of Glenfield Road, was along the southern side of the road and required a new pedestrian rail level crossing to be constructed.
A change to the alignment of this route will be made possible through the leasing of a parcel of land from ARTC for an initial 10-year period.
The Active Travel Plan project incorporates five major routes providing connecting links across the urban areas of Wagga Wagga.
RP-8 LEASE OF ARTC LAND LOT 1 PLAN 1155480
Financial performance update
Council continues to forecast deficit budget positions as a result of the estimated financial impact the COVID-19 pandemic is having on many businesses, with local councils not immune to the pandemic.
At this stage, Council forecasts a $4M deficit budget position for the 2020/21 budget year (as at 31 October 2020). This will be reviewed as the year progresses, with updates provided to Council as part of the monthly financial performance report.
RP-9 FINANCIAL PERFORMANCE REPORT AS AT 31 OCTOBER 2020
Grant funding policy rescinded
Council has agreed to rescind the Grants and Sponsorship Policy (POL 022) as it has been deemed that the Policy is out of date and does not provide guidance or framework for how grants are applied for.
The policy was developed in 2004 to guide the operations of Council regarding applying for grant funds.
RP-10 POL 022 GRANTS AND SPONSORSHIP POLICY RESCISSION
Christian College sewer connection
Private works involving a sewer connection at Wagga Wagga Christian College have been completed, Council was advised tonight.
The work entailed laying 330m of polyethylene pipe connecting the College to Council's rising main at the intersection of Kooringal Road and Parson Street.
RP-11 COMPLETION OF PRIVATE WORKS - SEWER CONNECTION AT WAGGA WAGGA CHRISTIAN COLLEGE
Resolutions and Notice of Motion registers
The following is a snapshot of Council's resolutions and notices of motions registers as at 11 November 2020:
* 100 Active resolutions
* 16 Active Notices of Motions
* 7 resolutions including Notice of Motions have been completed from 14 October 2020 to 17 November 2020
RP-13 RESOLUTIONS AND NOTICES OF MOTIONS REGISTERS
Bulk emulsion supply
Council has accepted the tender of Fulton Hogan Industries Pty Ltd for the provision of bulk emulsion in the fixed schedule of rates submitted with their tender for a period of 24 months with an option to extend for 2 x 12-month periods.
CONF-1RFQ2021-513 BULK EMULSION SUPPLY
Museum Redevelopment Design & Construction
Council has accepted the offer of Cumnock Constructions Sustainability Pty Ltd for the Museum Redevelopment Stages 1 and 2 Design & Construction works for their lump sum amount of $3,553,704 excluding GST.
CONF-2 RFT2021-04 MUSEUM REDEVELOPMENT STAGES 1 AND 2 DESIGN & CONSTRUCTION
Petroleum tank works
Council has accepted the offer of DG Harper Pty Ltd for the Removal and Disposal of Underground Petroleum Storage Tanks, Supply and Installation of Above-Ground Refuelling Facility for their lump sum amount of $490,453.27 excluding GST
CONF-3 RFT2021-08 REMOVAL AND DISPOSAL OF UNDERGROUND PETROLEUM STORAGE TANKS, AND SUPPLY AND INSTALLATION OF ABOVE-GROUND REFUELLING FACILITY
Property lease extension
Council has extended the lease for 99 Peter Street, Wagga Wagga with the Leisure Company Disability Service Ltd on a month by month basis, with a minimum two months' termination notice period.
CONF-4 PROPOSED LEASE EXTENSION - LEISURE COMPANY DISABILITY SERVICES LTD
Notice of Rescission
A Notice of Rescission for Resolution No. 20/417 from the 26 October 2020 Ordinary Council Meeting was lost.
CONF-5 NOTICE OF RESCISSION - RESOLUTION NO. 20/417