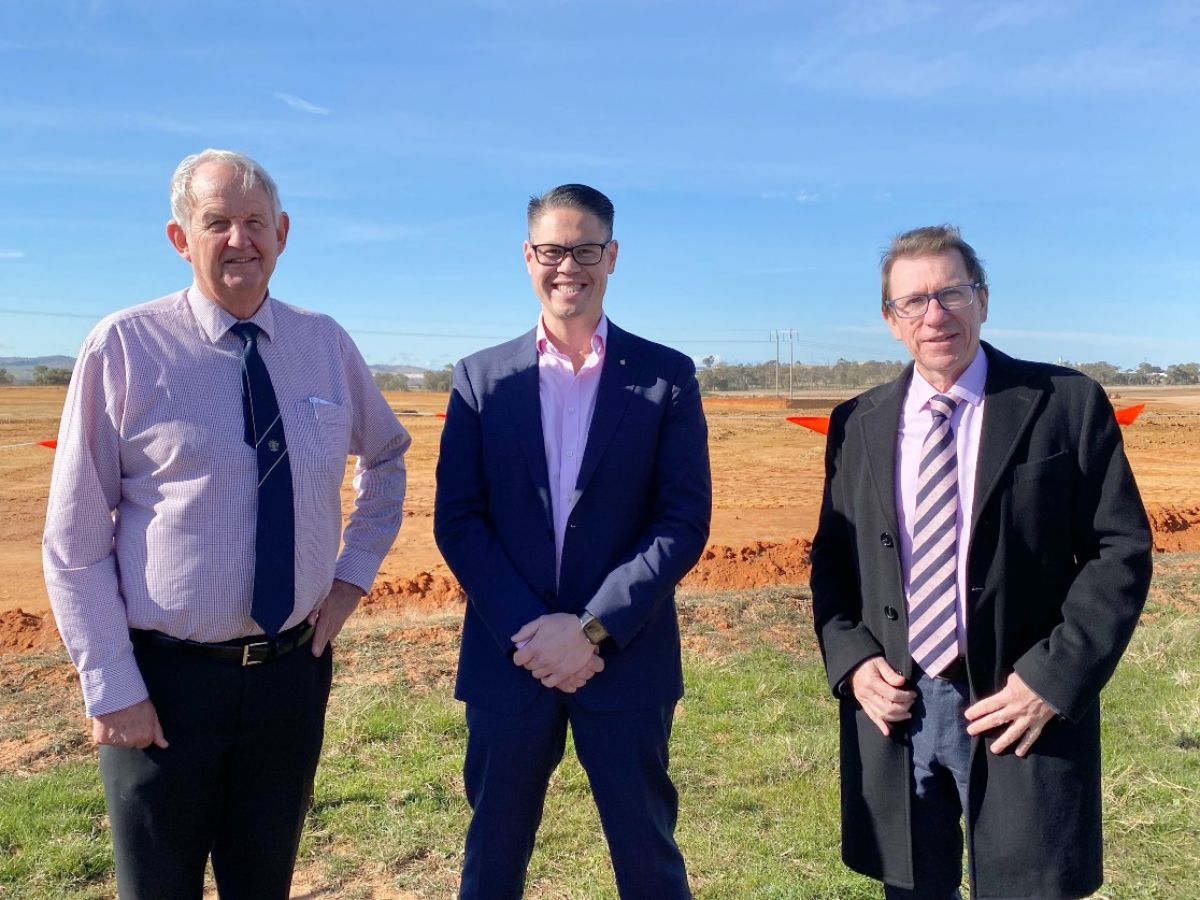 ---
Projects & Works
$137 million boost for city's Special Activation Precinct
Published: 26 May 2021 11:10am
The Wagga Wagga Special Activation Precinct (SAP) received a boost of a further $137 million from the NSW Government this week.
The announcement was made onsite at Bomen by the Hon Wes Fang MLC, who was joined by Member for Wagga Wagga Dr Joe McGirr MP, and Mayor of the City of Wagga Wagga Councillor Greg Conkey OAM.
"I am really excited to be here today and to see the vision for the Wagga Wagga Special Activation Precinct coming to life," Mr Fang said.
"This $137 million investment kickstarts the delivery of the precinct, funding core infrastructure to get businesses set up sooner in Wagga Wagga."
Wagga Wagga City Council Director Regional Activation Michael Keys welcomed the funding announcement, noting Council would be working closely with the Regional Growth NSW Development Corporation (RGDC), who will lead planning and delivery of the Special Activation Precinct.
"We're extremely pleased with the funding announcement and, as a key partner, look forward to working with the RGDC to help deliver the infrastructure that will attract, support and encourage new and existing business to establish and grow in Wagga," Mr Keys said.
Over the last 18 months the NSW Government, supported by Council, has carried out extensive community consultation and engagement with land owners, businesses and industry, and government agencies, which Mr Keys said was key to setting the Special Activation Precinct up for success.
"Now we'll be focusing on engaging with industry and businesses to ensure we can attract the right people, create genuine partnerships that will drive growth and investment, and keep the jobs coming into Wagga," Mr Keys said.
"We want to make sure existing businesses can maximise their potential, as well as find new partners and new opportunities.
"We know there are other large employers who are looking to come to regional areas – today's announcement consolidates our claim that Wagga is the perfect place to set up and establish a new business."
The $137 million investment will provide the foundation infrastructure – including roads, sewer, water and electricity services – that will allow businesses to set up in the precinct sooner. This announcement is in addition to the $20.6 million announced in November last year.
The 4,500 hectare Special Activation Precinct capitalises on Wagga Wagga's location as NSW's southern gateway with central access to Australia's richest food and agricultural region, the Riverina. It targets businesses in freight and logistics, agribusiness, advanced manufacturing, innovation, skills and education, and renewable energy and recycling, with a focus on sustainability.
Find out more about the Special Activation Precinct.