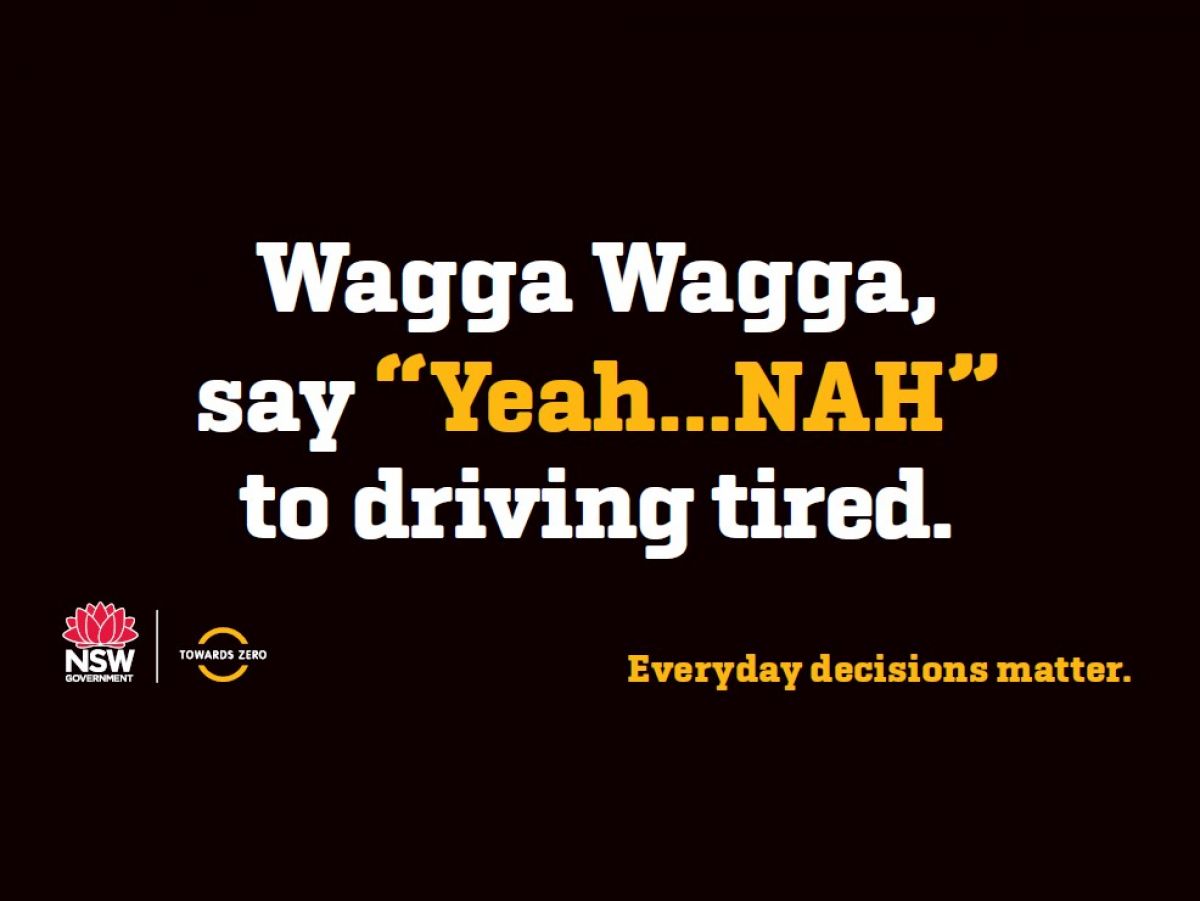 ---
Community
City signs to target driver fatigue
Published: 08 Oct 2021 1:21pm
Fatigue is one of the three biggest killers on NSW roads with research showing it can be as dangerous as drink driving.
Drivers in country areas are susceptible to fatigue because they drive long distances and travel at unusual times, which can increase the risk.
When drivers are tired, they have slower reaction times. Being awake for 17 hours or more and then getting behind the wheel is equivalent to driving with a BAC of .05.
Many people are surprised to learn most drivers and riders involved in fatal crashes on country roads are country residents. In fact, country residents are four times more likely to be killed in a road crash than metropolitan residents.
A few unique factors, such as higher speeds and longer travel distances contribute to higher risks on country roads but research shows driver behaviour is still a significant factor in crashes. Crashes due to tiredness are twice as likely to be fatal than other crashes. You can't brake while you're asleep.
Wagga Wagga City Council is making use of its prominent gateway signs situated on both the Sturt and Olympic highways with road safety messaging "Wagga Wagga, say "Yeah … NAH" to driving tired. Everyday decisions matter".
These signs will be installed over major holiday periods to capture the attention of travellers.
"You have to consider how tired you are any time you drive, whether it is a short or a long trip, day or night," Council's Road Safety Officer, Emma Reynolds said.
"We need drivers to realise you don't have to be extremely tired and struggling to keep your eyes open to dangerously impair your driving ability.
"You can simply be tired from a long day, a big night, after working a shift with strange hours, or tired from concentrating on the road while the kids yell in the back seat.
"Your family will forgive you if you are late home, your boss will forgive you if you're late for work, but the anguish that comes from these fatalities is lifelong."
You might be a good driver, but your tired self isn't.
Planning is the key to avoiding fatigue. Make sure you are not feeling too tired before hitting the road and ensure you follow these steps for driving safely:
Have sufficient sleep before your trip.
Plan ahead – work out rest stops and overnight stops before you start.
Get away from the wheel – stop for at least 15 minutes every two hours.
Share the driving whenever possible.
For more information on fatigue see wagga.nsw.gov.au/services/roads-and-transport/road-safety.