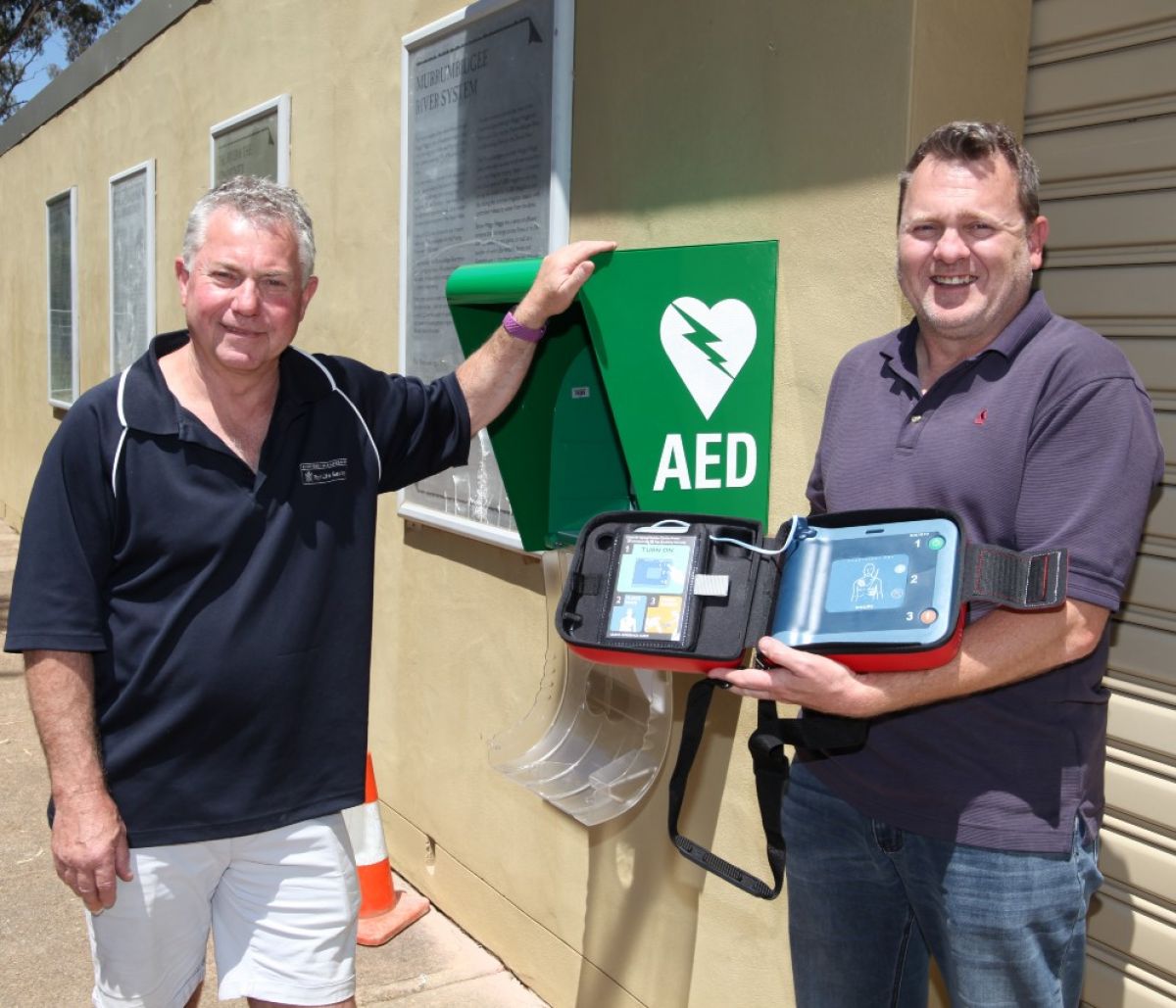 ---
Parks & Recreation
Safety equipment installed at Wagga Beach
Published: 29 Oct 2021 8:55am
Lifesaving rescue equipment including an Automated External Defibrillator (AED) were installed at Wagga Wagga Beach earlier this week following a recent aquatic safety assessment of the popular recreation precinct.
The defibrillator unit, angel rings and throw ropes were among seven key recommendations for the beach following the assessment by Royal Life Saving NSW (RLSNSW) as part of a partnership with Wagga Wagga City Council.
It has already delivered a number of components in the Wagga Wagga Inland Water Safety Management Plan 2019, including the Outback Lifesaver program which is being rolled out again next year following the inaugural season's success in 2021.
The defibrillator is located on the amenities block wall in the main beach area whilst a flotation ring and throw rope have also been installed at The Rocks area upstream of the beach.
Council's Strategic Recreation Officer Peter Cook said it was important to have the safety equipment installed prior to summer.
"That has always been our aim and we have achieved this despite some hold-ups with the pandemic and rising river heights placing restrictions on getting the equipment to Wagga and then having it installed," Mr Cook said.
"Importantly, we now have the items installed as one of seven key recommendations and that is what the community called for, and in partnership with Royal Life Saving NSW we have been able to deliver on that.
"It is an added assurance for people using the area but we will continue to urge people to stay safe around the water, respect the river, and look out for each other."
RLSNSW Riverina Regional Manager Mick Dasey said the installation of the safety items was extra support for those using the area.
"We hope it never has to be used, but if that's the case then in an emergency the equipment is available … and that's important for residents and visitors to the city to realise," Mr Dasey said.
"Anyone can use the defib in the event of an emergency, it's a simple device to activate.
"It's about pressing a button, an activation code is verbally sent through to the user, the code is put into the unit and it releases the defib and it's ready to use.
"We would also remind people that it's so important to also call Triple Zero and get professional help on the way in the event of any emergency."
Other recommendations summarised from the assessment report include:
Targeted education and information – to highlight risk-taking behaviour and increase awareness of aquatic recreation dangers in and around inland waterways
Establish a designated swimming area – this will allow for better hazard identification and control, providing an opportunity for safer water recreation, noting that all aquatic recreation carries inherent risks
Establish a management plan – this will detail operational responsibilities and requirements in regard to inspections, maintenance and water monitoring
Establish an emergency action plan - to be completed in consultation with Royal Life Saving and other rescue stakeholders
Monitor water quality – Council currently undertakes a comprehensive water testing scheme of the river, both upstream and downstream of the city. Testing of Wagga Wagga Beach will be included.
Monitor and review Council's Inland Water Safety Management Plan and associated risk assessments