---
Projects & Works
Plan ahead: Bourke Street road works start
Published: 24 Feb 2023 11:46am
Motorists and other road users are asked to plan their journey and expect delays as work starts on the rehabilitation of Bourke Street near the Jubilee Park precinct.
Contractors commenced stabilisation works on a stretch of Bourke Street between Holbrook Road and Red Hill Road on Friday.
Director Infrastructure Services Warren Faulkner said Bourke Street is a major traffic thoroughfare for the southern growth area of Wagga Wagga.
"It is a key connector for local residents accessing the schools and businesses along Bourke Street as well as for residents and visitors travelling into the city centre," Mr Faulkner said.
"These pavement rehabilitation works will deliver a smoother and safer surface for everyone who uses the road."
Bourke Street will be closed between Holbrook Road and Bourkelands Drive from 6am to 7pm from Monday 27 February. Traffic control measures will be in place on the section between Red Hill Road and Bourkelands Drive.
The community will still have access to the Jubilee Park precinct and Bourkelands from Bourke Street during the works.
"While we've had to make some changes to our original schedule of works due to weather and contractor availability, we've been able to achieve a lot over the past month," Mr Faulkner said.
"The project to widen and stabilise Mitchell Road, between Brunskill and Inglewood roads will finish early next week with sealing of the road, while the rehabilitation of Lloyd Road is also about to wrap up.
"Contractors finished resurfacing the section of Lake Albert Road between Warrawong Street and Copland Street earlier this week, then moved to Copland Street to asphalt overlay the intersections with Blaxland Road, Lawson Street, Hartog Place and Say Street.
"We appreciate the patience motorists and residents have shown while all these works have been carried out."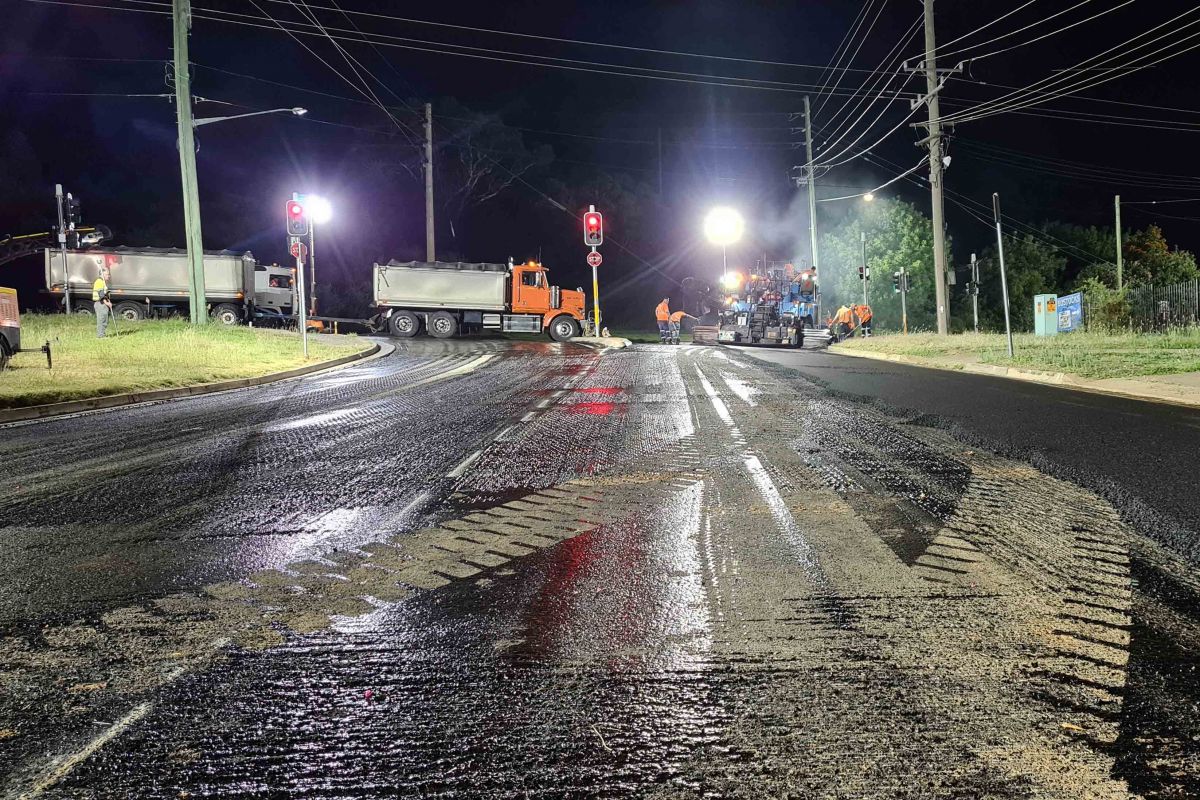 The night works previously planned for Nagle Street this week have been rescheduled for 12 to 15 March, with the road to be sealed during the daytime on 16 March.
Roadworks program
Date / Duration

Road

Status

10 – 18 January

Mundowy Lane

Reopened

16 – 20 January

Old Narrandera Road – between Olympic Highway and Pine Gully Road

Reopened

16 – 2 February

Inglewood Road – from Mitchell Road east for 2.4km

Reopened

30 January – 28 February

Mitchell Road – from Inglewood Road to Brunskill Road

Underway

30 January – 24 February

Copland Street – between Blaxland Road and Tasman Road

Asphalt overlay on intersections – NIGHT WORKS – 22 – 24 Feb

Underway

30 January – late March/early April

Old Narrandera Road – approximately 24 km west of Currawarna

Underway

6 – 25 February

Lloyd Road – from Plumpton Road to Holbrook Road

Underway

24 February – 9 March

Bourke Street – from Holbrook Road to Red Hill Road

Underway

2 – 7 March

Huthwaite Street – between Pratt Street and Hopkins Street

Planned

2 – 13 March (to be confirmed)

Avocet Drive – from Boorooma Street to Franklin Drive

Planned

9 – 11 March

Watson Boulevard – between Red Hill Road and Lingiari Drive, including the roundabout

Planned

12 – 16 March

Nagle Street – from Sturt Highway south for 500m – NIGHT WORKS

Planned

To be confirmed

Macleay Street – between Erin Street and Urana Street

Planned