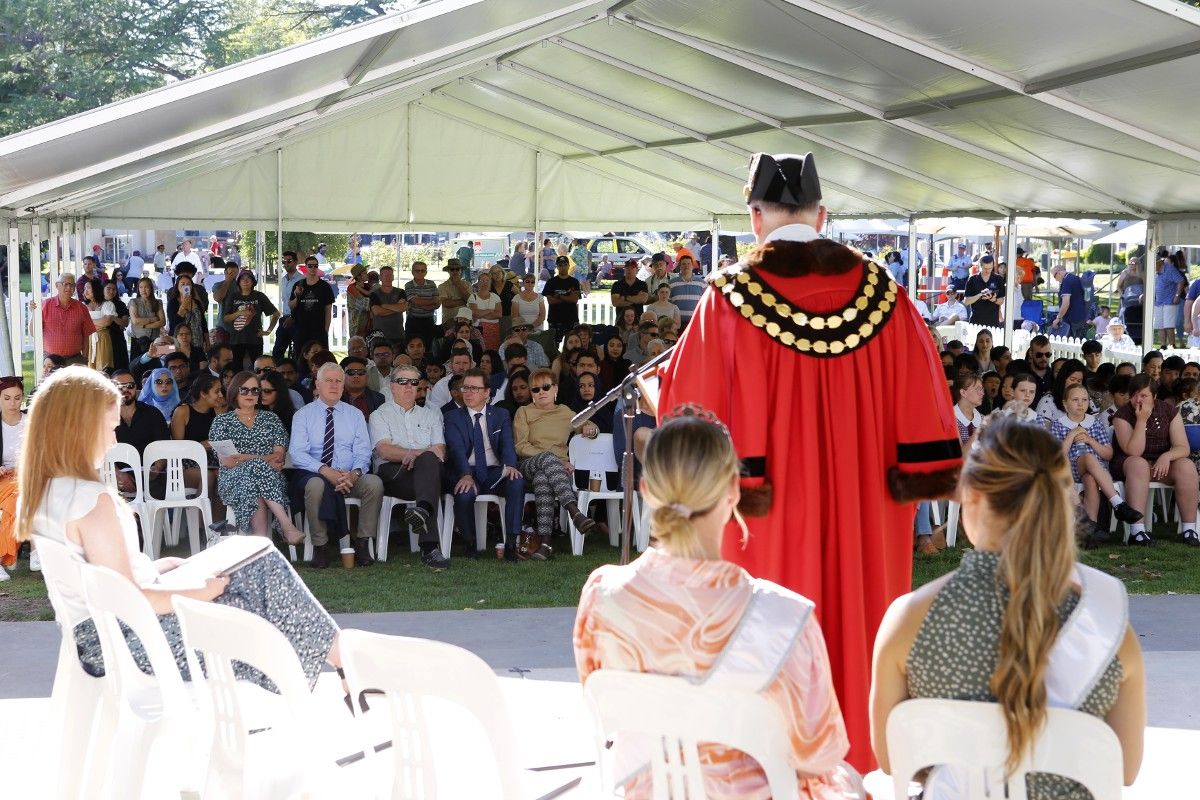 ---
Community
Australia Day events celebrate our city's cultural diversity
Published: 27 Jan 2023 1:07pm
From a new Wiradjuri/Wiradyuri and First Nations opening concert to a free barbecue breakfast and citizenship ceremony, the Wagga Wagga community came together this week to mark Australia Day 2023.
'Mawang ngiyanhi bala Yarruwala – Together we are Strong and Mighty' on Tuesday evening (24 January) marked the start of Wagga Wagga's multi-day community events.
It attracted a strong gathering of people of all ages and cultural backgrounds to the Victory Memorial Gardens for the community concert, featuring Wiradjuri/Wiradyuri and First Nations artists and performers.
The event was organised by Wollundry Dreaming, in partnership with the Australia Day 2023 Community Committee, supported by Council.
📷 'Mawang ngiyanhi bala Yarruwala – Together we are Strong and Mighty' images courtesy of Wollundry Dreaming
The cultural diversity of our community was also at the heart of the celebrations at the Victory Memorial Gardens on Australia Day itself, with the free community breakfast and live entertainment well-supported.
More than 350 people of all ages gathered with family and friends to reflect, respect and celebrate the significant contributions that everyone makes to our community.
The thong-throwing competition drew a strong field of competitors, while the live sandcastle sculpture demonstration, where attendees were able to participate in creating their own sandcastle sculpture, was also a popular attraction on the day.
Rounding out the morning was the Citizenship Ceremony, conducted by Mayor of the City of Wagga Wagga Councillor Dallas Tout, where 75 people from 23 different countries chose this day to become our newest Australian citizens.
"It was wonderful to see the diverse cultures represented at the ceremony, as well as the wide age range of our newest citizens, with the youngest just three years old and the oldest, 84," Councillor Tout said.
"This is an important day for you, and as the Mayor of this city, I am privileged and proud to play a role in making you Australian citizens.
"All our new Australians today have a unique story to tell. For some, the journey has been particularly difficult, and we welcome you with open arms."
The official ceremony concluded with the singing of the Australian National Anthem by (above from left) Chloe Swaffield, Gretel McDonnell, Caitlan Hall and Milly Golland, accompanied by the Australian Army Band Kapooka.