Contracts to be exchanged in milestone for Bomen Enabling Roads project
Published: 26 Aug 2016 3:58pm
Work will begin within a month on a multimillion-dollar project to unlock hundreds of hectares of industrial zoned land at Bomen Business Park.
Negotiations have been finalised and contracts will be exchanged with the successful tenderer BMD Constructions on Sunday 28 August.
BMD Constructions will be undertaking more than $23M in works, co-funded by all three levels of government.
"Within 12 months these empty paddocks at Bomen Business Park will be transformed into new roads and a rail underpass," the City of Wagga Wagga's Acting General Manager Janice Summerhayes said.
"The contract exchange is an important milestone and this project is a prime example of local government, the NSW Government and the Federal Government working in partnership."
The works will include closing the Dampier Street level crossing and building an underpass, as well as constructing link roads to Bomen Road and Byrnes Road. The entire $35M (ex GST) project will vastly improve road safety in the area, address existing productivity constraints, cater for future traffic demand and better link the industrial precinct with the Olympic and Sturt highways.
Riverina Nationals' MP and Small Business Minister Michael McCormack said the Federal Government's $14.5m injection showed what can happen when all three tiers of Government work together to build stronger regional communities.
"It's fantastic to see such an important milestone in this project for Wagga Wagga's future. With such a significant investment from the Federal Government, this contract exchange demonstrates what can happen when proactive communities work together to build a brighter future for the region," Mr McCormack said.
The NSW Government has committed $8.3M toward the construction and the Federal Government has also committed $14.5M from the Federal Department of Infrastructure and Regional Development.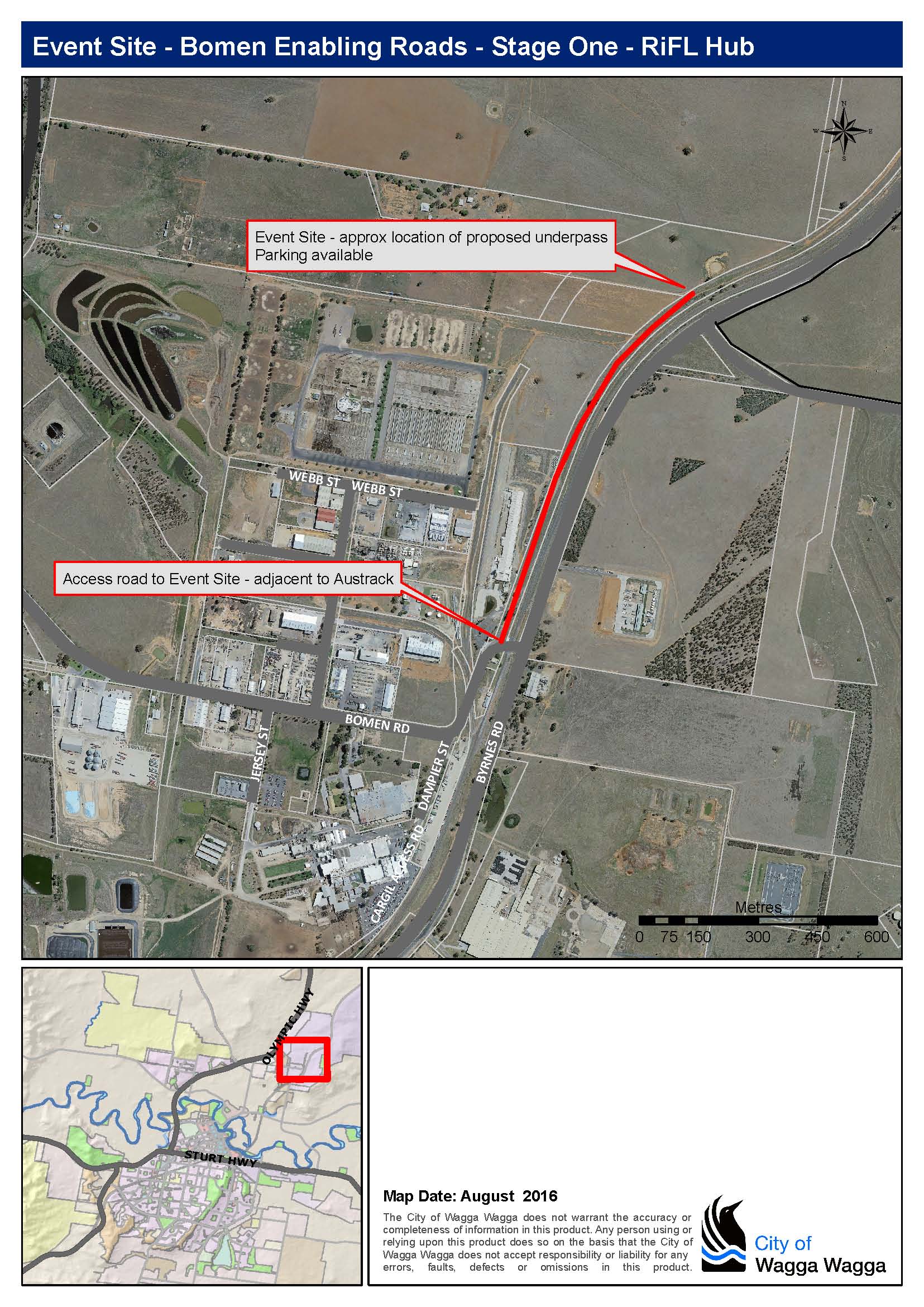 Media opportunity
What: Contract exchange for Bomen Enabling Roads project
Who: City of Wagga Wagga Acting General Manager Janice Summerhayes, Mayor of the City of Wagga Wagga Councillor Rod Kendall, NSW Treasurer and Minister for Industrial Relations the Hon. Gladys Berejiklian, Member for Riverina and Minister for Small Business Michael McCormack, Member for Wagga Wagga Daryl Maguire, Craig Smith and James Smith from BMD Constructions
When: 3pm, Sunday 28 August 2016
Where: Dampier St – North of existing Rail Crossing (see attached map)
Representatives from BMD Construction will be available for interview and comment.