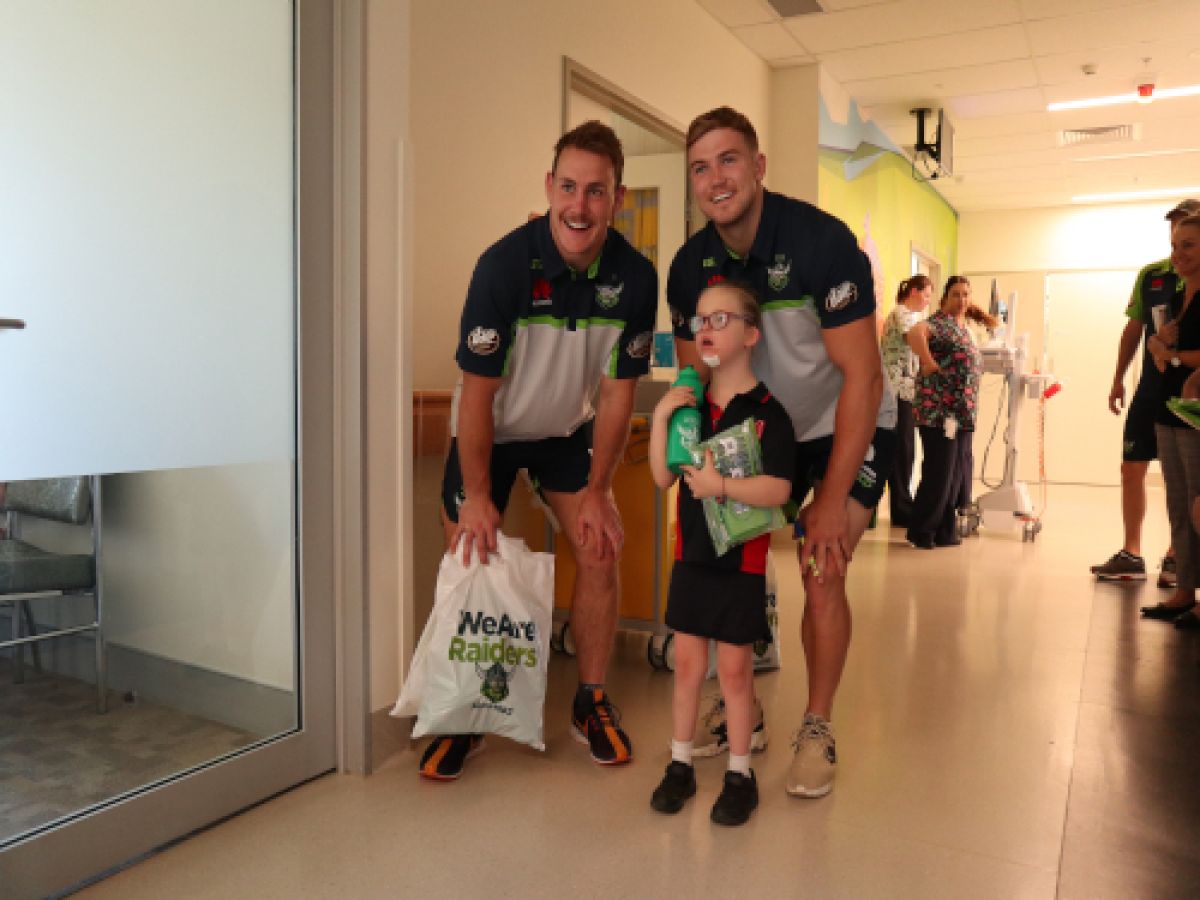 ---
Projects & Works
Raiders visit Wagga Base Hospital
Published: 29 Nov 2019 1:54pm
Week in, week out they show plenty of ticker on the paddock, but – off the field - Canberra Raiders players Hudson Young and Luke Bateman have proven to have just as much heart.
In Wagga on Thursday, the pair embraced an opportunity to raise morale and spread pre-Christmas cheer through the Wagga Wagga Base Hospital.
The down-to-earth duo spent close to an hour visiting youngsters on the children's ward and older patients in other areas of the hospital, signing autographs, handing out merchandise, posing for photos and sharing a few stories.
The visit, arranged by Wagga Wagga City Council, got off to a hilarious start, with a nurse on the children's ward accidentally congratulating the pair on their 2019 grand final victory.
Unfortunately, Luke and Hudson had to explain their club had actually lost the decider to the Roosters.
"Look, I think she was just trying to keep us humble," Luke laughed.
"Hopefully we can get the job done next year and we can pay another visit as champions."
The NRL stars had an immediate and obvious effect on patients, their loved ones and hard-working staff, bringing smiles to faces and brightening the atmosphere on wards across the hospital.
"It was such a rewarding experience for both of us," 24-year-old Luke said.
"Walking through the hospital and meeting the patients really puts things into perspective as we start to get into the preseason.
"There were patients who had spent more than 90 days in the hospital… it really makes it hard to complain about any of the little things."
The visit not only provided the two players and accompanying Raiders staff an opportunity to see, first-hand, the city's new, and expanding, $457M facility, but also gain an understanding of Council's proposed Health and Knowledge Precinct.
A central activity hub centred around the city's two major hospitals, the Health and Knowledge Precinct masterplan covers 50 hectares, incorporates 114 medical specialists and two teaching universities – Notre Dame and the University of New South Wales.
The collaborative and transformative space, aiming to create more jobs, more opportunities and a healthier community for the future, shares many similarities with health and knowledge precincts around Australia, including Canberra.
Meanwhile, the pair also used their visit to the region to spruik the start of ticket sales for next year's NRL Premiership clash on 18 April 2020.
Mayor of the City of Wagga Wagga, Councillor Greg Conkey OAM has announced tickets will soon go on sale for the Raiders showdown with the Newcastle Knights at McDonalds Park.
Flanked by the Raiders duo, Cr Conkey revealed tickets will go on sale to the general public through Ticketek at 10am on Wednesday 11 December 2019.
Prior to the start of the general sale, Canberra Raiders members will have the first crack at tickets from 10am on Monday 9 December, before Knights members get their chance from 10am on Tuesday 10 December.