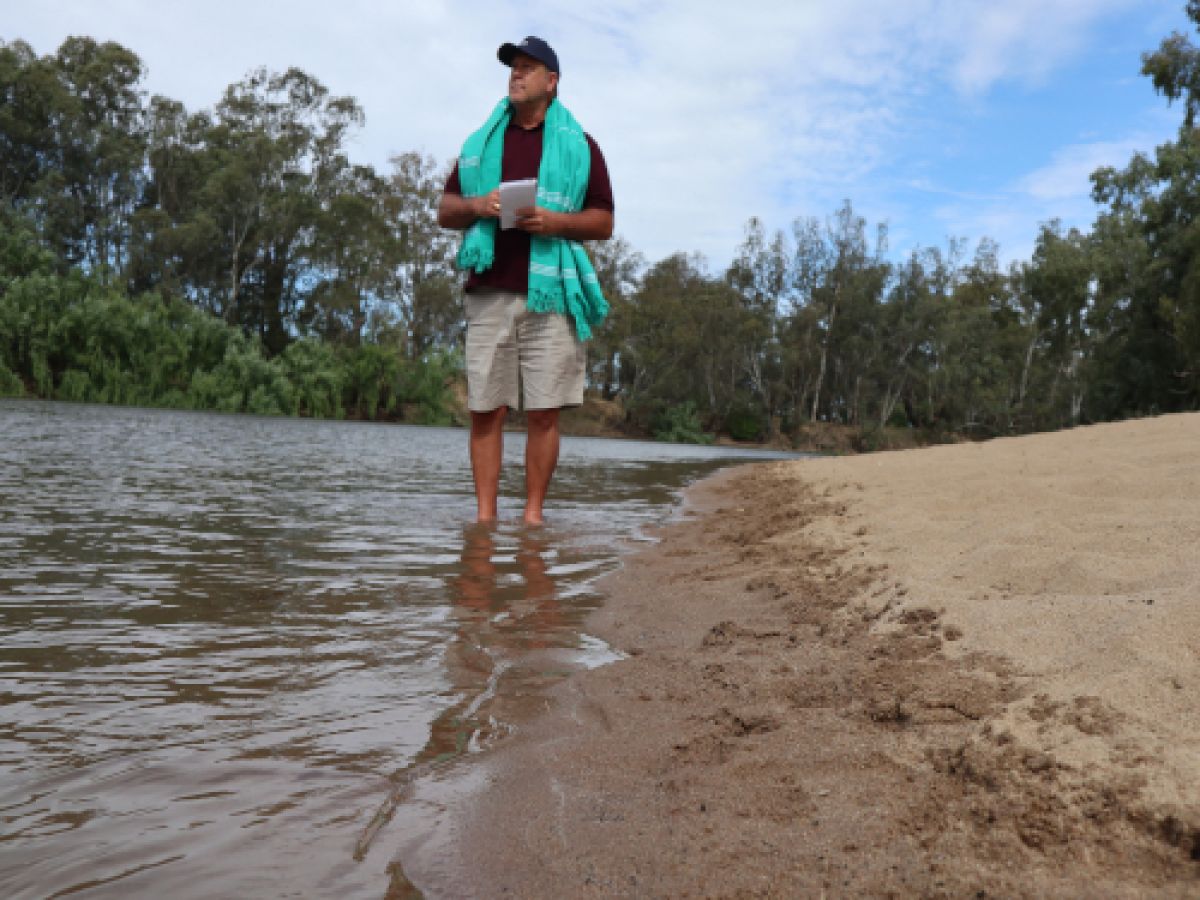 ---
Events & Tourism
Wagga Beach Shortlist
Published: 18 Nov 2019 1:18pm
The best of the best beaches around Australia could for the first time move inland with Wagga Wagga's own unique stretch of sandy shoreline earmarked to make the list.
A top 20 list of the country's best beaches is being compiled by Tourism Australia's Beach Ambassador Brad Farmer AM - and Riverside: Wagga Beach has been shortlisted for a spot on the 2020 list.
If Riverside: Wagga Beach is named in the 20, it will be the first inland beach to make Mr Farmer's exclusive list of top Australian beaches.
Mr Farmer was in Wagga Wagga on Friday to inspect the beach and wider Riverside precinct alongside Wagga Wagga City Council's Visitor Economy and Events Coordinator Fiona Hamilton.
"It was great to host Mr Farmer in Wagga Wagga and he was very impressed with so many aspects of the Riverside: Wagga Beach precinct," Ms Hamilton said.
"We are excited about the prospect of Riverside: Wagga Beach making Mr Farmer's illustrious list, with many of the previous beaches named in his lists having their profile raised both nationally and internationally.
"This is a brilliant opportunity to attract more visitors to what is already one of our popular attractions, as well as to our city and region.
Mr Farmer has spent more than 30 years studying and protecting world beaches and has travelled to every accessible Australian beach – that's thousands of beaches.
"I can now give Riverside: Wagga Beach a tick and add it to my personal list," Mr Farmer said.
"This is a brilliant beach area which is quite obviously different to our many coastal destinations, but a unique experience in its own special way."
Mr Farmer said Tourism Australia has surveyed inbound tourists who come from all over the world and the majority of visitors who come to Australia have identified coastal and aquatic experiences above all else as being the country's number one drawcard.
"Beaches are considered to be Cottesloe, Surfer's Paradise and Bondi, but this year I think I'm going to really shake it up and throw in Wagga Wagga as a shortlisted best beach of Australia," he said.
Wagga Wagga Deputy Mayor Councillor Dallas Tout enjoyed the prospect of promoting the city as a destination which boasts a top 20 beach.
"Riverside: Wagga Beach could be named alongside iconic Australian beaches such as Bondi Beach in Sydney, Bay of Fires in Tasmania or Shell Beach in Shark Bay Western Australia," Cr Tout said.
"It's a fantastic achievement and thanks to Mr Farmer and Tourism Australia for recognising Riverside: Wagga Beach in this way. "The ongoing developments through the multi-million-dollar Riverside project shows our city's investment in this space for both locals and visitors, and this potential announcement will just help raise the bar for this city attraction."
Mr Farmer is known around the globe as a beach expert and ambassador, with beaches named on his honour roll receiving national and international coverage.
In 2012 Mr Farmer and coastal studies expert Professor Andy Short co-authored the book 101 Best Australian Beaches and has released annual top beach lists for the past three years off the back of the success of the book.
The final list of 20 beaches will be released by Mr Farmer in mid-December.
Riverside: Wagga Beach first sparked Mr Farmer's attention after a viewer, who watched Mr Farmer in a television interview about Australia's best beaches, wrote in and suggested Wagga's beach make the list.