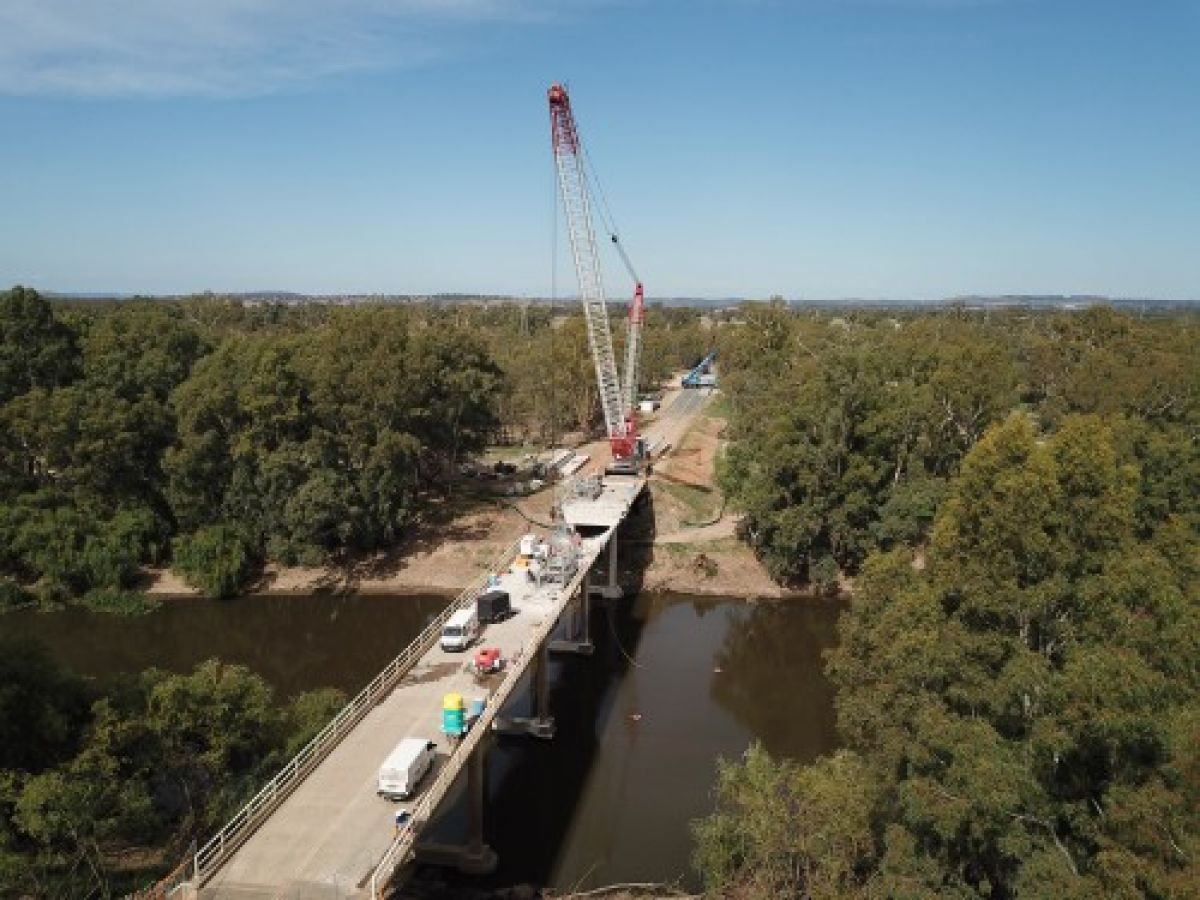 ---
Projects & Works
Crane starts lifting Eunony Bridge top deck
Published: 08 Apr 2020 8:53am
The first of five sections of Eunony Bridge's top deck has been removed in a major step forward in the $10.6M strengthening and widening project in Wagga Wagga.
The project continues to progress with a large crane and its 60-metre boom at the centre of operations to assist in the old deck removal and replacement with the new.
A second 200-tonne crane was also on-site last week and assisted in the heavy lifting.
Wagga Wagga City Council Senior Project Manager Silas Darby said work is progressing well and only minor delays were experienced during recent thunderstorm activity in the area.
"Works at the site are very visual now," Mr Darby said.
"Like any project, there is planning and preparation works which need to be carried out before we see any actual construction. And there was also the process of getting this crane on site and assembled, and then operational, before we moved forward.
"The process has been challenging but now things are rolling our contractors are doing a fantastic job in reaching project milestones."
The upgrade of Eunony Bridge will deliver a structure that is so strong and wide, that it will carry long and heavy vehicles that are not yet legally rated on New South Wales roads.
The bridge will conform to a rating that is known as SM1600. This is a design load that NSW Transport uses when designing new bridges.
"Eunony Bridge is currently narrow and load limited. It cannot cater for the increased size of trucks that may want to access the Riverina Intermodal Freight and Logistics Hub (RiFL) which is being developed," Mr Darby said.
"The new widening and strengthening works will enable the load limit to be lifted so that any vehicle can travel across the bridge."
Work on the project started on Friday 14 February and is scheduled for completion on 1 August this year, weather permitting.