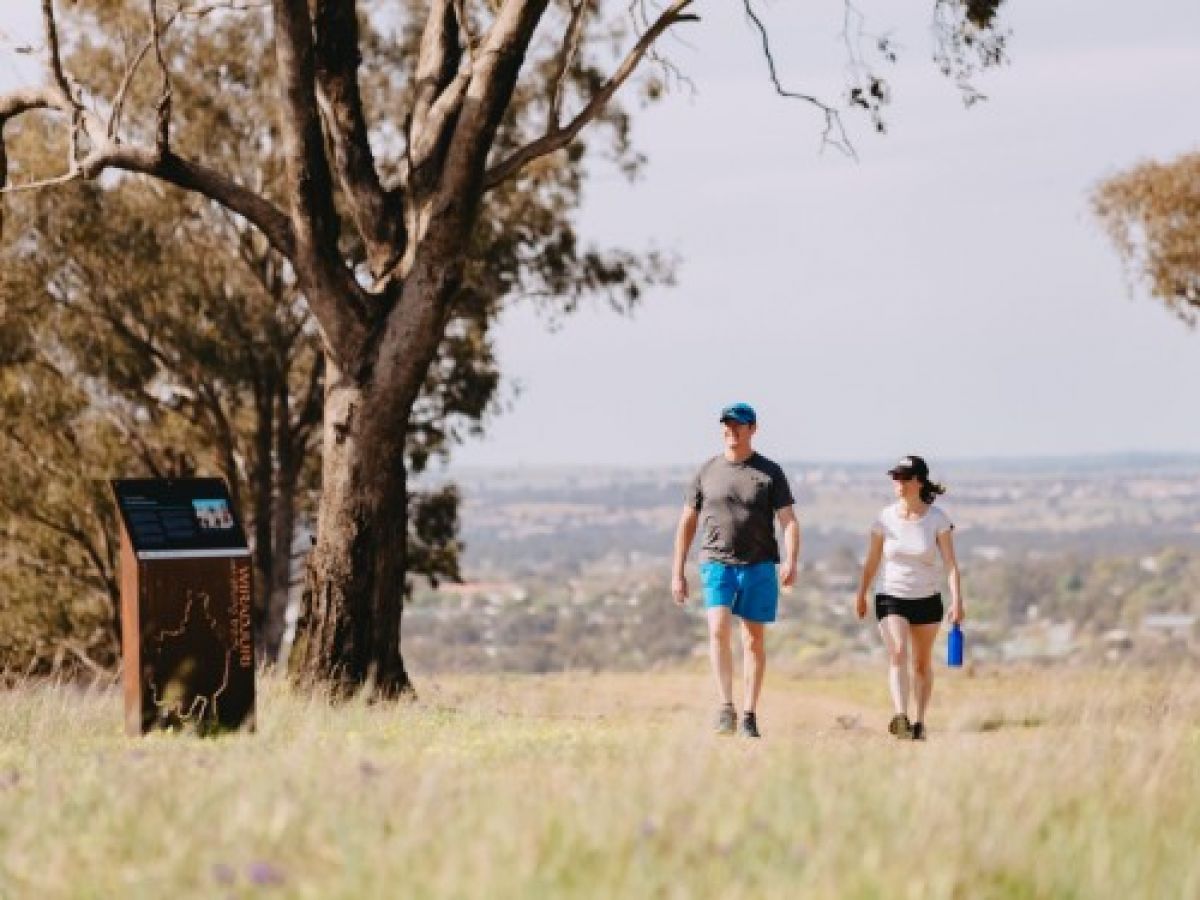 ---
Environment
Rediscover the Wiradjuri Trail
Published: 17 Apr 2020 3:22pm
As taking exercise is one of the only times we can leave home due to COVID-19 public health orders, residents have an opportunity to rediscover Wagga's many walking and cycling trails.
One special trail is the marathon-length Wiradjuri Trail, which encircles the city, and which – anecdotally – few residents have completed.
Visitor Economy & Events Coordinator Fiona Hamilton said autumn was a perfect time of year to explore different sections of the trail.
"It's 42 kms around the city, and each 10 km section is unique. It's great to be able walk or cycle in sections," said Ms Hamilton.
"You can also cycle the entire trail. Some sections are steeper than others and more suitable for mountain bikes – particularly behind Lloyd – but the sections around Lake Albert, the lagoon, along the levee bank and wetlands are suitable for road bikes.
"A long section of the trail is also wheelchair accessible, with ten separate ramp access points."
The Wiradjuri Trail extends across many of the city's significant Wiradjuri places. Murals feature along Cadell Place, the old Hampden Bridge legacy site, Marrambidya Wetland, Flowerdale Lagoon and the Birramal Conservation area – which also has beautiful views across the city, and special poles set up to help endangered squirrel gliders jump and glide between trees. Markers along the track also help share traditional Wiradjuri stories.
Environmental Education Officer Alice Kent recently completed a section of the Wiradjuri Trail behind Lloyd, and said while it was challenging, witnessing the multitude of birdlife made the effort worthwhile.
"You get spectacular views over the city and it's really quiet," said Ms Kent.
"I think most residents would be astonished at the natural beauty so close to the city. It's easy to forget that you can join the trail at lots of different points, not just at the river."
While the benefits of exercise are well known, where you take that exercise is important. Research by Planet Ark found that spending time in nature helps make people happier, healthier, calmer and feel closer to each other – especially important in a time where many may be feeling isolated.
"Any exercise is great for your health, such as being on a treadmill, but you're not seeing new things and exploring new places," said Ms Kent.
"Over a generation, we've seen people spend less time outside, and our feelings of unhappiness and stress have increased, so there's a definite correlation. It's probably something many of us can relate to now that we have to spend our days at home.
"There have also been studies tracking being outside with people's dopamine levels. When we're outside seeing beautiful vistas, trees and birds, our brains release dopamine which makes us feel good," said Ms Kent.
"That's why it's important we keep restoring our natural environments and getting out to exercise. And it makes the Wiradjuri Trail all the more special."
Download a copy of the Wagga Wagga + Surrounds Trail Map at wagga.nsw.gov.au/city-of-wagga-wagga/recreation/trails
Trail etiquette
Maintain social distancing guidelines, staying at least 1.5 metres away from others.
Exercise alone, or with members of your household.
Only be outside if you are well. If you are self-isolating, please stay home.
Be mindful that some people may need to pass you. If you are passing someone from behind, alert them by saying 'hello, passing on your right'.
Travel in single file on narrower paths so traffic can go both ways.
If wearing headphones, ensure you can still hear what's happening around you.
Keep dogs on a lead at all times. For off-leash areas visit wagga.nsw.gov.au/city-of-wagga-wagga/community/animals
Say hello as you pass. 😊