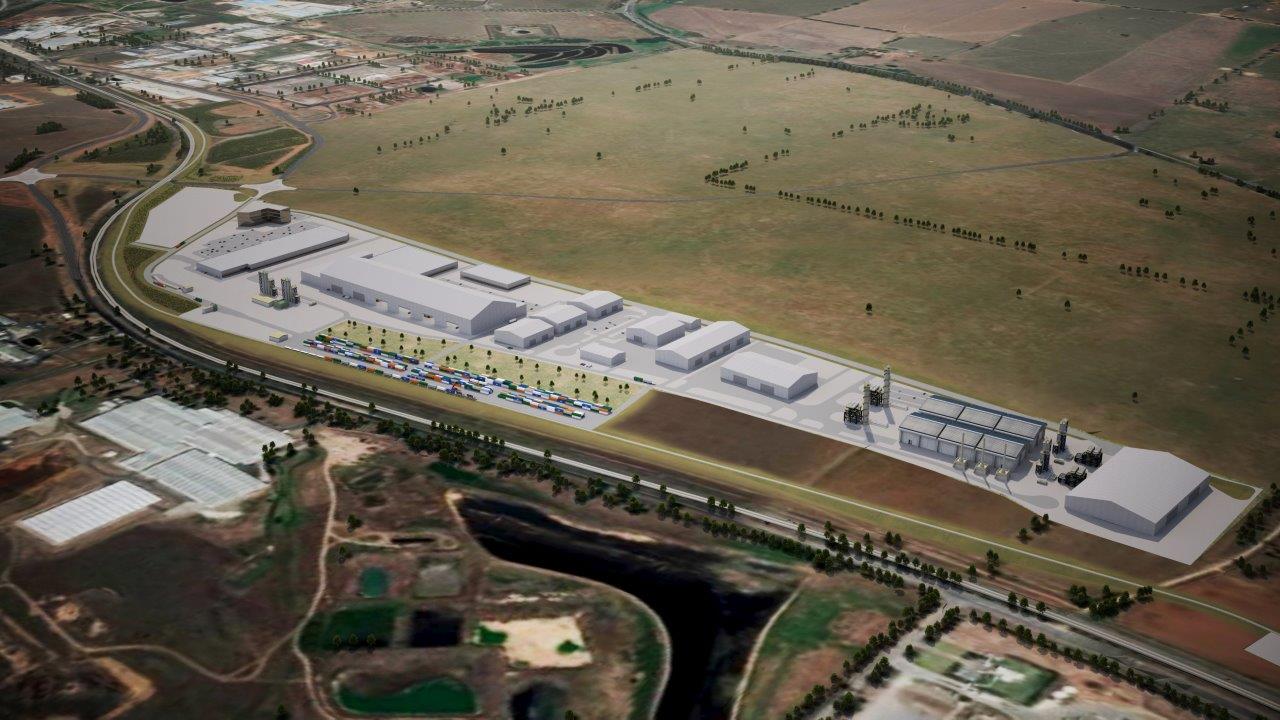 ---
Projects & Works
RiFL Hub project on track with Council approvals
Published: 04 Aug 2020 9:38am
RiFL Hub project on track with Visy Logistics and Huon Contractors
The next important steps in the development of the Riverina Intermodal Freight and Logistics (RiFL) Hub at Bomen Business Park were secured tonight at an Extraordinary Meeting of Wagga Wagga City Council.
Councillors endorsed entering into an Agreement for Lease (AFL) and Lease with Visy Logistics and also approved the RiFL Hub's Stage 2 and 3 design and construction contract to be awarded to Huon Contractors Pty Ltd.
The leasing arrangements facilitate a Public Private Partnership between Council and Visy Logistics and provides the formal agreement for Visy Logistics to operate and manage the RiFL Hub terminal and master siding.
It is the most significant step forward for the RiFL Hub program since a $29.2M grant was received under the NSW Government Growing Local Economies program late last year and paves the way for design and construction to be completed by mid-2022.
RiFL Hub will be the core feature of the Bomen Business Park which is also the focus of the recently released draft Special Activation Precinct (SAP) masterplan. Council has been developing the RiFL Hub program over several years involving three stages for this project.
Check out the vision for RiFL:
The staging of the project was adapted to suit funding opportunities from Federal and State governments.
Stage 1 – Completed. The $35M Enabling Roads Project, which included underpass of Main Southern Railway line, Merino Road and Dorset Drive Construction.
Stage 2 – approx. 4.9km rail master siding and intermodal terminal area. Design and Construct contract funded through Transport for NSW Fixing Country Rail program, $14.4M.
Stage 3 – 60ha industrial subdivision works, RIFL Road and associated services, and fibre to the premises in the existing Bomen Business Park, funded through NSW Government grant under Growing Local Economies, $29.2M.
Advantages of the RiFL Hub include:
Direct access to the $10.8B Inland Rail network.
Businesses will have the benefit of moving their freight to 80% of the Australian population in under 32 hours.
Increased efficiencies and opening regional NSW to new opportunities.
Direct rail interface and the only inland terminal capable of servicing an 1800m train configuration.
Benefits to NSW economy – business expansion (new jobs), cross border and international investment.
Access to domestic and international freight markets.
Improved digital connectivity.
Deputy Premier and Minister for Regional NSW, John Barilaro, congratulated Wagga Wagga City Council and Visy Logistics on the deal which he said will help to strengthen the region's economy, generate further local investment and create jobs for locals.
"Last year I announced plans for a Special Activation Precinct and a Growing Local Economies fund grant to improve transport, utility and data connections in Bomen business park, allowing businesses to be more productive, boost their bottom line and making Wagga an ideal location for an inland port," Mr Barilaro said.
"This agreement between Wagga City Council and Visy represents a massive step forward for industry and people in the region and I am thrilled the NSW Government has been able to help bring the grand vision for the Riverina Intermodal Freight and Logistics Hub to life."
What this means to Wagga Wagga and the region
Mayor of the City of Wagga Wagga Councillor Greg Conkey OAM
"A critical piece of infrastructure such as RiFL shores up the city's position as a leading regional capital city.
"Council is delivering infrastructure and this is a $80M staged project which will define our city as a progressive player when it comes to sitting at the table with big business.
"It means local jobs and money being directly injected into the economy. This is an economic driver from which a regional city can leverage its long-term future and competitiveness in national and international markets.
"We want to thank the State Government and the Deputy Premier John Barilaro in particular for their commitment to Wagga Wagga as the largest inland city in NSW.
"The RiFL Hub has been 15 years in the making and we want to acknowledge the vision and commitment of previous councils and genuine partnership of the government that have enabled this project to be realised."
Council General Manager Peter Thompson
"The significance of tonight's approvals was critical to progressing the project to a stage of physical development with plans and the construction.
"This approval means contracts can be signed and from here I would expect to see significant progress towards realising the second and third stages of this major infrastructure project.
"Funding has been secured, we have a major partner in Visy Logistics committed to the construction and operation of the terminal and we have a building contractor keen to get shovels in the ground.
"The partnership with Visy cannot be understated. This company moves significant amounts of freight volumes each year and seeing a large percentage of that processed and distributed through a strategically located freight terminal between Sydney and Melbourne has Wagga Wagga on everyone's radar.
"Having Visy onboard speaks volumes about the significance of the RiFL project. It shows how far we have come as a city. Visy is one of the largest privately-owned paper, packaging and recycling companies in the world and is free to choose who it partners with and where it locates its operations.
"This is an exciting project which will help define Wagga Wagga's economic vision for many decades to come. The benefits it will bring to the entire region are enormous."
Executive General Manager of Visy Logistics Sean Richards
"Visy has grown together with Australia and our region for decades – often as a critical part of local and regional communities.
"We continue to make strategic, long-term investments in assets, warehouses, technologies and local jobs as part of our commitment to our customers and the community.
"This project epitomises our aim of putting partnerships with our customers, transparency and sustainable solutions at the centre of everything we do. We are always looking for ways to safely streamline supply chain processes and innovate to create value for our customers, and the RiFL Hub partnership is a great example of this.
"We look forward to further developing a successful and long-term relationship with the Wagga Wagga City Council."
Huon Contractors Director Adam Howard
"Huon Contractors is excited to work with Wagga Wagga City Council to deliver the Riverina Intermodal Freight and Logistics Hub.
"The Huon team has strong connections with Wagga and looks forward to delivering this important piece of infrastructure for the region.
"Having grown up in Wagga, I'm proud that Huon Contractors will be building this project. We intend to utilise local contractors and suppliers as much as possible to deliver this project."
Council Director Regional Activation Michael Keys
"The scope of this project needs to be highlighted as potentially one of the most important developments in the city in recent decades.
"It is the impetus for kick-starting the Special Activation Precinct at Bomen which will provide up to 6000 jobs in the next 20 to 30 years.
"Market interest in Bomen continues to grow with the impending construction of the RiFL Hub and this approval tonight rubber stamps a vision and will drive further interest and demand from existing and new business.
"The proximity to the RiFL Hub and its freight connections will be attractive to new businesses which will continue to drive growth in the business park and result in more activity through the hub."
Council Manager City Strategy Tristan Kell
"Council in partnership with NBN have delivered the largest area switch in Australia to date. This will provide fibre services with business Ethernet capabilities for existing businesses in Bomen.
"Digital connectivity at the new 60ha subdivision, and most importantly to existing businesses, now enables businesses to leverage the potential of technology in driving productivity and growth.
"Digital technology is critical in enabling our existing businesses to be competitive and achieve efficiencies.
"The NBN fibre network was switched on in Bomen at the end of June and the benefits of this were immediately realised.
"Having this connectivity has the potential to attract more national and international businesses to Bomen and accelerate economic growth in the region."