---
Arts & Culture
Special costume donated to Museum of the Riverina
Published: 21 Aug 2020 3:01pm
A stunning costume worn on stage during the Gala Premiere Performance at the official opening of the Wagga Wagga Civic Theatre almost 60 years ago, has been donated to the Museum of the Riverina.
The silk kimono, obi belt, zori (flat and thongs sandals) and a Japanese folding fan were presented to Museum staff earlier this week by well-known Wagga performing artists Louise and Dennis Blackett.
The costume was worn by Mrs Blackett, then Louise Montgomery, for her performance as a geisha named Lotus Blossom in the tea ceremony scene from the play, Teahouse of the August Moon.
"I think those costumes are history, but they were just sitting in storage at home and that's why I'm giving it to you," said Mrs Blackett.
"I'm getting to the stage where I've got a house full of memoirs and beautiful things which should be somewhere and not hidden away in my house."
The costume was made by Mrs Blackett's mother under the supervision of Mitsue Stockley, a Japanese woman who came to Wagga Wagga in the early 1950s after marrying an Australian, Roy Stockley, who was serving with the occupational forces in Korea.
"Mitsue told us how to make the obi for the kimono, which has a sort of cage which goes up the middle of the back, so when you're doing the dance you can't move your back," Mrs Blackett said.
"She also coached me with the language. I remember I had to learn the whole part from the scene in Japanese and she would help me with my pronunciation."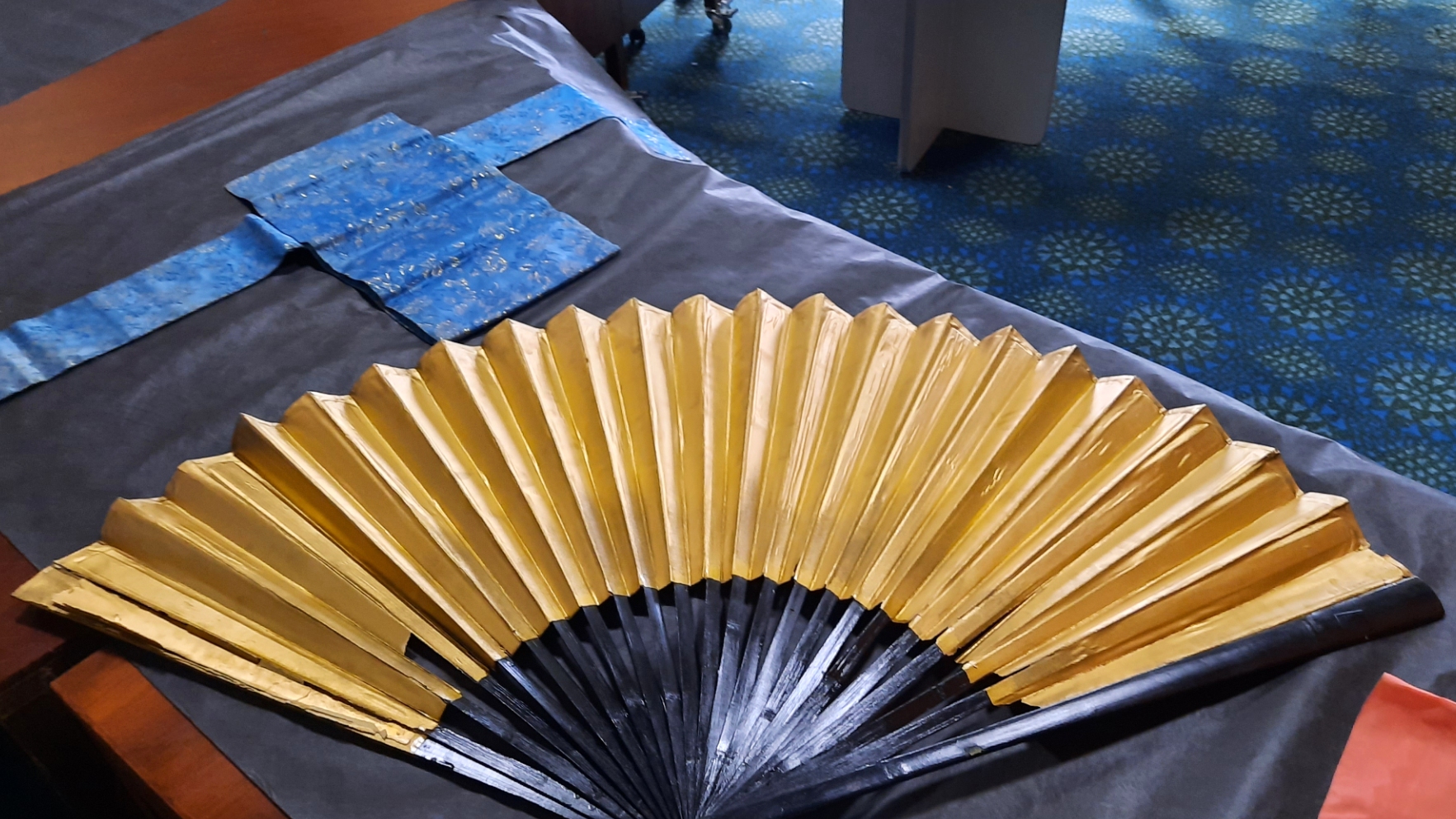 The Japanese hand fan was made by Peter Barton, who was well-known figure in Wagga Wagga's performing arts community as a set designer, performer and producer, from the 1950s to 1980s.
Museum Manager Luke Grealy thanked the Blacketts for the items, which will be catalogued and added to the Museum's collection.
"To receive this beautiful costume and incredible fan which graced that new stage at the opening of the Civic Theatre in June 1963, is very special for the Museum," Mr Grealy said.
"It's a significant donation as the theatre has been such an important part of the city's performing arts and cultural history over the past 57 years."
Also donated to the Museum was a photo taken by Tom Lennon of Lloyd Mortlock, Dennis Blackett, Louise Blackett (nee Montgomery) rehearsing the tea ceremony scene ahead of the Gala performance.