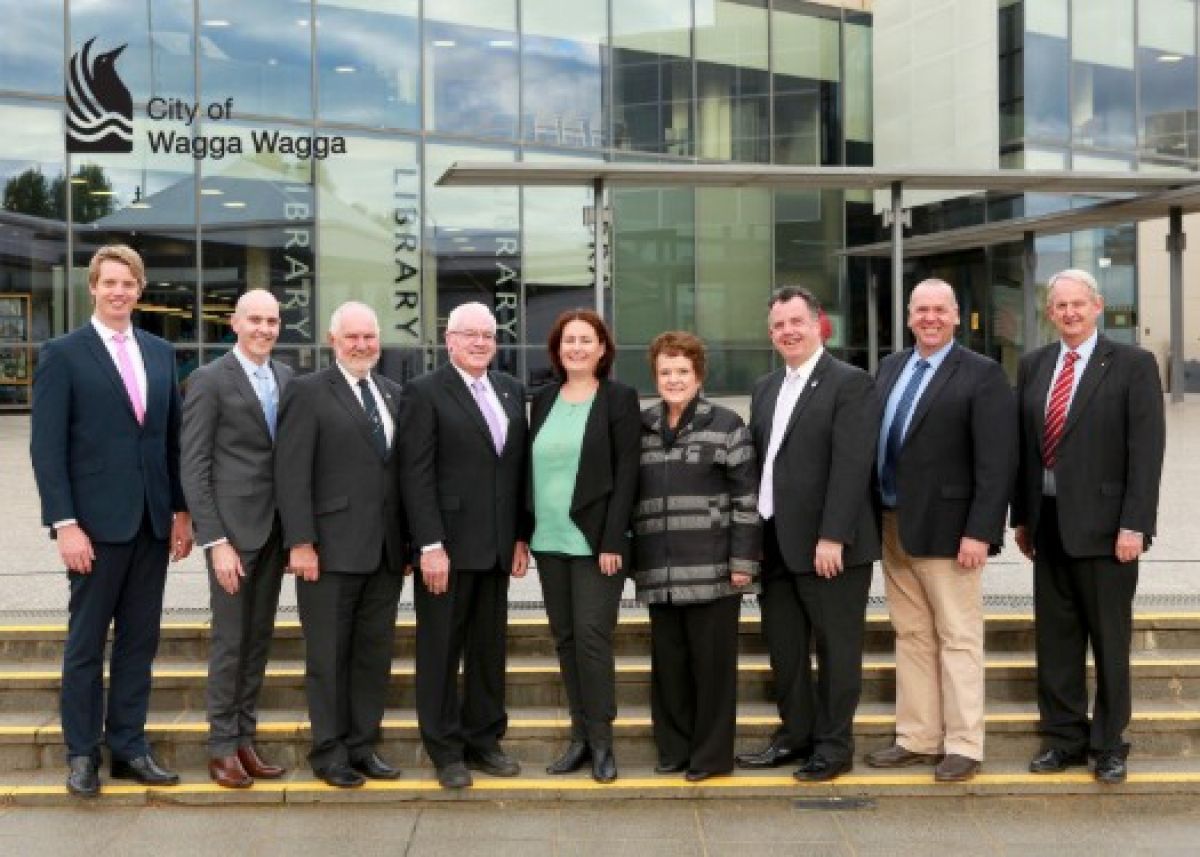 ---
Council
Summary of Council's 14 December 2020 Ordinary Meeting
Published: 14 Dec 2020 9:05pm
New Year's Eve CBD activation
Council tonight received an outline to a new approach being prepared to activate the Central Business District on New Year's Eve (NYE) this year. The aim is to enliven the Baylis and Fitzmaurice Street hospitality precincts and create a family-friendly festive and fun environment for NYE celebrations.
See full story at wagga.nsw.gov.au/news
MAYORAL MINUTE - NEW YEAR'S EVE 2020 - ACTIVATION AND SUPPORT FOR LOCAL BUSINESS
Council to seek MP's representation
Councillors tonight supported a Notice of Motion calling on the Mayor to write to the Deputy Prime Minister, Member for Riverina Michael McCormack, requesting his official representation to the Chinese ambassador and ministry on various social and trade issues.
The motion put by Cr Paul Funnell will now see Mayor Cr Greg Conkey request Mr McCormack represent Council on its position with particular focus on a recent image depicting an Australian Defence Force member on social media, and tariffs placed on Australia's beef, barley and wine industries.
NOM-1 NOTICE OF MOTION - REPRESENTATION TO KUNMING
Report on night-time economy
Council will receive a report on the affect the recent Liquor Amendment (24-hour Economy) Bill 2020 will have on the delivery of local strategic plans.
The Bill governs entertainment and other night-time venues which support a 24-hour economy.
Cr Dan Hayes' motion called for the report which may identify any opportunities the Bill provides to support the local economy as it recovers from the impact of COVID-19.
NOM-2 NOTICE OF MOTION - NIGHTTIME ECONOMY
Development Application approved
Council has approved a development application for the construction of a two-storey dwelling, shed, pool and associated retaining wall at 10 Lakesend Place, Lake Albert. Approval is subject to conditions.
RP-1 DA20/0470 - TWO-STOREY DWELLING, SHED, POOL AND ASSOCIATED RETAINING WALL - LOT 29 DP 1235752, 10 LAKESEND PLACE, LAKE ALBERT
Bomen area planning proposal
Council has resolved to endorse a planning proposal which amends land zoning and increases minimum lot sizes in the Cartwrights Hill and Byrnes Road areas.
Council received a Gateway Determination from the NSW Department of Planning, Industry and Environment on 9 October 2020 to proceed with the planning proposal subject to public exhibition and agency consultation.
Amendments to the Wagga Wagga Local Environmental Plan 2020 aim to prevent further intensification of residential land uses in the southern periphery of the Wagga Wagga Special Activation Precinct.
There were 19 submissions received against the proposal during the public exhibition period.
RP-2 PLANNING PROPOSAL LEP20/0005 TO AMEND LAND ZONING AND INCREASE MINIMUM LOT SIZE APPLYING TO LANDS AT CARTWRIGHTS HILL AND BYRNES ROAD
Naming proposal for athletics centre
A proposal to name Jubilee Park's athletics facility in Wagga Wagga in honour of a dedicated and well-known local coach will be placed on public exhibition for community feedback.
The athletics clubs of the city have put forward and supported the proposal which recognises the work of Bill Jacob, who passed away earlier this year after more than 40 years involvement in the sport.
His work also included a significant contribution to the development of the facility at Jubilee Park, which is now proposed being named the Bill Jacob Athletics Centre.
Council will receive a report after the exhibition period of 28 days.
RP-3 NAMING OF JUBILEE PARK ATHLETICS FACILITY
Tarcutta food vendor approved
Council has approved a mobile food vendor operating from the Tarcutta Truck Interchange for up to 12 months.
Operating hours will be restricted between 8pm and 3am seven days a week.
RP-4 EXPRESSION OF INTEREST FOR MOBILE FOOD VENDOR AT TARCUTTA TRUCK INTERCHANGE
Referendum costings approved
Council resolved to endorse a report outlining the process and indicative costs involved in the community consultation process and the proposed wording of the question for the Constitutional Referendum for a popularly elected mayor.
Funding for the community engagement process leading up to the referendum, to be held at the September 2021 Local Government election, will be up to a maximum $37,400.
The wording for the referendum question will be:
The Mayor of Wagga Wagga is currently elected every two (2) years by the nine (9) Councillors. Do you approve of the direct election of the Mayor by the voters of Wagga Wagga, for a four (4) year term, noting that this will result in increased election costs each and every election?
RP-5 CONSTITUTIONAL REFERENDUM - POPULARLY ELECTED MAYOR
Committees operation review
Council received a report noting the review undertaken to date and the actions being undertaken to review and improve its processes to ensure the operation of committees encourages diverse representation.
RP-6 RESPONSE TO NOTICE OF MOTION - REVIEW OF COMMITTEE MEETING TIMES
WHS Policy change
Council endorsed amendments to the draft Work Health and Safety Policy.
RP-7 WORK HEALTH AND SAFETY POLICY (POL 080)
Reduced fee for hall hire
Council has adopted a new reduced fee for the hire of Mary Kidson Hall at the Botanic Gardens. No submissions were received during the public exhibition period.
RP-8 PROPOSED NEW FEE AND CHARGE FOR 2020/21 - MARY KIDSON HALL
Tip Shop relocation – Finance Report
The Tip Shop at Gregadoo Waste Management Centre is being relocated within the facility.
The popular facility will move to an existing shed with modifications, providing customer access in front of the new weighbridge location.
This will allow customers to both drop off and purchase items without needing to cross the weighbridge.
It is proposed to undertake works on the existing shed to fit it out to ensure it is secure and suitable for the requirements of the shop. The proposed new location will be incorporated into the future development of the domestic precinct. It is proposed to fund the $150K works from the Solid Waste Reserve.
Council has allocated $40K from the City Presentation fund to the upkeep of three parks in the city.
The Botanic Gardens ($28K), Victory Memorial Gardens ($7K) and Collins Park ($5K) were chosen for the allocation due to their high traffic volumes and popularity in the vicinity of the CBD.
Council has been successful in securing grant funding from the National Australia Day Council to ensure that Australia Day Celebrations are COVID safe. The $20K grant funds will cover the additional COVID related costs for fencing, signage, cleaners, a COVID marshall and PPE.
RP-10 FINANCIAL PERFORMANCE REPORT AS AT 30 NOVEMBER 2020
Financial assistance requests
Council has approved a number of requests for financial assistance totalling $5,354.
CONF-1 SECTION 356 REQUESTS FOR FINANCIAL ASSISTANCE
Art gallery humidity control upgrade
Council has agreed to reject all offers for the Art Gallery Humidity Control Upgrade works tender and negotiate with tenderers to form a contract with an agreed scope of works within budget allocations.
CONF-2 RFT2021-02 ART GALLERY HUMIDITY CONTROL UPGRADE CONSTRUCTION
Geotechnical testing services
Council has agreed to enter into a contract for provision of geotechnical testing services with Aitken Rowe Testing Laboratories Pty Limited and DM McMahon Pty Ltd.
CONF-3 RFT2021-09 GEOTECHNICAL TESTING SERVICES
Supply of bulk fuel
Council has agreed to enter into a contract with Ampol Australia Petroleum Pty Ltd for the supply of bulk fuel for a period of 12 months with an option to extend the contract for 2 x 12-month periods.
CONF-4 RFQ2020-519 BULK FUEL SUPPLY
Grazing land licences
Council received a number of Expressions of Interest for several parcels of grazing land and agreed to recommendations for the establishment of new licence agreements.
CONF-5 WAGGA WAGGA CITY COUNCIL - EXPRESSIONS OF INTEREST FOR GRAZING LICENCES
RiFL agreement with ARTC
Council has agreed to enter into a Works Deed with the Australian Rail and Track Corporation for development of the Riverina Intermodal Freight and Logistics project siding No 1.
CONF-6 RIVERINA INTERMODAL FREIGHT LOGISTICS HUB AGREEMENTS WITH AUSTRALIAN RAIL AND TRACK CORPORATION AND REGIONAL GROWTH DEVELOPMENT CORPORATION
Riverside Stage 2 project
Council has agreed to award a contract for the design and construction of Riverside Stage project. See full story at wagga.nsw.gov.au/news
CONF-7 RIVERSIDE STAGE 2 - OUTCOME OF TENDER NEGOTIATIONS