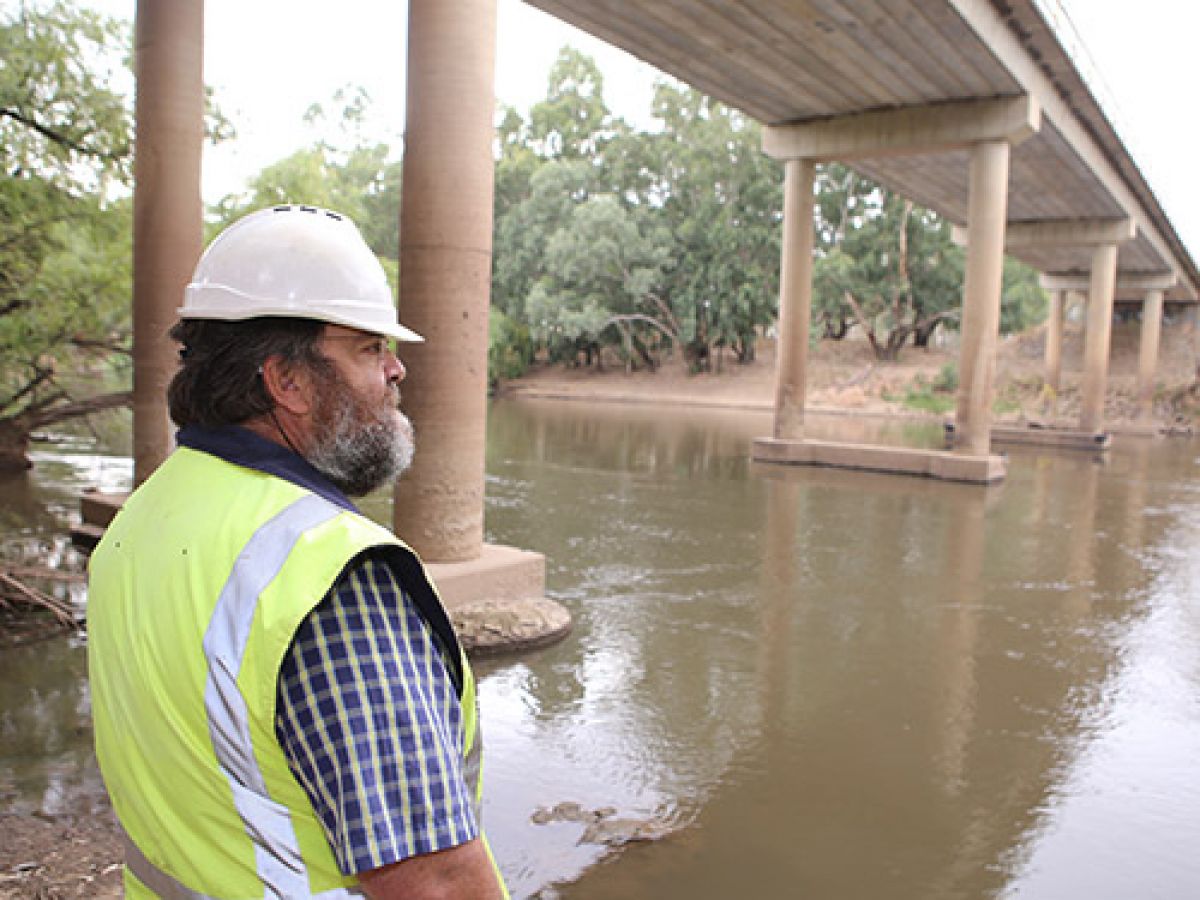 ---
Projects & Works
Eunony Bridge strength fit for the future
Published: 07 Feb 2020 1:08pm
The upgrade of Eunony Bridge in Wagga Wagga will deliver a structure strong and wide enough to carry long and heavy vehicles not yet legally rated on New South Wales roads.
Work on the $10.6M strengthening and widening of the bridge will start next Friday 14 February resulting in the full closure of the bridge for 22 weeks until 1 August, weather permitting.
Wagga City Council Senior Project Manager Silas Darby said the bridge will conform to an Australian standard known as SM1600.
"This is a design load that is used in Australia when designing new bridges," Mr Darby said.
"It is a very heavy load that no road registered vehicle currently achieves. We're talking about heavy vehicles that are more than 36 metres long and can carry load limits of more than 100 tonnes.
"Currently the Eunony Bridge is narrow and load limited. It cannot cater for the increased size of trucks that may want to access the Riverina Intermodal Freight and Logistics Hub (RiFL) which is being developed.
"The new widening and strengthening works will enable the load limit to be lifted so that the required vehicles can travel across the bridge."
Mr Darby said the upgrade would ensure Eunony Bridge continues to serve as a key access point to the northern suburbs for many decades to come.
"The new structures will have a design life of 100 years," he said.
"There's at least another 50 plus years life in the existing structures, such as piles, pier columns, abutments and headstocks, which were tested last year.
The bridge is approximately 100 metres long and will be 10.6 metres wide. The deck will be replaced in five, 20-metre sections and will be approximately 500mm higher.
"Our testing last year informed us this is a very well constructed bridge, and that has worked greatly in our favour," Mr Darby said.
"The new deck will be stronger and wider and that will ensure the bridge's future under heavier loads for many years to come."
Council Director Commercial Operations Caroline Angel said the bridge closure will mean changed traffic conditions and alternate routes for residents and business operators accessing and leaving the North Wagga and Bomen areas.
"People will need to plan extra time for their journey to and from these areas," Ms Angel said.
"We understand this is going to affect a number of motorists, heavy transport operators, businesses and residents – it is a vital piece of infrastructure for the city and the full closure is necessary to carry out these works.
"Council thanks the community for its patience and understanding as this project is undertaken."
Ms Angel said traffic increases through the centre of Wagga along the Sturt Highway will be one of the effects of the works.
Most of that traffic will divert along the Olympic Highway and across the Gobbagombalin Bridge to access Bomen from the west.
Late last year engineers carried out concrete strength and soil to assist with the final design of the upgraded bridge deck.
Council has received $9.8M in Federal and State government funding towards the project.
Project Funding
Estimated Total Cost - $10.6M
Funding Received - $9.8 M
Project Elements
Strengthening and widening of the existing Eunony Bridge allowing Higher Mass Limit (HML) vehicles to cross the Murrumbidgee River via Eunony Bridge Road.
Introduction of cycle ways
Necessary road works
Associated bridge and earthworks
Strategic Intentions
Create a new route for HML vehicles, reducing heavy vehicle traffic in Wagga Wagga CBD; the new route has the potential to save up to 36 minutes, or 21 kilometres, on a roundtrip.
Upgrade infrastructure that integrates with existing transport networks; the bridge will be a key link for the Wagga Wagga High Productivity Freight Route linking Bomen Business Park and RiFL;
Improve infrastructure and safety;
Build capacity for future growth