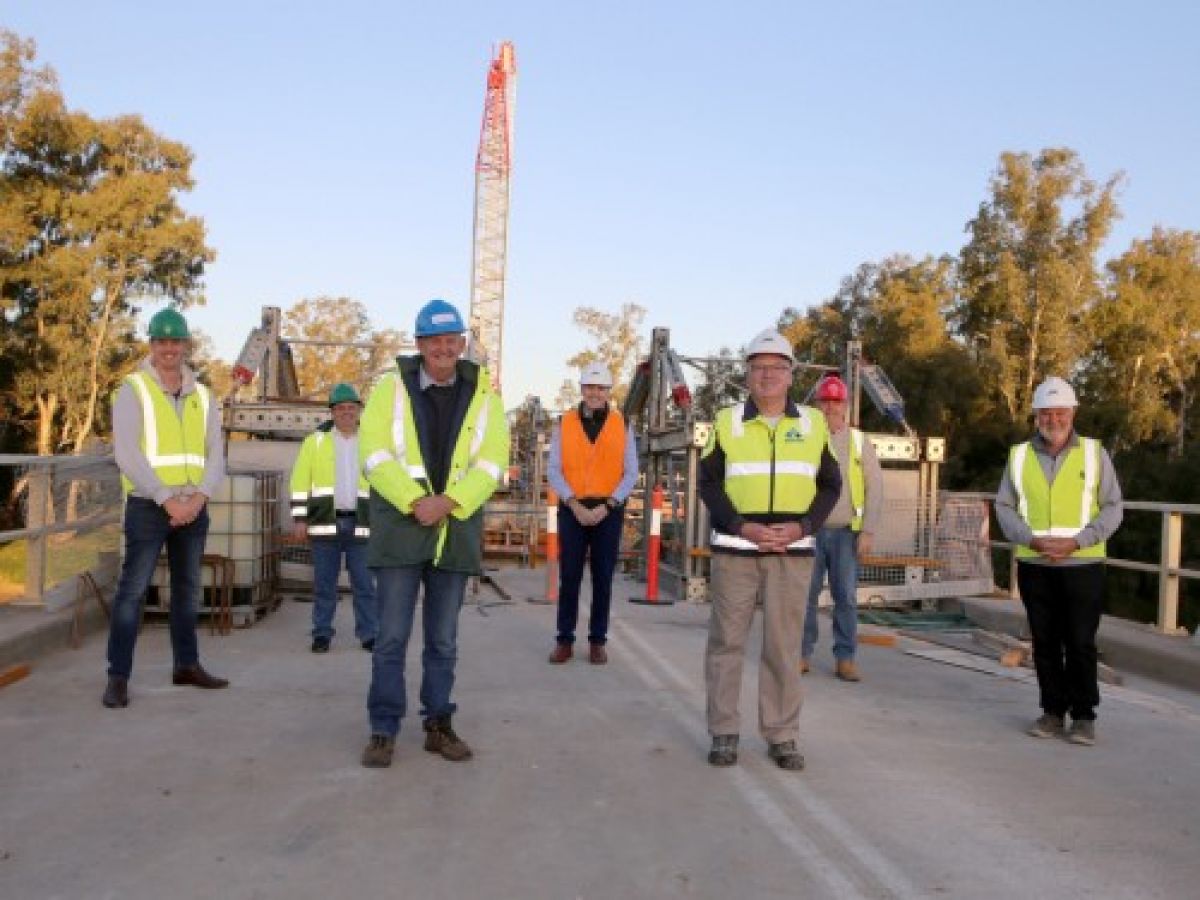 ---
Projects & Works
Challenges faced on Eunony Bridge project
Published: 27 May 2020 10:50am
A number of unexpected interruptions since work started earlier this year on the $10.6M widening and strengthening of Eunony Bridge have impacted the project's schedule by two weeks.
Effects of the COVID-19 pandemic affected Wagga Wagga shortly after main works started and the theft of specialised crane equipment at the work site followed by significant rain events have been the main causes.
Wagga Wagga City Council Director Commercial Operations Caroline Angel said work on the project has continued at a solid rate and significant goals are being met but circumstances beyond Council's control have made a difference.
"We have lost about 14 days for a variety of reasons and that is through no fault of Council or its contractors who have been outstanding in achieving certain milestones despite the extenuating circumstances," Ms Angel said.
"The theft of the crane equipment slowed progress by a week in the very early stages and that was extremely unfortunate to have to deal with a situation where the actions of those thieves have directly and indirectly affected the whole community.
"The crane was not operational until that equipment was replaced, and that was extremely disappointing for all involved."
Ms Angel said the pandemic has also had an effect in certain areas of the project.
"A reduction in flights to and from Wagga Wagga in response to COVID-19 hindered specialist crews' capacity to travel to and from the city, both intra and inter-state," Ms Angel said.
"Key staff, including the Project Manager and Site Engineer, were required to quarantine after contact with someone who tested positive for COVID-19.
"More recently, we had to deal with rain which stopped work due to safety issues."
Ms Angel said there has still been excellent progress considering the circumstances.
This includes the completion of Span 4 of the bridge deck being replaced, preparation for a further two spans to be lifted and roadworks on the northern approach of the bridge.
Eunony Bridge will remain closed until early August 2020, weather permitting.
Read more about the Eunony Bridge upgrade.
Image: Getting a first-hand look at Eunony Bridge progress works were (from left) Councillor Dan Hayes, General Manager Peter Thompson, and Crs Greg Conkey, Tim Koschel, Kerry Pascoe, Dallas Tout and Rod Kendall.