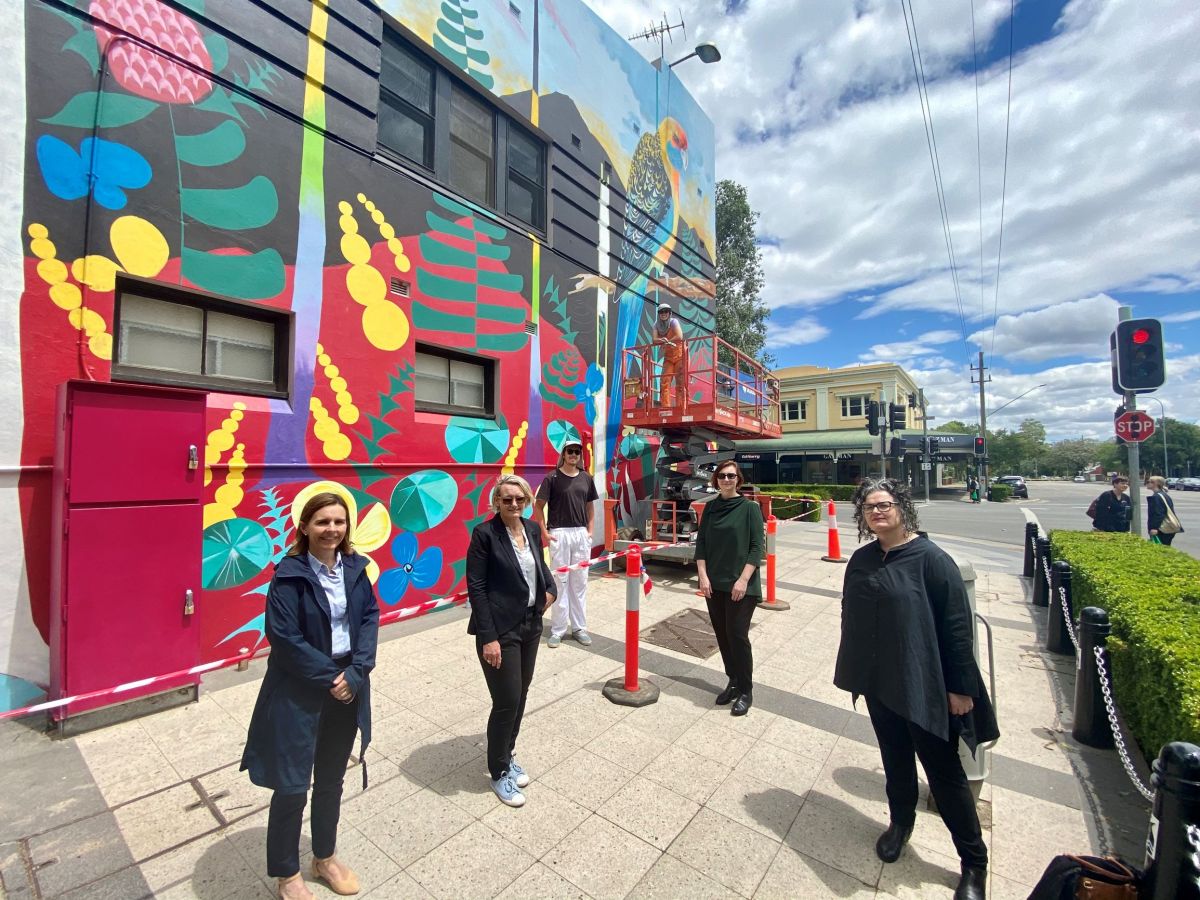 ---
Arts & Culture
Morning Light: a new landmark for the city's CBD
Published: 06 Nov 2020 3:01pm
A new mural celebrating our region's native flora and fauna has been developed and installed as part of the NSW Government's Places to Love program.
Located on the corner of Tompson and Baylis streets, Morning Light by multidisciplinary artist David Cragg features our region's beloved 'Murrumbidgee parrot' surrounded by flora endemic to the Riverina.
Council's Visitor Economy & Events Coordinator Fiona Hamilton said the mural is one of several activations planned in the city as part of Places to Love, a partnership between the Department of Planning, Industry and Environment (DPIE) and six councils across NSW, with Wagga Wagga the only regional city included in the pilot project.
"The new Morning Light mural, which is now a landmark for everyone in the city, has been a collaboration with the artists, building owners, local businesses, and residents," Ms Hamilton said.
"Projects such as this are a great way to bring people together to collaborate through shared involvement.
"The project is an example of creating street vibrancy through arts-led initiatives such as this striking mural. This project connects community with local business, and fosters community pride. It's through projects like this that we can create a sense of place and test ideas to design better places for our residents."
The Places to Love program aims to enhance the amenity of public spaces – such as through art, lighting treatments and temporary furniture – encouraging local communities to rediscover and explore their city on foot.
"The new mural is an example of the lead role the arts can play in activating public places such as Baylis Street," Ms Hamilton said.
Putting the finishing touches on the two-storey high mural, artist David Cragg said he has a special affinity for large-scale public artworks.
"I love the scale of this work," Mr Cragg said.
"Often if you paint a small piece of fine art, it'll never be seen again because it's in someone's house. Murals get to be enjoyed by everyone in the community for years to come."
While spending 12 hours a day in front of a north-facing wall is hot work, Mr Cragg and collaborating artist Karla Hayes have enjoyed the community's response to the mural.
"Something like this goes up and it really brightens and lightens people's days," Mr Cragg said.
"We've had so many locals come up for a chat, from seniors through to little kids shouting 'Awesome bird!'"
Places to Love is part of the State Government's Festival of Place – an inaugural celebration of public spaces across NSW.
To find out more visit dpie.nsw.gov.au/festival-of-place
REINVIGORATING OUR CITY: (image from left) Council's Visitor Economy & Events Coordinator Fiona Hamilton, DPIE Executive Director, Public Spaces Dr Caroline Butler-Bowdon, Artists David Cragg and Karla Hayes, DPIE Director Place, Design and Public Spaces Vanessa Gordon, and Council's Manager Community Services Madeleine Scully.