---
Arts & Culture
Welcome to Hardenvale: where nostalgia lurks in dark corners
Published: 29 Oct 2020 5:28pm
The tyre swan, the Hills Hoist and the venetian blinds are instantly recognisable, yet something feels a little odd. If you find yourself comforted by familiarity, but strangely disconcerted while wandering through Wagga Wagga Art Gallery's latest exhibit, you'll be making three artists very happy.
Hardenvale – Our home in Absurdia is an ambitious installation recreating an Australian postwar fibro home. Conceived by leading Australian artists Catherine O'Donnell, Kellie O'Dempsey and Todd Fuller, the house is a place where families and different generations can share their experience and memories of home.
The trio, drawing on their own upbringings, have designed each room to trigger a mix of emotions and memories using projected animations, small and large scale drawings, and modified heritage and household objects.
Catherine O'Donnell grew up in a housing estate on the outskirts of Sydney, and remembers walking into neighbours' homes, which were exact replicas of her own.
"There were limited housing styles, so often the same style was repeated," Ms O'Donnell said.
"You'd walk in and know where everything was. While this house is based around those houses, we've stripped it back so it could be anyone's house."
Kellie O'Dempsey said the installation explores the quintessential home environment of working class Australia, and the strangeness that operates on the suburban and cultural fringe.
"We use the term 'uncanny' in that it's both familiar and awkward at the same time," Ms O'Dempsey said.
"It reflects the strange dark stories that happen behind closed doors."
The house explores the tension between 'keeping up appearances' with a sometimes more sinister reality, according to Todd Fuller.
"From the front it is this very ordered, white, pristine, inviting home – and in the backyard it's dark, moody and creepy – things shouldn't be where they are," Mr Fuller said.
"We have moments for warm memories and moments where you'll think – there's something not quite right here."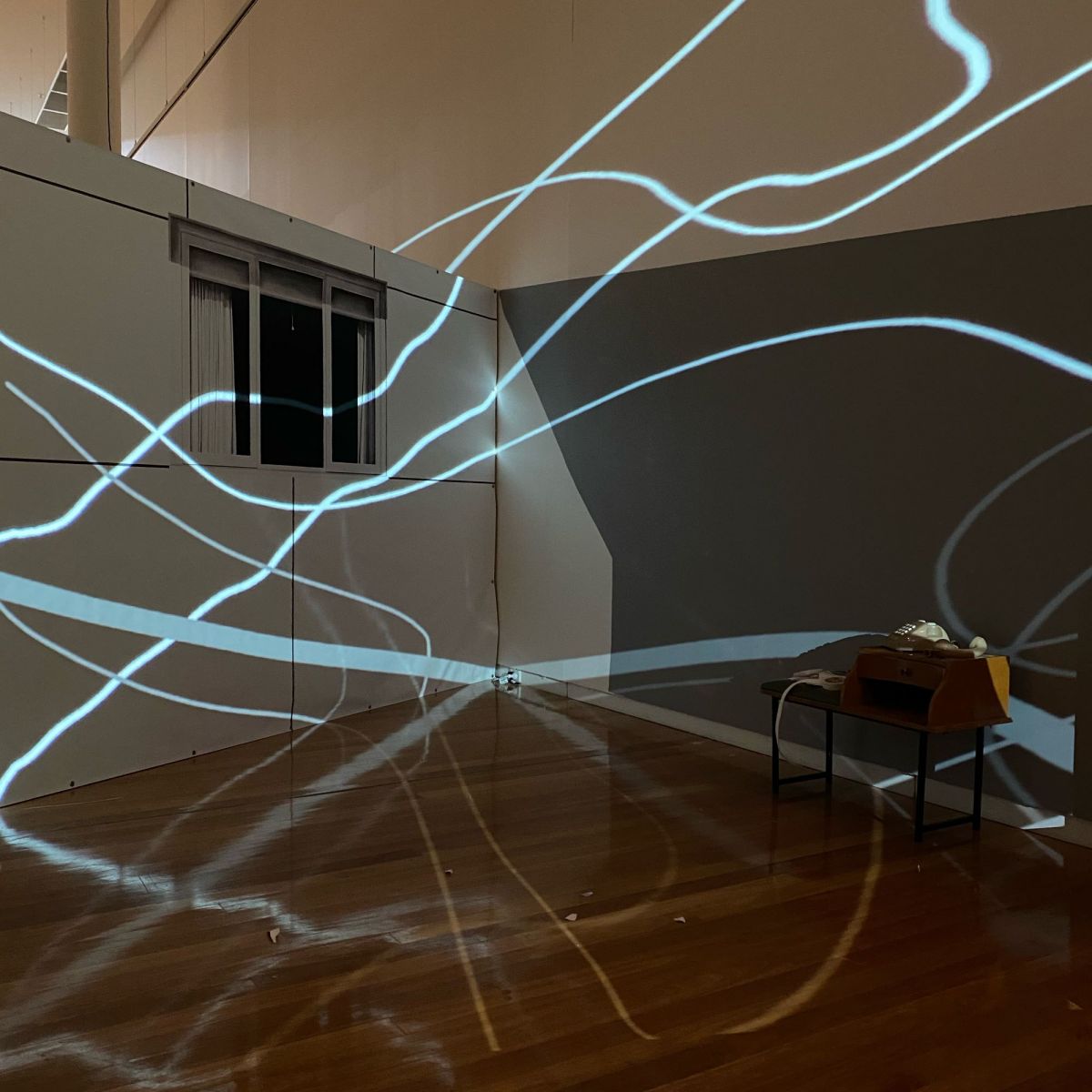 Described by its creators as a 'slow-cooker artwork' Hardenvale reveals itself in stages with some digital animations timed to appear at odd intervals.
"You might walk past an image and the next time you see it, notice you missed a flicker," Mr Fuller said.
"You'll have moments thinking 'Did that just move?'"
The life-sized house also challenges perceptions of how we experience art.
"This isn't an artwork you walk past," Ms O'Dempsey said.
"You've got to walk through it, seeing other people's shadows and walls that are not quite walls – you physically feel it."
Unique to a travelling exhibition, Hardenvale collects elements of each place it visits, continually adding to itself.
"The back mural is the Wagga Wagga skyline, plus we've included references to the guinea pig queen from the Botanic Gardens, the Wagga Wave and the Murray Cod," Mr Fuller said.
Ms O'Donnell also created three models of Wagga Wagga houses, which she's hoping will be spotted by eagle-eyed visitors.
"I'd love someone to recognise their own home," she said.
Hardenvale – Our home in Absurdia is on exhibition from Saturday 31 October 2020 to Sunday 31 January 2021 at the Wagga Wagga Art Gallery.
For more information visit waggaartgallery.com.au
Launch + live performance: Hardenvale – Our home in Absurdia
Join the Wagga Wagga Art Gallery for the launch of their new summer exhibition program and immerse yourself in an exciting multimedia live performance by the Hardenvale artists.
Saturday 7 November, 5–6pm.
Tickets $5 + booking fee, including complimentary non-alcoholic drink and nibbles.
Book now