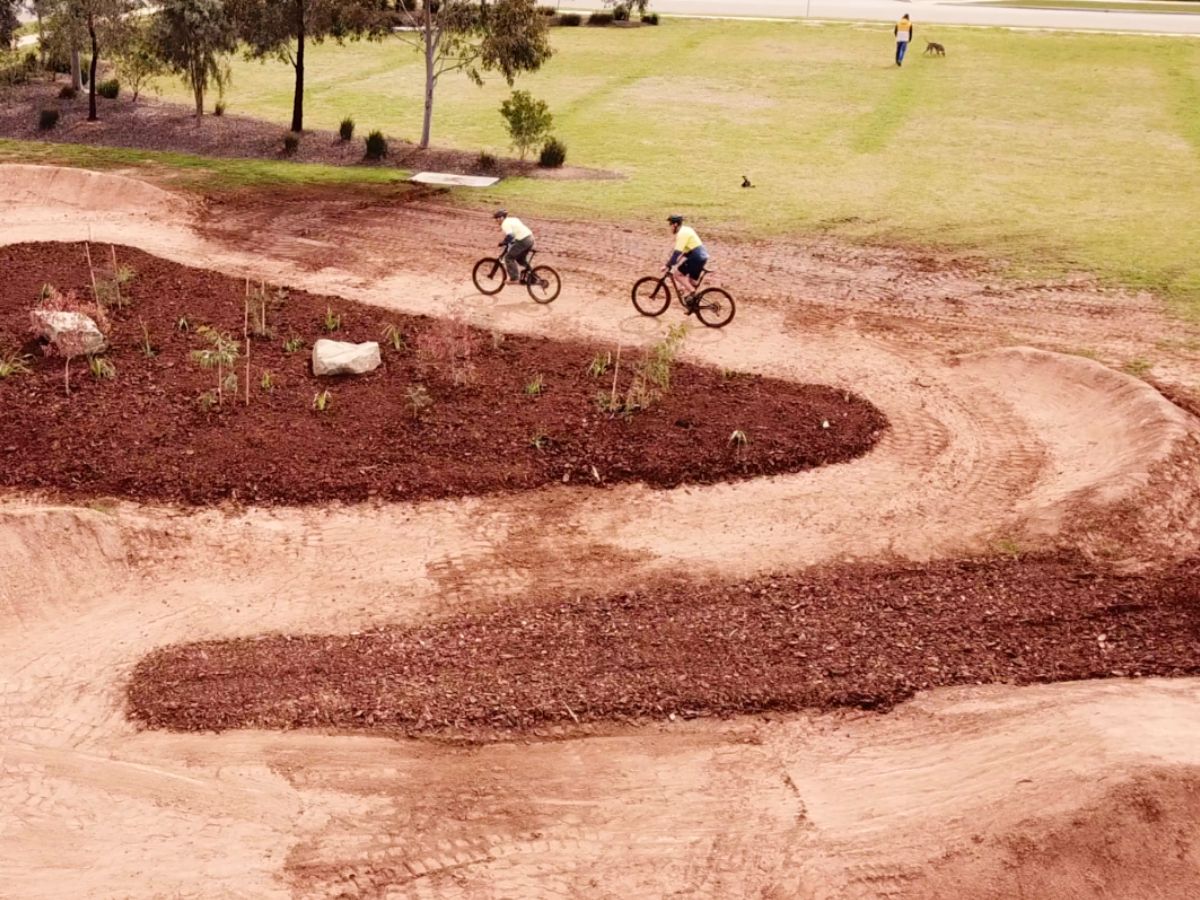 ---
Community
Flying High! Gobba's new jump track ready to ride
Published: 04 Sep 2020 9:14am
A 353-metre long loop with four table top jumps, nine berms, two gap jumps and one set of rollers, the new bike jump track at Gobbagombalin Park in Wagga Wagga' north is set to get the adrenalin pumping.
Construction began in the second week of August and was completed this week, with the new circuit expected to be a big drawcard for riders of all ages and abilities from across the city and beyond.
Parks & Recreation Assets Officer Rob Owers said close to 350 tonnes of subsoil clay loam, sourced from the site for the new Estella School, was used in building the track.
"In a first for Wagga Wagga, rather than using a soft rock road base, this track has a hard, compacted earth finish," Mr Owers said.
"We've also planted 200 trees, shrubs and native grasses to form little garden beds near the adjacent corners of the track to give it definition and to stop riders cutting corners and instead stay on the track.
"This week we spread 100 cubic metres of bark mulch on the garden beds, which are also irrigated to help keep plants alive during dry summers."
The Concept Design for Gobbagombalin Park was developed following consultation with the community and as part of the process, high school students from The Riverina Anglican College were consulted about the number and size of table top jumps to include in the design.
"Keeping in mind Gobbagombalin's demographics, we had to design something for all ages," Mr Owers said.
"We have a track that a three-year-old could roll through on a balance bike, right up to a Year 10 student who can hit a tabletop hard and jump four metres long and a couple of metres in the air.
"It has a concrete start pad which has some elevation, so the kids can drop into the start of the track and have a bit of speed for the first set of jumps.
To spread the word about the new jump track, Council has put it on the 'Trailforks' app, which off-road riders use to find out what mountain bike riding, pump tracks and jump tracks are available in a particular location.