---
Arts & Culture
old:NEW – a new perspective on some pieces of Riverina history
Published: 11 Sep 2020 9:28am
From Aboriginal grinding stones to a teacup and saucer which survived the 1852 Gundagai flood, a selection of unique objects from the region's museums has provided inspiration for the pieces featured in a new exhibition in Wagga Wagga.
old:NEW, which opened at Museum of the Riverina on Friday (11 September), aims to start conversations about what we keep, why we collect, and how history informs the present.
Museum Manager Luke Grealy said the exhibition came from Eastern Riverina Arts as part of this year's Art State Conference being held in Wagga Wagga.
"Eight regional artists were invited to choose an object, concept or theme from their local museum to create a new work, revealing contemporary connections to our past," Mr Grealy said.
"Some of the pieces are really gentle and soothing, while others are quite confronting, but what they have in common is they inspire the viewer to reflect on the history of the original object or theme and the modern interpretation."
The exhibition features works by Jordy Bos, Peter Ingram, Heather Lowes, Juanita McLauchlan, Beverly Moxon, Jodi Stewart, Ralph Tikerpae and Sue Wood.
The objects were drawn from Coolamon's Up-to-Date Store, Gundagai Museum, Temora Rural Museum, Wyalong Museum, Junee's Broadway Museum, Lockhart's Greens Gunyah Museum, the Pioneer Women's Hut, and Museum of the Riverina.
Among the pieces is a shield by Peter Ingram from the Collingullie-Lockhart area, who used recycled metals and farm scraps to create the object inspired by grinding stones from the Greens Gunyah Museum.
There is also a sculpture using recycled metal by Ralph Tikerpae from the Wyalong area. 'Borree Jack' is based on a photo of an infamous incident in which a racehorse was impaled on a guide rail when a dust storm swept across the track during a race in 1909.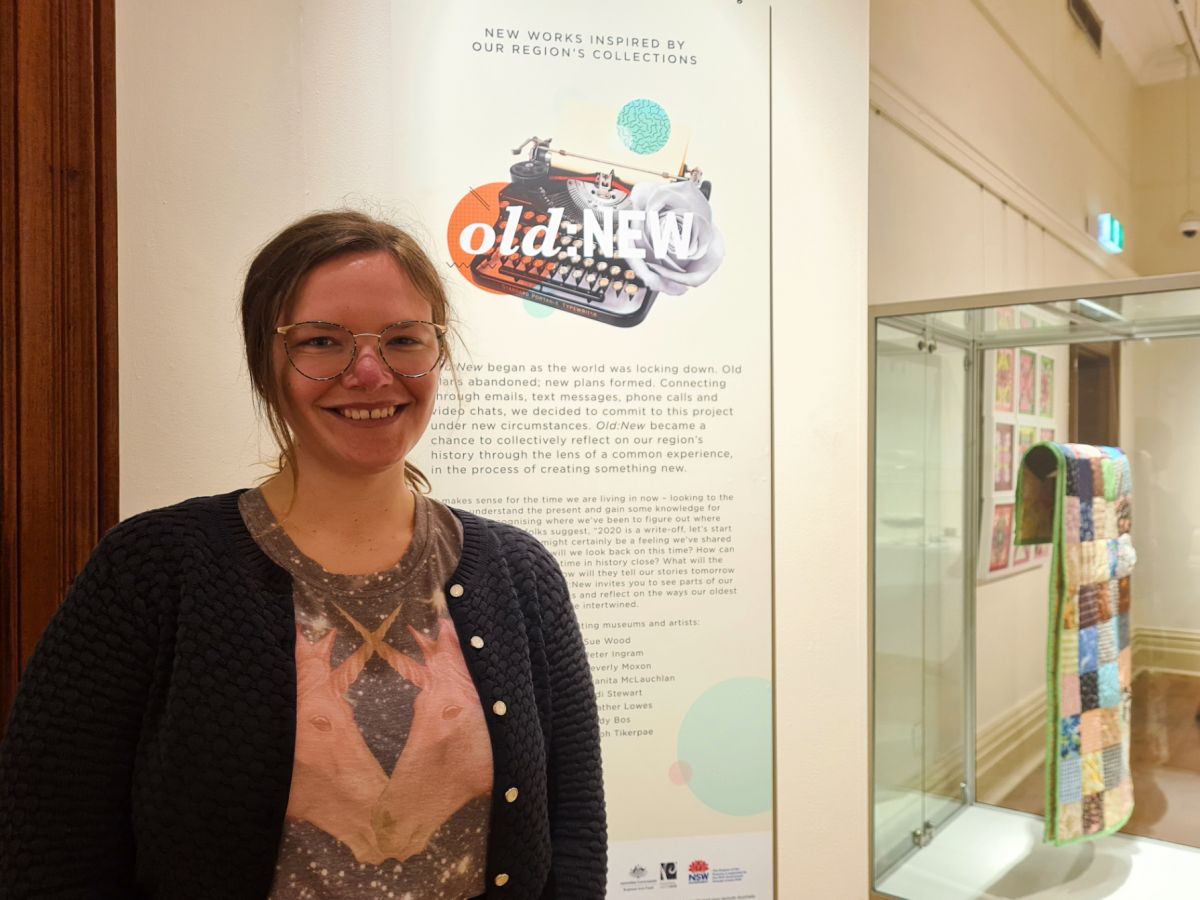 According to old:NEW's curator Kate Allman from Eastern Riverina Arts, the exhibition is about thinking about our history in the region and having a conversation about where we've been, where we are now and where we might be in the future.
"I think sometimes we walk through our museums and just have a glance and think 'oh, that's a cool old thing'," Ms Allman said.
"Maybe we read a little about it and think about that object's place in history but putting an artist's perspective on it adds a different layer.
"It can make us think about some deeper themes, some deeper connections to history, and I think that's what this exhibition does through the stories it tells us."
old:NEW will be on at the Museum of the Riverina at the Civic Centre from 11 September to 22 November 2020.