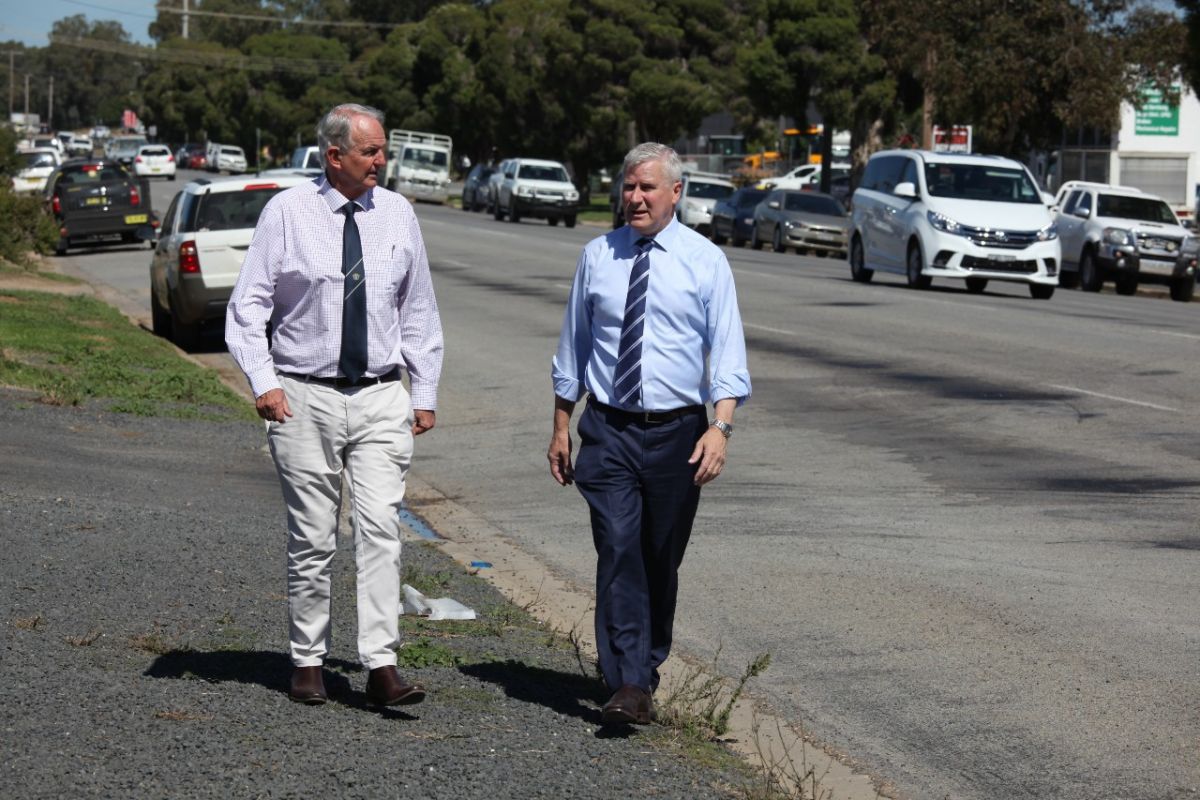 ---
Projects & Works
Funding for two major roads in the city
Published: 01 Apr 2021 12:50pm
Wagga Wagga City Council has been successful in its bid for funding from the Federal and NSW Governments for a project to rehabilitate Dobney Avenue and Pearson Street in the city's western industrial precinct.
The funding covers the stretch of Pearson Street and Dobney Avenue from the Sturt Highway to the roundabout south of the main Bunnings entrance.
The funding has been allocated under Round Two of the Fixing Local Roads program.
Mayor of the City of Wagga Wagga Councillor Greg Conkey OAM welcomed the announcement by the Deputy Prime Minister and Member for Riverina, the Hon. Michael McCormack MP, and NSW Nationals MLC Wes Fang.
"Pearson Street is one of the busiest thoroughfares in this city, with 16,000 vehicles movements per day, while 5,500 use Dobney Avenue and they're both badly in need of upgrading," Cr Conkey said
"Wagga Wagga City Council's co-contribution is $1.4 million on top of the $4.2 million being provided by the Federal and State governments."
Council submitted the application for funding at the end of 2020 as part of its concerted effort to focus on improvements to the city's arterial road network in the next couple of years.
Director Operations Warren Faulkner said improvements to Pearson Street align with Council's Integrated Transport Strategy and Local Infrastructure Contributions Plan.
"A high proportion of the road users are commercial and industrial vehicles," Mr Faulkner said.
"This reflects the changes in traffic movements over recent years, driven by the development of our western industrial precinct and northern growth area.
"We would like to see the current classification of Bourke Street as a Regional Road transferred to the Glenfield Road corridor, which reflects the road hierarchy of our Transport Strategy.
"The State Governments Regional Road Transfer and Road Classification Review is currently in progress and we have indicated as part of that process our intent to change the status of our network to better reflect the needs of a growing city.
"Our application and this funding announcement are evidence of our commitment to the priorities."
The rehabilitation works are expected to deliver a better ride quality and safety for road users by renewing the current rough surface and improve environmental factors such as noise reduction and the flow of surface water.
The improvements are expected be included in Council's 2021/2022 program of works.