---
Community
Tarcutta's military history brought to life in new mural
Published: 30 Apr 2021 12:39pm
A large-scale mural has been completed on the side of the Tarcutta Memorial Hall, commemorating and instilling pride in the community's rich military and soldier settler history.
In partnership with the Tarcutta community and Eastern Riverina Arts, Wagga Wagga City Council received $30,000 from the Federal Government as part of the Regional Tourism Bushfire Recovery Grants program (RTBR) to deliver the mural and history project.
Council Cultural Officer Narelle Vogel said the RBTR program is focused on encouraging tourists to re-discover regional Australia and put tourism dollars back into local communities.
"It's anticipated this moving and beautiful tribute, designed and led by the community, will attract visitors to Tarcutta who are seeking out mural and military history trails across the region," Ms Vogel said.
"It's already receiving feedback on the Silo Art Trail Facebook page."
An expression of interest process was undertaken with members of the Tarcutta community and representatives from Council's Public Art Advisory Panel selecting artist Sam Brooks to design the mural.
It took nearly two weeks of 10-hour days to paint the mural.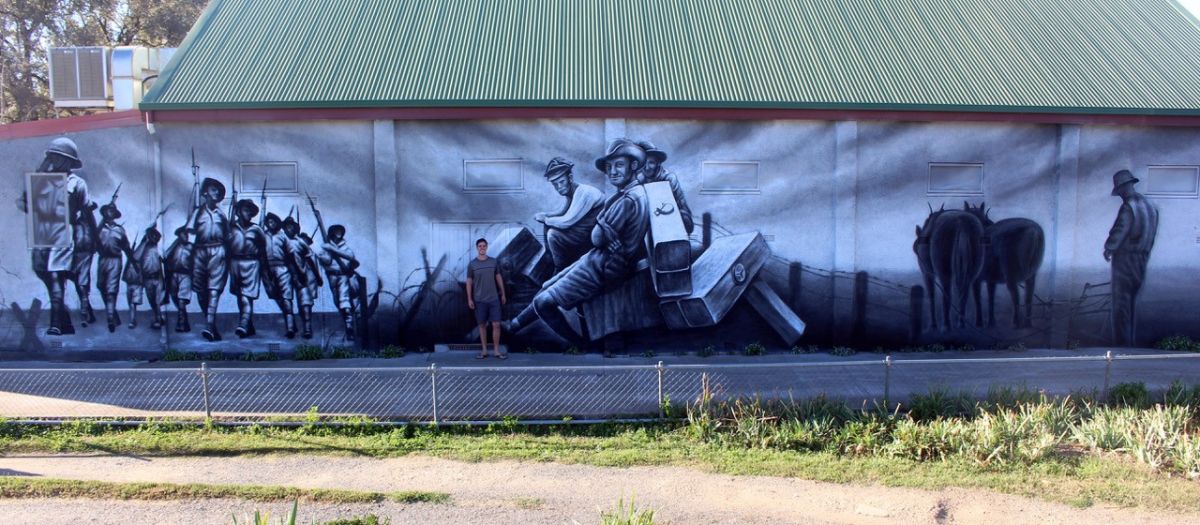 "It tells the story along the wall of the Tarcutta Memorial Hall in a left to right way, starting with the soldiers marching off to war, and then the war ending and they're packing up and coming home," Mr Brooks said.
"The third image is of a soldier being allocated a plot of land to build their own farm and make a living for themselves and their families after the war, which is the story of the soldier settlers here in Tarcutta."
Chair of the Tarcutta Mural Committee Barbara Wheeler praised the work of the artist Sam Brooks, saying the mural looked fantastic.
"Sam Brooks has done a wonderful mural and it is already getting people to stop and comment," Ms Wheeler said.
"We are hoping that this mural will generate tourism in our town and maybe some shops will reopen."
A podcast series developed in partnership with Eastern Riverina Arts featuring six short stories about the direct impacts of war on Tarcutta, and the subsequent soldier settler scheme was developed to accompany the mural, and can be accessed by visiting www.easternriverinaarts.org.au/tarcutta-mural
An interpretative panel has been installed alongside the mural with a QR code so visitors can access the audio stories as they view the mural.
The project was completed in time for the Tarcutta community to commemorate ANZAC Day 2021.