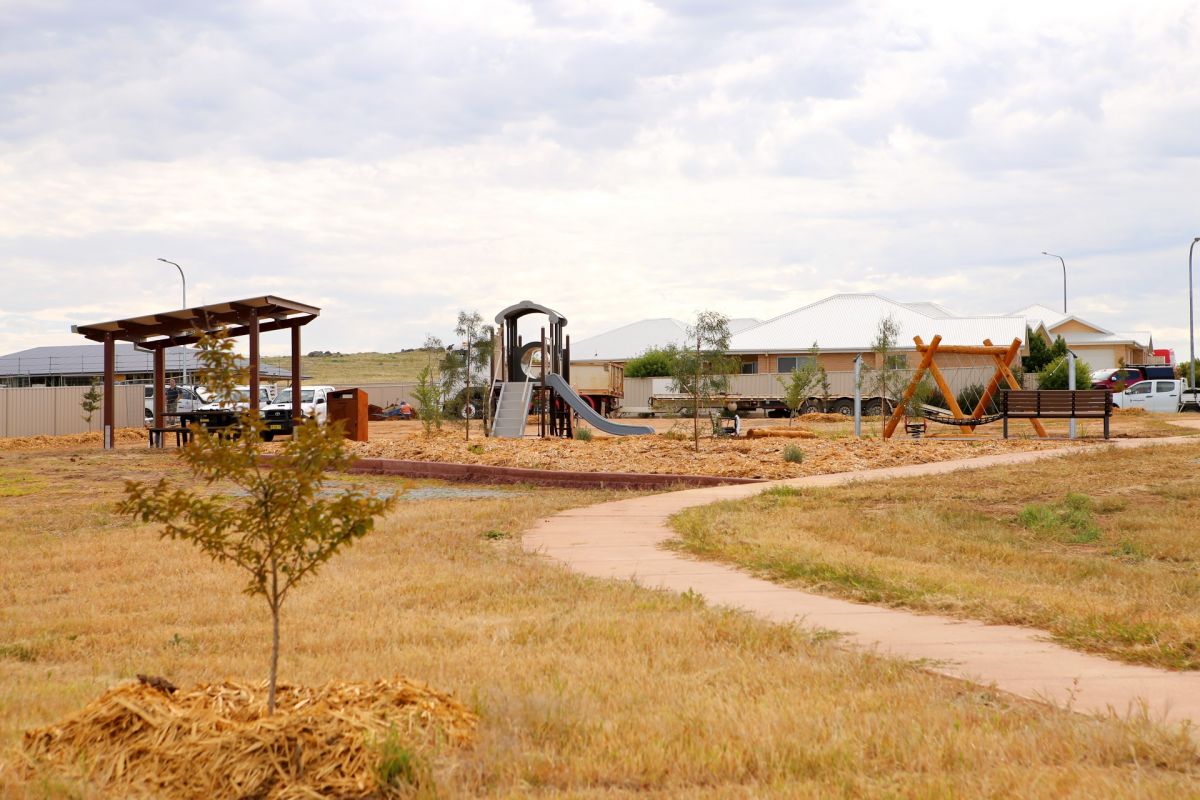 ---
Parks & Recreation
New play spaces in Gobbagombalin taking shape
Published: 17 Dec 2021 10:59am
Work on construction of a new playground and facilities at the park on Muttama Parade in Gobbagombalin is nearing completion.
The Wagga Wagga City Council project aims to transform the parcel of enclosed land between Muttama Parade, Nellywanna Street and Colombo Avenue into a fun space to play, relax and enjoy.
Works and Playground Officer John Conlan said the playground equipment has been installed and is already being used by residents.
"We've also planted lots of advanced trees across the park and paths have been constructed around the perimeter and crossing linking from the playground to the new five-bay carpark we put in off Nellywanna Street," Mr Conlan said.
"Recent additions to the playground include a shelter, table settings, bench seats, rubbish bin and rubber softfall around the equipment. Water was also recently connected to the site and Council will now be able to install a water bubbler and an irrigation system for the turf.
"It is so important for local residents to have that open space with the trees and lawn providing somewhere to just sit down and have a picnic or run around on the grass or play on the equipment with other kids."
The project is one of several open space initiatives being undertaken by Council to service the needs of the city's growing northern suburbs.
An off-leash dog park is being built nearby in the basin on the corner of Yenda Avenue and Paradise Drive.
It features two off-leash spaces, one comprising dog agility equipment such as ramps and jumps, as well as mature trees for shade, irrigated turf areas, and furniture.
"We are also developing the open space on the western side of the dog park for the local community's use," Mr Conlan said.
"This includes the installation of irrigated turf, two table settings with shelters, shade trees around the perimeter, and a couple of combination goal posts so people can use the space in the middle as a kickabout area."
For information about the current eight designated off-leash areas across the city, visit wagga.nsw.gov.au/animals