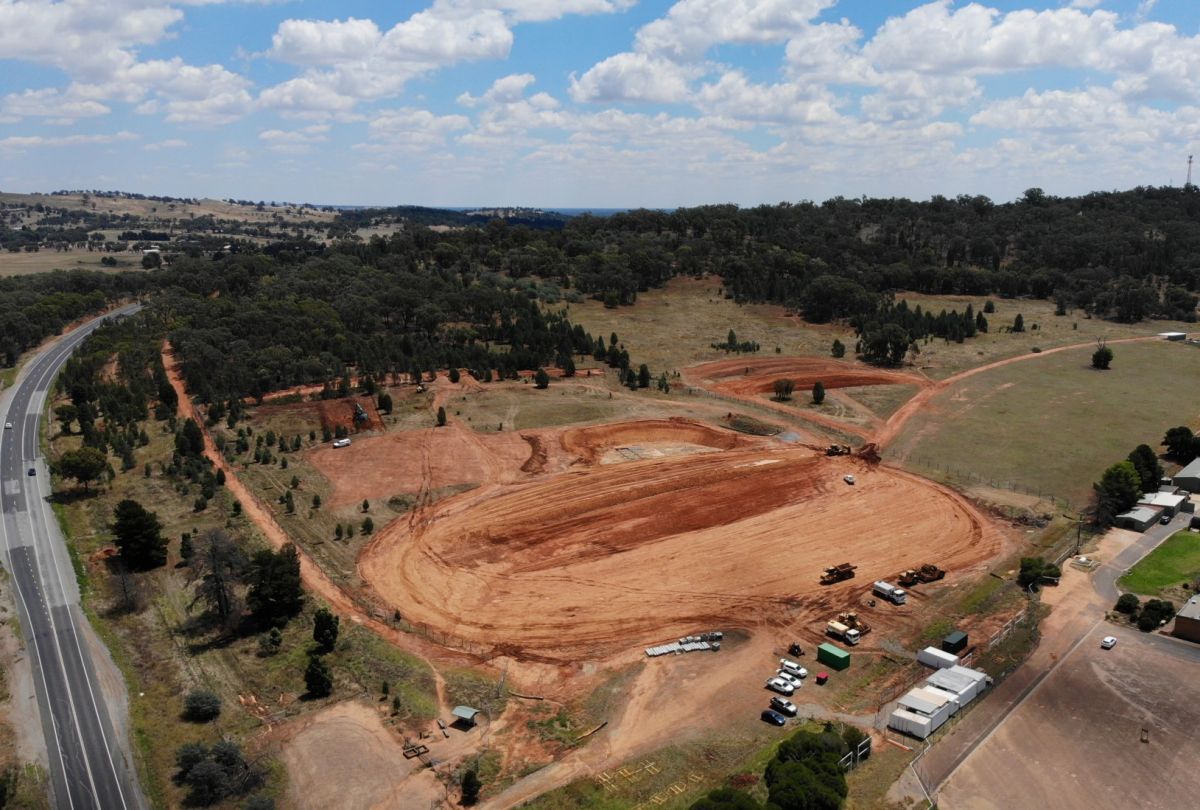 ---
Projects & Works
Multi-sport Cycling Complex earthworks underway
Published: 18 Feb 2021 3:26pm
Work is well underway on the first stages of the Multi-Sport Cycling complex which is set to bring new infrastructure to a regional centre rarely seen outside the major cities.
Significant earthworks continue to shape the facility and foundations on the community centre have been laid at the eastern side of Pomingalarna Park on Wagga Wagga's western outskirts.
Project Co-ordinator Tom Lemerle said solid progress is being made despite recent heavy rain.
"Since the sod turning at the end of October 2020 works on-site have had a focus on civil components," Mr Lemerle said.
"Stripping and grubbing as well as bulk and detailed excavation is nearing completion. Contractors have made good progress despite inclement weather and the site is taking final shape.
"Some of the in-ground services and utilities have also been installed and the light poles for the criterium track are nearly erected."
Mr Lemerle said the entire Riverina region would benefit from the new complex in Wagga Wagga.
"It has been designed and built to a very high standard which means the community can expect to attract some of the best competitions and events to this facility," Mr Lemerle said.
"This project is bringing new infrastructure to the region - infrastructure which is not usually available outside metropolitan areas.
"It will have the potential to attract a large number of events which is fantastic for regional tourism and local economies in general."
Mr Lemerle said extensive consultation with the Wiradjuri community and local cycling groups will continue to ensure Council provides the best project outcomes.
The next stage of construction will be the erection of structural steel for the community building. Internal roads, tracks and footpath construction will continue alongside the central works with individual elements to be installed once all this civil work is complete.
The $9.2M project is funded by $7M from the NSW Government's Office of Sport Regional Infrastructure Fund and $2.2M from Wagga Wagga City Council.
Image credit: Joss Constructions