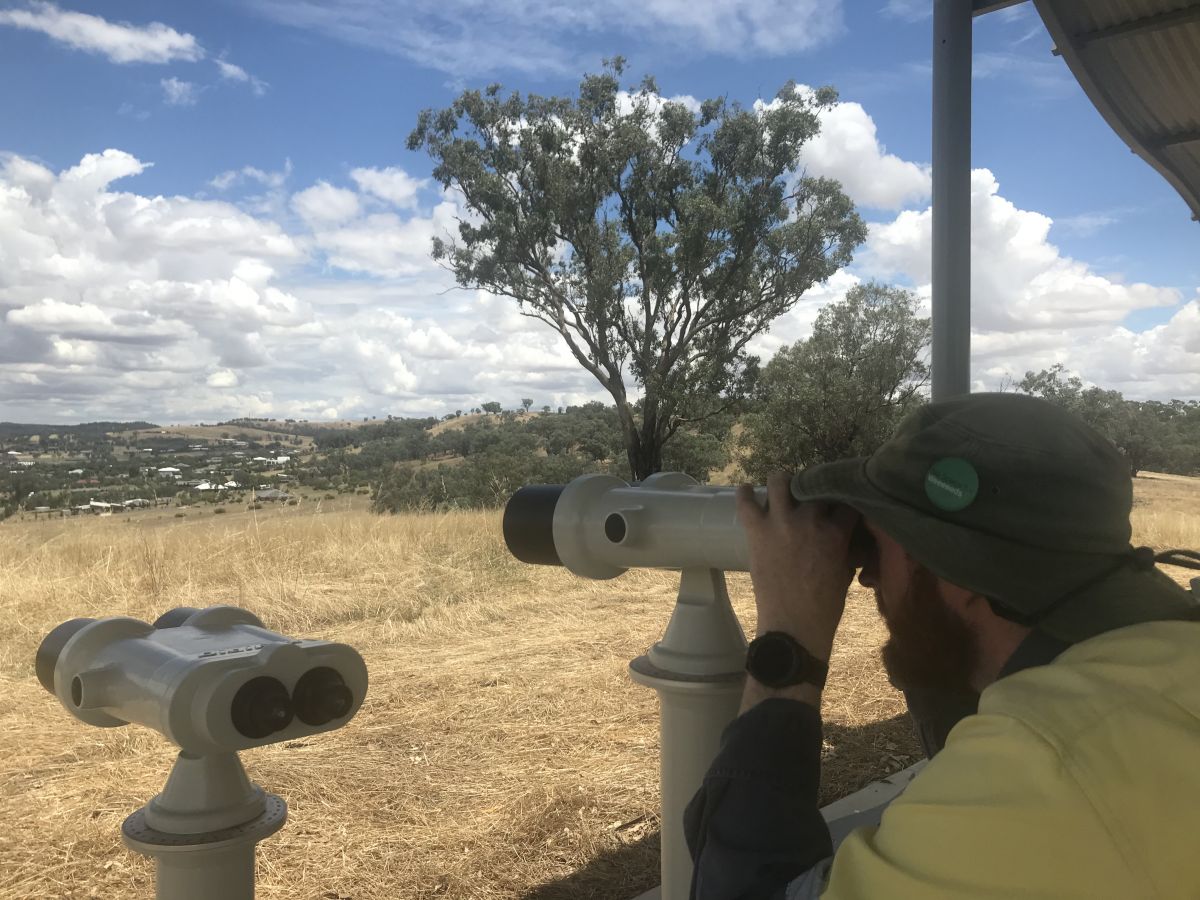 ---
Environment
Birramal Conservation Area in focus with new binoculars
Published: 08 Jan 2021 9:12am
Adventurers taking a hike or riding a bike along the Wiradjuri Trail as it passes through the Birramal Conservation Area can now take a closer look at the surrounding flora and fauna.
Wagga Wagga City Council has installed two sets of binoculars at the lookout at Birramal in time for the summer holidays.
Environmental Education Officer Alice Kent said it gives visitors the opportunity to spot the wildlife in this 128-hectare parcel of land dedicated to the protection and enhancement of the environment.
"The new binoculars offer visitors a brand-new perspective on this protected area," Ms Kent said.
"We've put the two sets at different heights to ensure young children can also enjoy the wonders of wildlife and the spectacular views from the lookout.
"A hike or mountain bike ride through the Birramal Conservation Area is a perfect adventure these school holidays and the lookout provides a perfect picnic spot with shade, seating, a bike rack and now, binoculars."
The Birramal Conservation Area, located between the Olympic Highway and Holbrook Road, features a great diversity of fauna and flora with the south-western section of the Wiradjuri Trail taking in woodlands, open grassland, gullies, creeks and hills.
Ms Kent said spaces like Birramal are essential for the protection and enhancement of threatened species.
"The area is known to support the locally threatened Superb Parrot which is frequently spotted in the woodland areas," Ms Kent said.
"Efforts have also been made to support the locally endangered Squirrel Glider population, with community planting events adding native species that will provide food and habitat for this nocturnal gliding possum.
"Glider poles have also been installed to help the Squirrel Gliders travel safely through Birramal by reducing the risk of predation by cats, dogs or foxes."
You can access the Birramal Conservation Area by turning on to Ross Smith Road off Holbrook Road, just south of the intersection with Bourke Street, and following the Wiradjuri Trail west.