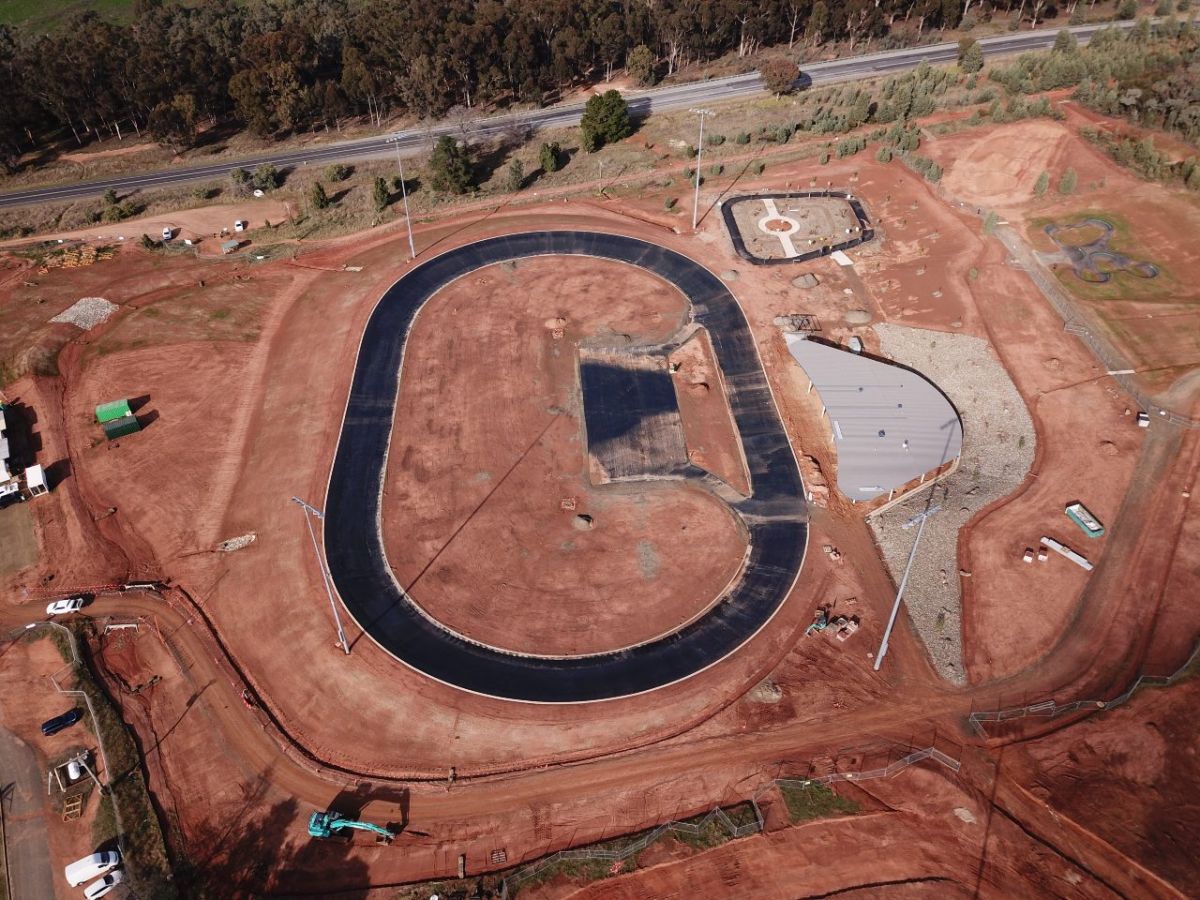 ---
Projects & Works
Cycling complex reaches new milestone
Published: 09 Jul 2021 12:01pm
Construction works on Wagga Wagga's Multisport Cycling Complex recently reached a new milestone with 75 per cent of the project now complete.
Wagga Wagga City Council contractors have achieved significant progress in recent months with the opening of the pump track, jump track and Mountain Bike loop at the end of May.
Progress on the community building has seen the roof installed, services fit out complete, external brickwork and internal walls complete. Fittings, fixtures and finishes work is now underway.
Earthworks and pavement construction on the velodrome is finished, landscaping is nearing completion and signage has been installed in the learn-to-ride space.
Project Manager Tom Lemerle said remaining works are scheduled to finish at the end of this year and he is hopeful better weather in coming weeks will assist in achieving that target.
"We still have some bulk earthworks to complete before signing off on the criterium track so we're hoping for some better weather in coming weeks," Mr Lemerle said.
"The community building is nearing completion with some fittings, fixtures and finishes still required along with some external works.
"The velodrome will get its asphalt top finish soon and finishes around the track will include handrails and linemarkings.
"We are tracking towards a finish at the end of the year but that will depend on the weather in coming weeks."
Council's Director Regional Activation Michael Keys said the facility will be a regional asset that has developed through consistent consultation with all stakeholders.
"Working on operational requirements with the cycling groups and meeting our cultural commitments at the site by working with the First Nations Wiradjuri Women's Group has resulted in us bringing this fantastic project to fruition," Mr Keys said.
"The region can look forward to a top class facility which will have the capability to host cycling events of all levels, and that's a real positive in so many ways for the city and surrounding areas."
Check out this bird's-eye view of the new Multisport Cycling Complex taking shape at Pomingalarna Reserve: