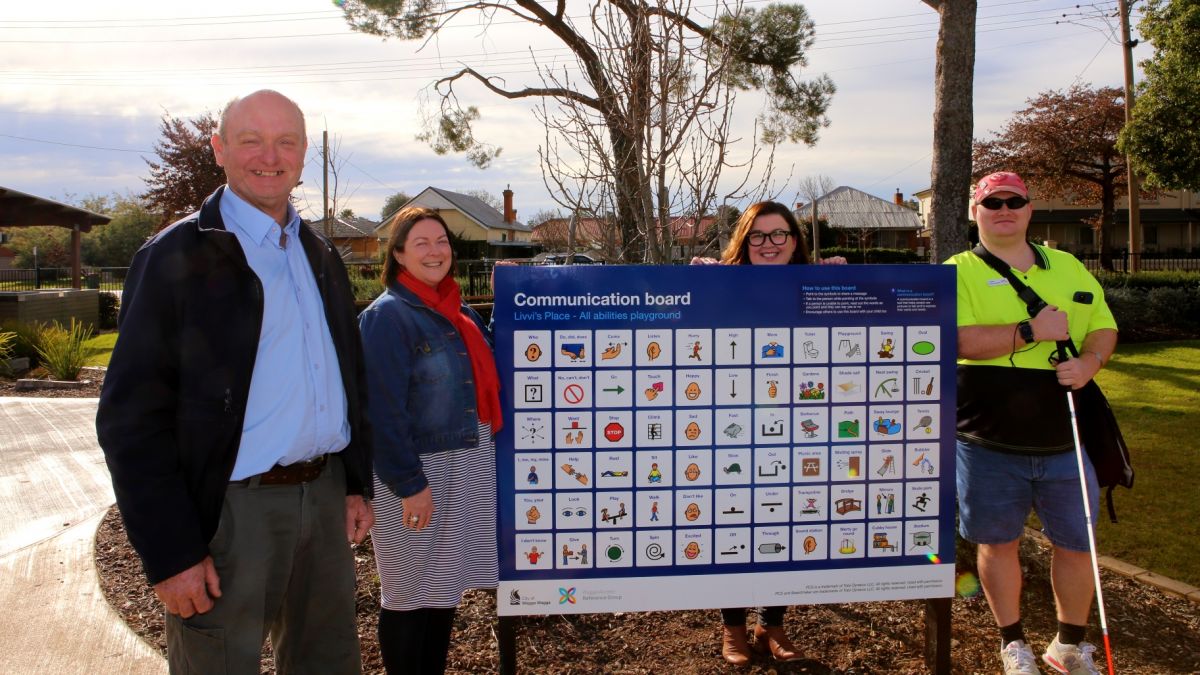 ---
Community
Opening lines of communication at our city's playgrounds
Published: 16 Jul 2021 10:19am
Council is rolling out an initiative to create inclusive play spaces and recreation facilities across the city as part of its Disability Inclusion Action Plan.
Interactive communication boards designed in consultation with the Wagga Access Reference Group and speech therapists have been developed and installed in a prominent position at several playgrounds across the city.
Council's Works and Playground Officer John Conlan said the boards have been installed at Livvi's Place at Bolton Park, Apex Park in Lake Albert and at the Botanic Gardens.
"At this stage, the focus has been on the larger suburban and regional sized parks, but we are hoping that we will be able to extend this program further in the future," Mr Conlan said.
Using a specialised universal system for non-verbal communication, the boards feature symbols depicting a range of words, phrases, emotions, locations and activities.
Council's Acting Social Planning Coordinator Victoria Lowe said the boards can assist someone with a communication disability, such as a child or adult who is not able to successfully communicate their message with speech, or someone who does not speak the same language.
"The idea is that playground users can point to these symbols to ask for, talk about, or direct activities," Ms Lowe said.
"This will improve the accessibility and inclusion of community members living with a disability in Wagga Wagga to our public spaces and places."
The Wagga Access Reference Group (WARG) promotes accessibility across the city for people with disabilities.
WARG member Kerein Mullins, from Intereach Wagga Wagga, said everyone should be able to access all community facilities, including playgrounds.
"It was noted by a mum who was part of the Reference Group that her child, who is non-verbal, couldn't communicate his wants or needs when attending a playground, so the group decided to advocate for these communication boards," Ms Mullins said.
"Having people who are non-verbal able to talk to what activities they would like to do in these playgrounds is very important.
"The communication boards ensure they can access and communicate within this space, allowing for better play for children and adults who need communication assistance."