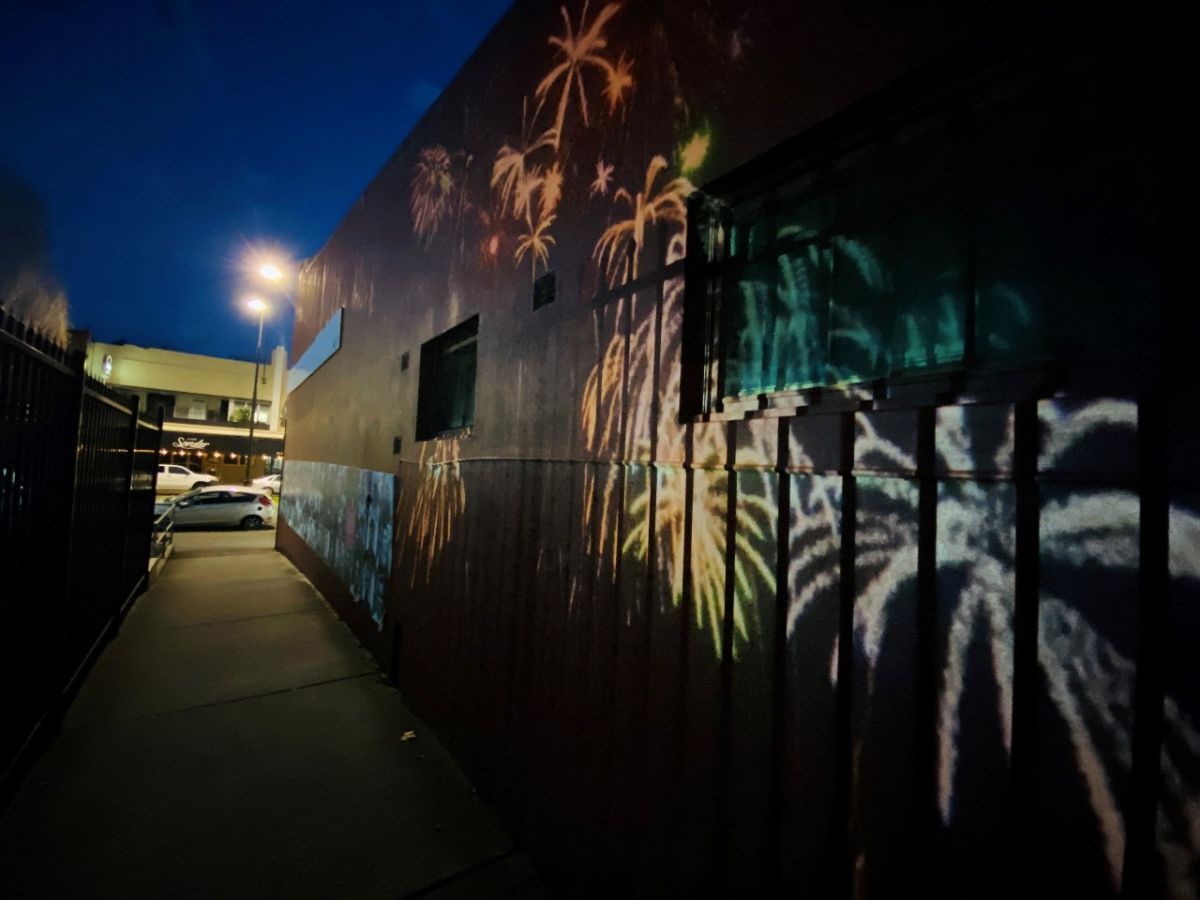 ---
Arts & Culture
Projection lights up CBD laneway
Published: 09 Jul 2021 12:07pm
A Wagga Wagga laneway has been turned into a beautiful nightscape featuring a collaborative artwork by local projection artist Andrew Hagan and sculptor Vicki Luke.
The artwork in the Fitzmaurice Street laneway, between ABC Riverina and Eastern Riverina Arts, is entitled SIGNAL which is an interactive nightscape projection responding to physical movement in the space.
The projection work starts in a forest of bare trees. Movement in the projection area triggers the dropping of light spheres through the space. A series of fireworks is then released becoming more intense and more colourful with the movement of people through the laneway.
The projection artwork is complemented by sculptural works throughout the adjoining garden space, including chandeliers and lanterns made from recycled materials.
Council's Cultural Officer Narelle Vogel said this temporary artwork, which was activated for the recent Lost Lanes event, will be dismantled soon and is urging the community to take advantage of the last week of its display.
"This would be a fantastic night time viewing activity to finish off the school holidays," Ms Vogel said
"By day the installation focuses on sculptural works by Vicki Luke that consists of repurposed materials used to create an oversized nest, moths 'tiling' up a tree and tree forms installed in the raised garden beds.
"The title of the work SIGNAL highlights the many sides of the work – the signal coming from the ABC, the signal to park in the Barrand Street carpark and walk through to Fitzmaurice Street via this laneway, the signal of concern from these artists on our changing climate and impact on the environment and the signal that movement sends to activate the projection."
The projection is currently operating from 5.30pm - 11pm every night until 18 July.
This project was funded by the Department of Planning and Environment through the Places We Love Program and Murrumbidgee Local Health District's Healthy Streets Program.