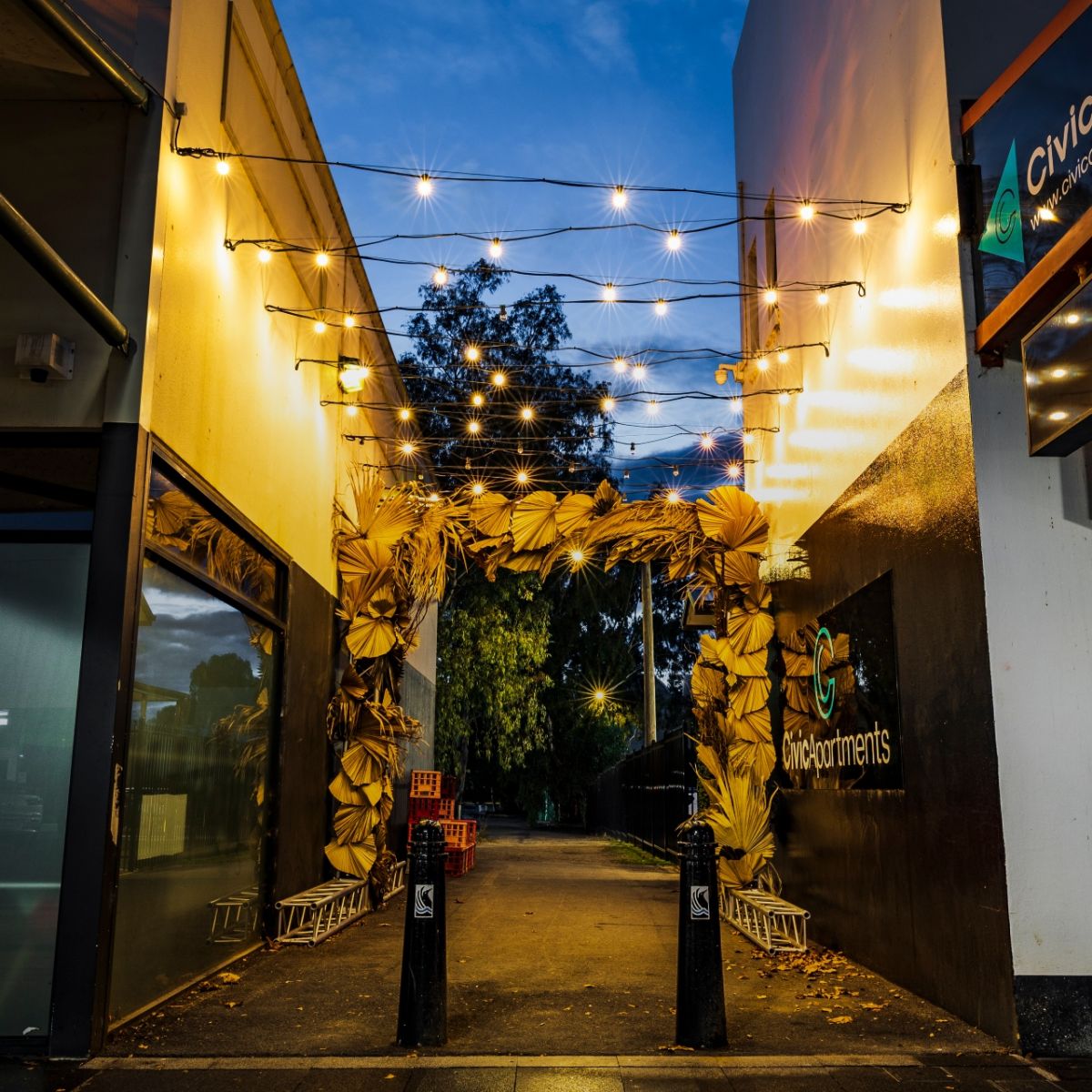 ---
Events & Tourism
Arts. Eats. Beats. Skate. Lost Lanes returns to Wagga Wagga this winter
Published: 04 Jun 2021 3:26pm
Winter has arrived and it's time to get your beanies out in preparation for Wagga Wagga's award-winning Lost Lanes festival.
After a year off, the festival returns in a new format on Saturday 26 June 2021.
Rather than being centered on a single laneway, this year's Lost Lanes festival will be held in laneways, carparks and other nooks and crannies in the CBD, as well as the Victory Memorial Gardens, Wollundry Lagoon and Civic Centre precincts.
Eight locations will be activated between 4pm and 9pm, stretching from Wonderland Lane near the Sturt Mall on Baylis Street and extending to the ABC Riverina carpark off Fitzmaurice Street.
"This new approach allows people to uncover and celebrate new 'lost lanes' across the city in a COVID-safe way through these mini events," Visitor Economy and Events Coordinator Fiona Hamilton said.
"We're encouraging everyone to come out of hibernation, support local businesses, spend time with friends and family in fun and exciting ways, and all on one of the longest nights of the year.
"There's no one way, or start or finish point, to this year's festival. Festival goers can choose their own Lost Lanes adventure.
"There will be pop-up bars and food vendors, lighting projections, and local and visiting musicians and performers, including the ever-popular Nina Las Vegas, who will be performing half-hour sets in the ABC Riverina carpark.
"We encourage everyone to spend time at each site before moving on to the next to ensure they get a taste of all the different arts, eats and beats on offer."
Pop-up, outdoor ice rink coming to Wagga Wagga as part of festival hub
A highlight of this year's festival is a pop-up ice skating rink located in the festival hub which will launch at Lost Lanes and remain in place for the June/July school holidays.
The 25x15-metre rink, co-funded by the State Government's Department of Regional NSW, will be set up at the Victory Memorial Gardens (VMG) from Saturday 26 June (launching at Lost Lanes) to Sunday 11 July.
"The festival hub will include the pop-up Skate Wagga Wagga ice rink along with two art installations: Regal Peacock – a giant kinetic light artwork – and Plasma, a play light artwork that children can climb on," Ms Hamilton said.
"In addition, a Wiradjuri-inspired artwork, 'Lagoon', has been commissioned which will illuminate and float on the Wollundry Lagoon.
"The hub will remain in place for two weeks following Lost Lanes creating the opportunity for locals and visitors to enjoy some winter magic over the school holidays.
Tickets for Skate Wagga Wagga go on sale next week at visitwagga.com
Skate sessions are one-hour and the rink will operate every day for the two weeks from 10am to 8pm (last admission at 7pm). Dine and Discover vouchers can be redeemed for skate sessions when purchasing in person only.
There will also be sensory sessions available to ensure this offering is inclusive to all community members.
This event has been planned to keep everyone COVID-19 safe.
Tickets for Skate Wagga Wagga sessions are $15 per adult, $10 per child (two to 14 years) and $39 for a family pass (two adults, two kids, or, one adult, three kids) and can be booked by heading to visitwagga.com. For those needing to build their confidence on the ice rink gliding penguins will be available for hire as well.
Lost Lanes 2021 and the festival hub is brought to you by Wagga Wagga City Council and made possible with funding support from NSW Department of Regional NSW, Destination NSW and Department of Planning, Industry and Environment.
LOST LANES FESTIVAL ZONES
Neon Underground - 100 Fitzmaurice Street
Wagga Wagga raised and internationally recognised DJ Nina Las Vegas
Pop-up local cocktail bar
SIGNAL projection + neon artworks
Verandah Vibes - 53 Fitzmaurice Street
Wagga Wagga musicians
StrEAT Market - Rural Place
Festival street food – including fairy floss burritos, grilled cheese toasties, smoked meats + more
Main stage – catch Eastbound Buzz + Creature Fear
Lost Lanes projections
Central Park - Wollundry Lagoon precinct + Victory Memorial Gardens
Ice Rink + Regal Peacock + Plasma play light artwork (will remain as part of the festival hub for two weeks)
Buskers in the bandstand
'Lagoon' by Goldberg Aberline Studio (will remain as part of the festival hub for two weeks)
Cellar Door - 10 Morrow Street
Mix of alcohol vendors + tasty street foods
Zana Aerial Dance Academy
Local DJ
Laneway Runway - 209 Baylis Street
Fashion parade by Ted & Olive Boutique
Neon artworks
Local DJ
Cross Roads - Corner Tompson + Baylis streets
LED roving aliens
ZimPride Marimba Drums
Wonderland Lane - 149-155 Baylis Street
Electric Meadow hopscotch
Neon artworks
LED hula hoops by Hooly Dooly Hooping + Dizzy Dilemma
Additional supporting locations for Lost Lanes
A number of Wagga Wagga businesses will host Lost Lanes inspired events at their venues on the night of – or the weekend of – Lost Lanes. These include:
a drag show at The Curious Rabbit
brewery tours at Thirsty Crow Brewing Co
a smoking meats/barbecue class at Food I Am
a pop-up chill zone at the festival by Southern Cross Austereo
a Lost Lanes-inspired glowing forest art installation in store, in the lead up to and on the night of Lost Lanes at Framed by Bek in Kincaid Street
Wagga Wagga City Council thanks each business for their support and participation in this year's festival.