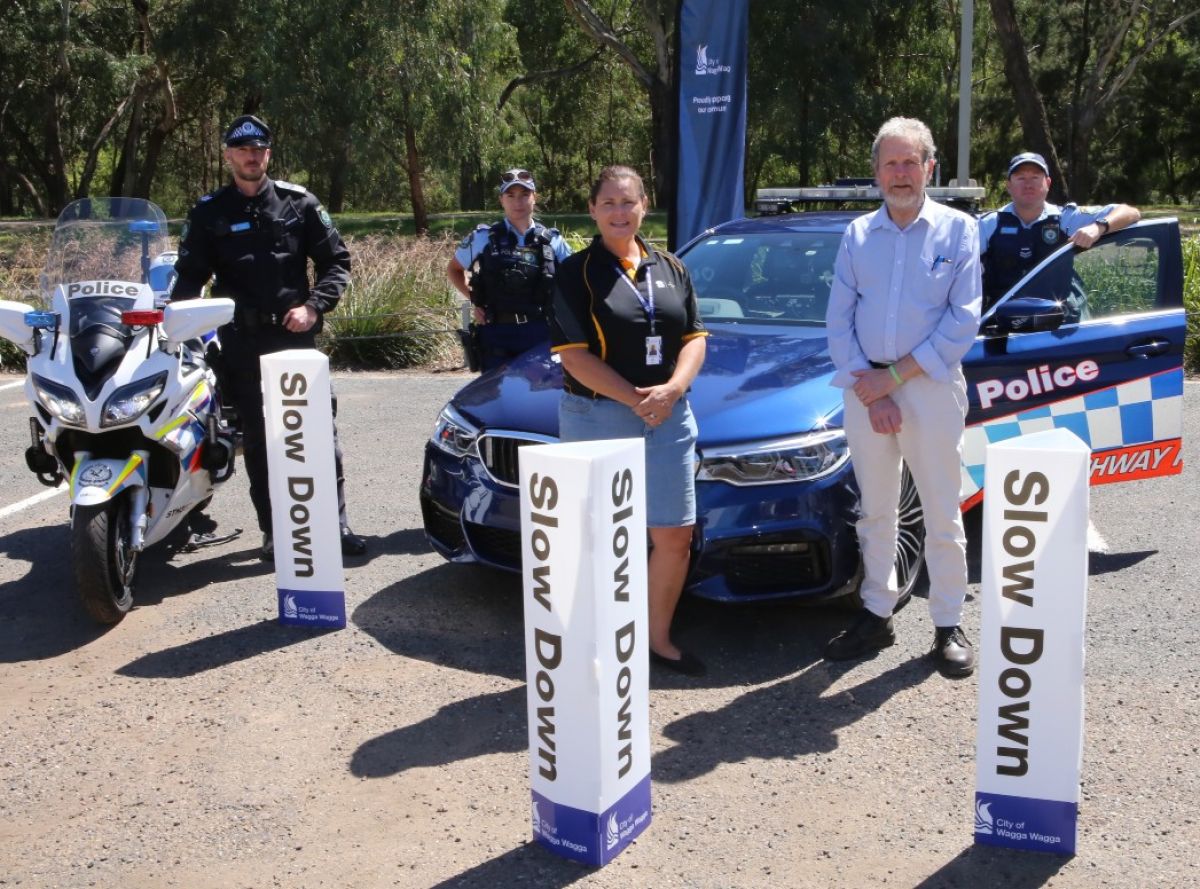 ---
Community
Speeding drivers urged to 'Slow Down'
Published: 11 Mar 2021 2:33pm
Wagga Wagga City Council has this year expanded its "Slow Down" project coverage on the city's roads following last year's success in the highly visible road safety speed campaign.
The five-week Slow Down campaign, which launches next week, will include a number of urban roads as well as regional roads around the Local Government Area.
Local residents were asked to nominate their street to be part of the campaign to run in March and April. The roads were selected in consultation with Council and NSW Police, which is reinforcing the message that speeding is not acceptable.
This collaborative campaign will focus on the following streets and roads:
Leavenworth Drive
Lake Albert Road
Tarcutta Street
Kooringal Road
Fernleigh Road
Bomen Road
Coolamon Road
Holbrook Road
Eunony Bridge Road
Pine Gully Road
Motorists will notice a speed activated radar display sign and bollards with the message "Slow Down" along these streets, aimed at encouraging people to drive safely.
NSW Police Wagga Wagga Local Area Command will enforce speed limits on local streets during the campaign in March and April 2021.
Council's Road Safety Officer Emma Reynolds said speeding is a factor in about 41 per cent of road deaths in NSW.
Recent research showed one Wagga street recorded almost 1 in 3 drivers travelled more than 10km/h above the speed limit, with some speeds recorded considered "dangerous".
"Last year it was recorded that on several local roads, almost 13 per cent of vehicles were detected travelling up to 25km/h over the speed limit during the five-week recording period," Mrs Reynolds said.
"Speeding is one of the most common factors associated with road crashes. Any increase in speed adds to the potential for a crash. This also increases the impact forces associated with a crash and the severity of injuries sustained. There is no such thing as safe speeding."
The campaign will be supported by Slow Down bin stickers that will be provided to residents in the Wagga area. Council is asking residents to apply the sticker to their garbage bin as an ongoing visual reminder to motorists to slow down on local streets.
The Slow Down road safety project jointly funded by Council and Transport for NSW with support from NSW Police.
For more information on safer speeds visit https://wagga.nsw.gov.au/services/roads-and-transport/road-safety
IMAGE: Council's Road Safety Officer Emma Reynolds and Manager Technical & Strategy Peter Ross with NSW Police Highway Patrol officers (from left) Jamie Mooney, Sim Carney and Gary Lawson who are ready for the start of the Slow Down campaign.