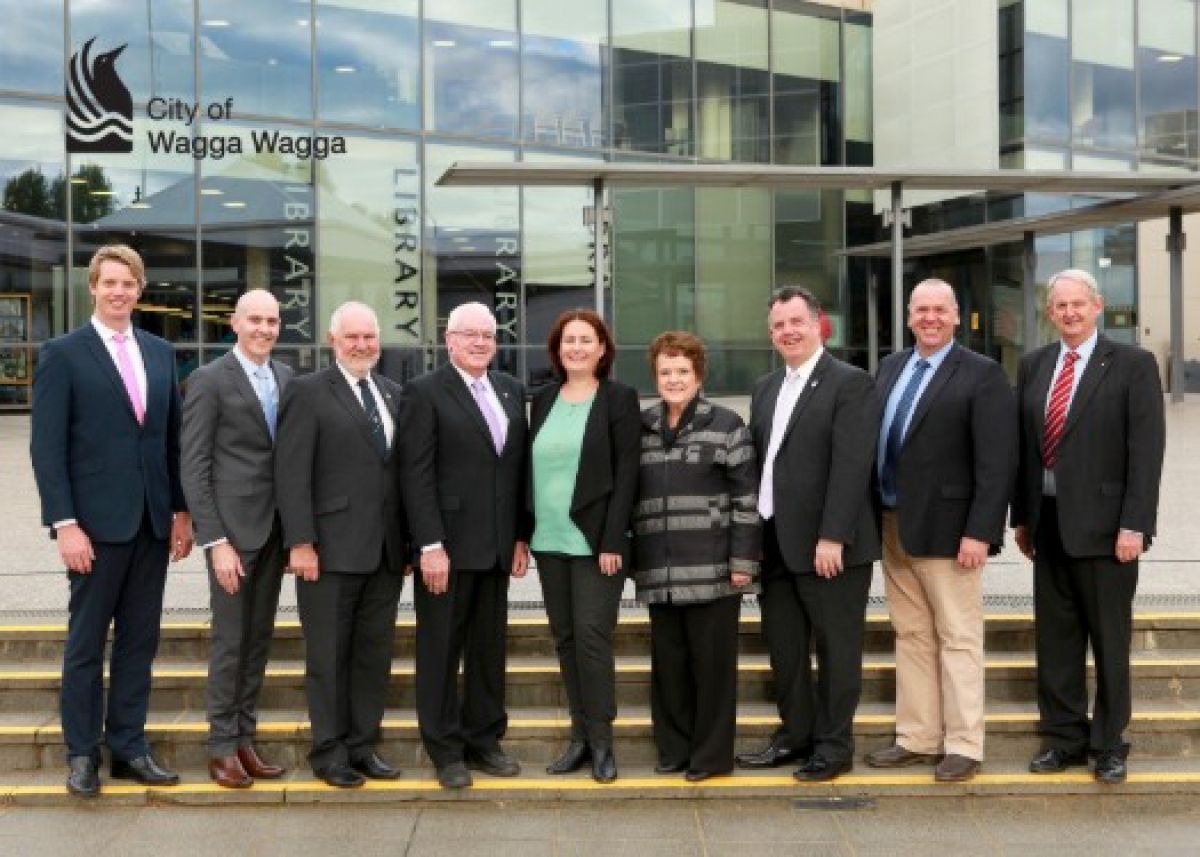 ---
Council
Summary of Council's 10 May 2021 Ordinary Meeting
Published: 10 May 2021 8:42pm
Planning proposals deferred
Two planning proposals to rezone land and reduce minimum lot sizes in Gregadoo Road and Tallowood Crescent have been deferred to another Council meeting.
RP-1 PLANNING PROPOSALS - LEP18/0004 AND LEP18/0009 – GREGADOO ROAD AND TALLOWOOD CRESCENT - AMENDMENT TO LAND ZONING AND MINIMUM LOT SIZE REQUIREMENTS OF THE WAGGA WAGGA LOCAL ENVIRONMENTAL PLAN 2010
Update on Chamber MOU
Council received a report providing an update on the first 12 months of the Memorandum of Understanding between Council and the Wagga Wagga Business Chamber.
Although heavily impacted by COVID-19, the Chamber was able to achieve 40 of its 48 objectives and develop a four-year Strategic Plan that supports Wagga Wagga's small business community and Council objectives.
RP-2 WAGGA BUSINESS CHAMBER - MOU PERFORMANCE REPORT
Sponsorship for local events
Council has approved funding for two events through the COVID-19 Fast Track Event Sponsorship Program.
The two events are:
Wagga Wagga Road Runners Incorporated for the 2021 Wagga Wagga Trail Marathon. Funding amount: $7,918.
Men Talking With Men (Auspiced by Centacare Southwest NSW) for a Men's Health Toolbox forum. Funding amount $2,274.
RP-3 MAJOR EVENT SPONSORSHIP FUNDING REQUEST
New appointment to planning panel
Cr Dallas Tout was appointed to the Southern Regional Planning Panel to replace Cr Tim Koschel who tonight resigned his positions on various Council committees, panels and working groups, including the Crime Prevention Working Group and the Annual Grants Panel.
Cr Greg Conkey and Cr Vanessa Keenan were named as the first and second alternates, respectively, to the Southern Regional Planning Panel.
Cr Paul Funnell resigned from his position on the Crime Prevention Working Group.
RP-4 ADVISORY COMMITTEE MEMBERSHIP - APPOINTMENT OF COUNCILLORS
Wagga Wagga app update
Councillors received a report in response to a Notice of Motion calling for options to develop an app or web-based application that provides a single point of reference for residents and visitors to Wagga Wagga.
It was suggested such an application would act as a one stop shop for all things Wagga and could include elements such as what's happening this week in Wagga, things to do, major attractions and Council business.
The report said staff are currently developing a business case to include the development of online shopping functionality that will be integrated with Visit Wagga to support local produce sales through the Visitor Information Centre, interactive maps to promote itinerary building and day tripping for visitors and stronger cross-promotion to social media platforms.
The Notice of Motion was submitted by Cr Tim Koschel.
RP-5 RESPONSE TO NOTICE OF MOTION - WAGGA APP
Councillors to attend Inland Rail conference
Mayor Cr Greg Conkey and Cr Kerry Pascoe were endorsed as Council's representatives to attend the 2021 Inland Rail Conference in Albury on 25-27 May 2021.
RP-6 COUNCILLOR CONFERENCE - INLAND RAIL CONFERENCE
Museum of the Riverina donation
Council has agreed to accept the offer of donation to the Museum of the Riverina from the late Peter Batey OAM's estate.
CONF-1 DONATION TO THE MUSEUM OFTHE RIVERINA
Businesses endorsed as suppliers
A list of 53 businesses has been endorsed for the supply of hired plant, fleet and equipment to Council.
CONF-2 RFT2021-11 SUPPLY OF HIRED PLANT, FLEET AND EQUIPMENT
Tender accepted for cleaning services
Council has accepted the tender offer of Storm International Pty Ltd for the provision of cleaning services to Council's buildings, amenities and barbecues.
The initial contract is for 24 months with an option to extend the contract for three 12-month periods.
CONF-3 RFT2021-14 CLEANING OF COUNCIL BUILDINGS, AMENITIES & BBQS
Decision on Code of Conduct report
Council has considered a report in relation to a code of conduct matter and resolved not to adopt the investigator's recommendations.
The resolution stated the evidence contained within the investigation report does not support a conclusion that a breach of the Code of Conduct has occurred.
CONF-4 CODE OF CONDUCT MATTER