---
Projects & Works
Major upgrades for two key sporting facilities in the city
Published: 29 Jun 2022 2:47pm
Two key sporting facilities in Wagga Wagga are in line for major upgrades after Council was awarded more than $7.74 million in grants in Round One of the NSW Government's Multi-Sport Community Facility Fund.
The allocation for Wagga Wagga City Council includes $5 million for the Bolton Park Sports Hub - Stage 1 project (Jim Elphick Tennis Centre) and just over $2.74 million for the Bill Jacob Athletics Centre upgrade project at Jubilee Park.
Deputy Mayor of the City of Wagga Wagga Councillor Jenny McKinnon welcomed the announcement by the NSW Office of Sport, saying the two projects will deliver wide reaching sporting, social and economic benefits.
"The Bolton Park Sports Hub – Stage 1 project is in partnership with Tennis NSW and will see the Jim Elphick Tennis Centre redeveloped into a nationally significant tennis venue," Cr McKinnon said.
"The Bill Jacob Athletics Centre upgrade will include construction of a 400-metre synthetic running track, along with a new warm up area, facilities for field events, new drainage and landscaping.
"These two upgrades are significant projects for Wagga Wagga and surrounding communities who use these facilities on a regular basis.
"Once completed, they have the potential to see our city host even more state and even national level sporting competitions, further enhancing Wagga Wagga's status as the 'City of Good Sports'."
Duty MLC for Wagga Wagga, Wes Fang, has welcomed the funding as a major win for Wagga Wagga that will deliver significant sporting, economic and social benefits to the community.
"This NSW Government funding will modernise the Bolton Park Sports Hub and the Bill Jacobs Athletics Centre to enable more residents to enjoy the benefits of sport and active recreation," Mr Fang said.
"As communities grow, providing world class facilities is vital to enable people of all ages and abilities to get on the court or the track and enjoy the benefits that sport offers.
"With these upgrades, local aspiring talent will have the opportunity to pursue their sporting endeavours, all within state-of-the-art facilities.
"These upgrades mean the door opens for our city to attract even more major sporting events, whether they be ITF tennis or state and national athletic competitions, and the economic boost that such events will bring for Wagga Wagga."
The first stage of the Bolton Park Sports Hub sees not only the reconfiguration of Geoff Lawson Oval for cricket and AFL, but a complete redevelopment of the historic Jim Elphick Tennis Centre.
It will include eight ITF championship hard courts, seven additional community courts, two multi-purpose netball courts, a multi-purpose amenities building with pro-shop, change facilities, public toilets, a function space, multi-purpose rooms, spectator areas and storerooms for tennis, netball and other community users.
Tennis NSW Chief Executive Officer Darren Simpson welcomed the news.
"Projects such as these do not come around very often. We're extremely appreciative of this announcement and to be investing in partnership with Wagga Wagga City Council," Mr Simpson said.
"The project will deliver one of the few venues within NSW capable of hosting ITF level play and provide aspiring talent the opportunity to hone their skills on a grand slam surface through national and state significant able body and wheelchair tennis events.
"Critically we see these venues as vital to increasing the quality and number of players and coaches locally, helping the sport grow throughout the region."
Little Athletics NSW Chief Executive Officer Rebecca Shaw said it was great news that Wagga Wagga has been approved for a new synthetic track at the Bill Jacob Athletics Centre.
"It has been a while in the making and has been worth the wait for athletes around the Riverina and the state," Ms Shaw said.
"This will mean athletes in and around the region will benefit from the upgraded facility and track, and continue to attract Zone, Regional and State competitions."
Strategic Asset Planner (Parks and Recreation) Ben Creighton said Council has been working with both local and state sporting organisations to identify what major projects are needed to improve the city's sporting infrastructure.
"Delivering these two upgrades will give us opportunity to cater for future growth and to hold higher level competition, which brings with it the economic benefits from hosting these events," Mr Creighton said.
"The first step will be signing a funding agreement with the NSW Government and once that is done, Council will look to start planning for the implementation of these projects immediately."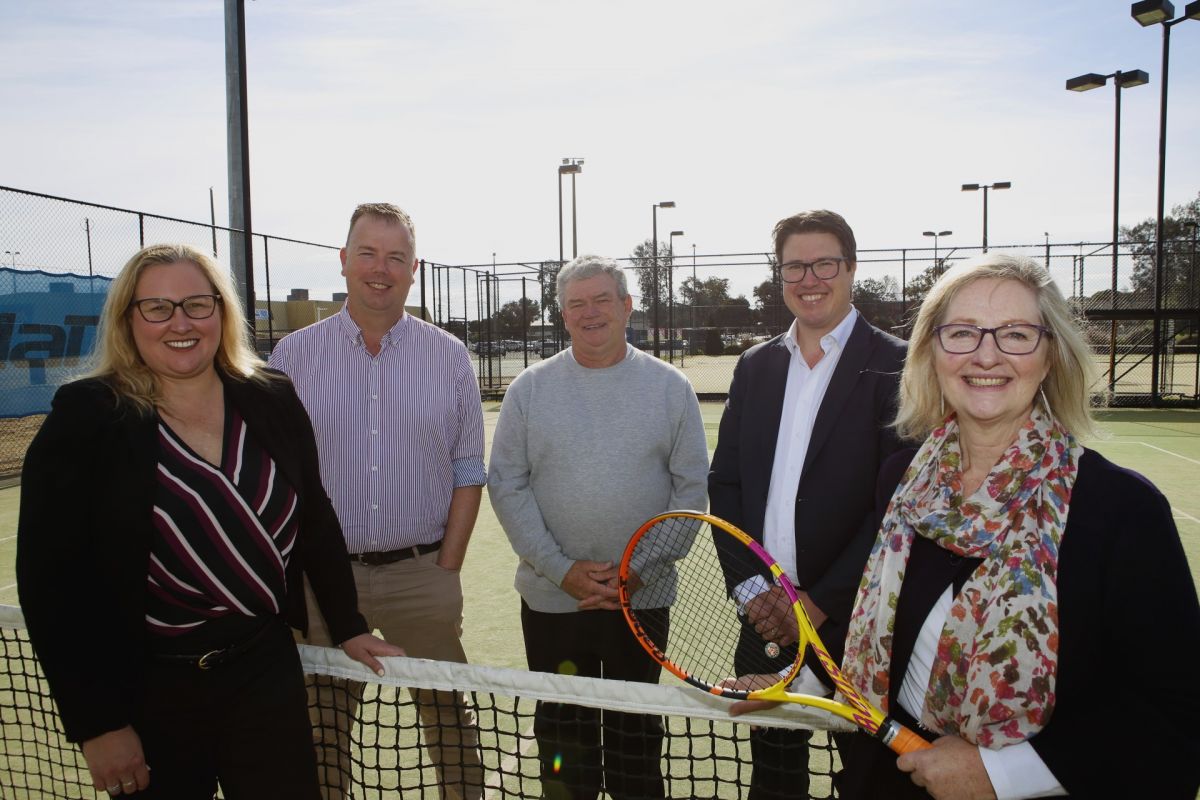 Almost $100 million was awarded to 38 clubs, associations, sporting organisations and councils across NSW in Round One of the Multi-Sport Community Facility Fund.
---
Bolton Park Sports Hub – Stage 1 (Jim Elphick Tennis Centre Upgrade)
Grant Amount: $5,000,000
Tennis NSW Contribution: $1,250,000
Wagga Wagga City Council $1,970,326
Total Project Cost: $8,220,326
Scope:
Demolition of existing tennis facility
Eight new ITF approved masters cushion plus surface competition courts
Seven new synthetic grass community courts
Multi-use hot shot court, hitting wall, and two multi use netball courts
Sports court lighting and fencing
New tennis club house inclusive of amenities and spectator viewing area
Reconfiguration and expansion of Geoff Lawson Oval
Bill Jacob Athletics Centre upgrade
Grant Amount: $2,741,255
Wagga Wagga City Council $1,370,628
Total Project Cost: $4,111,883
Scope:
400-metre synthetic running track – two straights both 110-metres (front 10 lane, back 8 lane)
Warm up area to the west of the track approximately 30 x 70-metres
Two long/triple jump runways (four pits), steeplechase pit, three shot put throwing circles, two javelin runways, discus throw cage, shared discus hammer throw, and high jump area

Site drainage and automatic irrigation system

Advanced trees plantings along the south western side of the track