---
Community
Caring home sought for deer friends
Published: 11 May 2022 4:27pm
Wagga Zoo & Aviary staff have begun the search for a caring new home for a small herd of their fallow deer.
Council is calling for expressions of interest from people who would be interested in caring for the herd, which is made up of one stag and five doe.
Zoo Curator Wendy McNamara said the ideal applicant would be a hobby farm owner.
"We're looking for someone who will take good care of them," Ms McNamara said.
"We're not in any rush so we're willing to hold onto them until we find the right home. It's important for us to ensure they're going to someone who will appreciate them and take good care of them."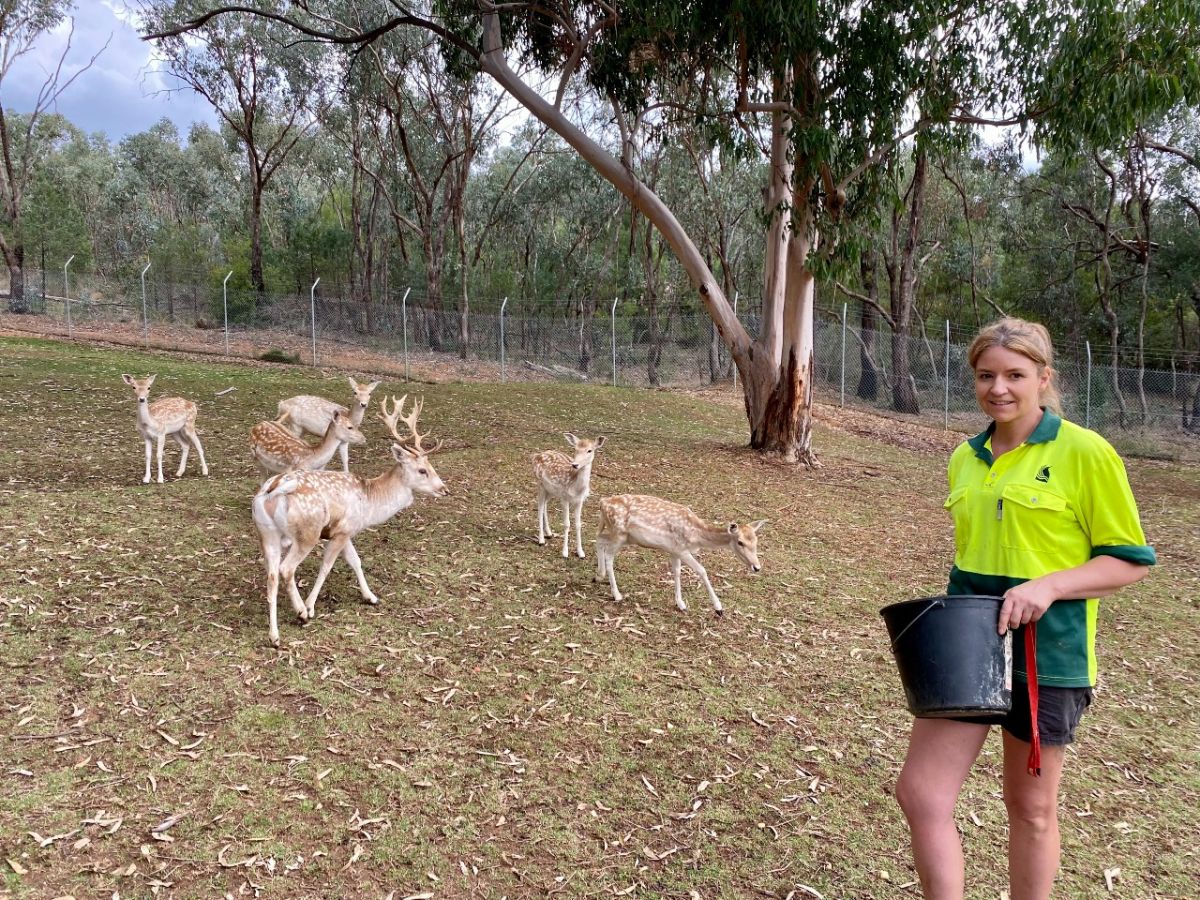 The deer are being rehomed to help the zoo manage their deer population, a process that zoo staff undertake with animals in their care every year.
"We've got five hand-raised baby deer that we're hanging on to which we won't be breeding any further," Ms McNamara said.
"The herd that we're looking to rehome will most likely be pregnant by the time they're ready to be relocated, which will be around September, so the new owners will probably get new baby deer around December 2022."
The zoo will wait until the stag has dropped his antlers before relocating the herd for safety and transport reasons. When the stag is in 'hard antler' they can be at their most dangerous and difficult to handle.
"Stags drop their antlers every year and look like one of the girls for a while before their antlers grow back covered in soft velvet," Ms McNamara said.
"Around February the velvet starts to fall off and the antlers become very hard and can be used as weapons – which is also when the stag is full of hormones and can get quite cranky! So, we'll wait until that period has passed before moving them."
As part of the expression of interest process, applicants will need to provide evidence of suitable housing, land and fencing.
"Deer can jump so all fences need to be at least two metres high," Ms McNamara said.
"We'll also need a commitment that no product derived from the animals will be offered for sale, consumption or profit, and that the new owners are committed to lifetime care of the herd.
"We're happy to inspect any property within 100 kilometres of the local area to ensure applicants have the appropriate facilities."
Ms McNamara said the benefits of caring for the deer would far outweigh any adjustments needed to provide a suitable home for them.
"They're such elegant animals; being able to care for them at your own farm would be quite a rewarding experience for any family."
For more information about the herd, or to request an expressions of interest form, please contact Zoo Curator Wendy McNamara on 1300 292 442 or email zoo@wagga.nsw.gov.au