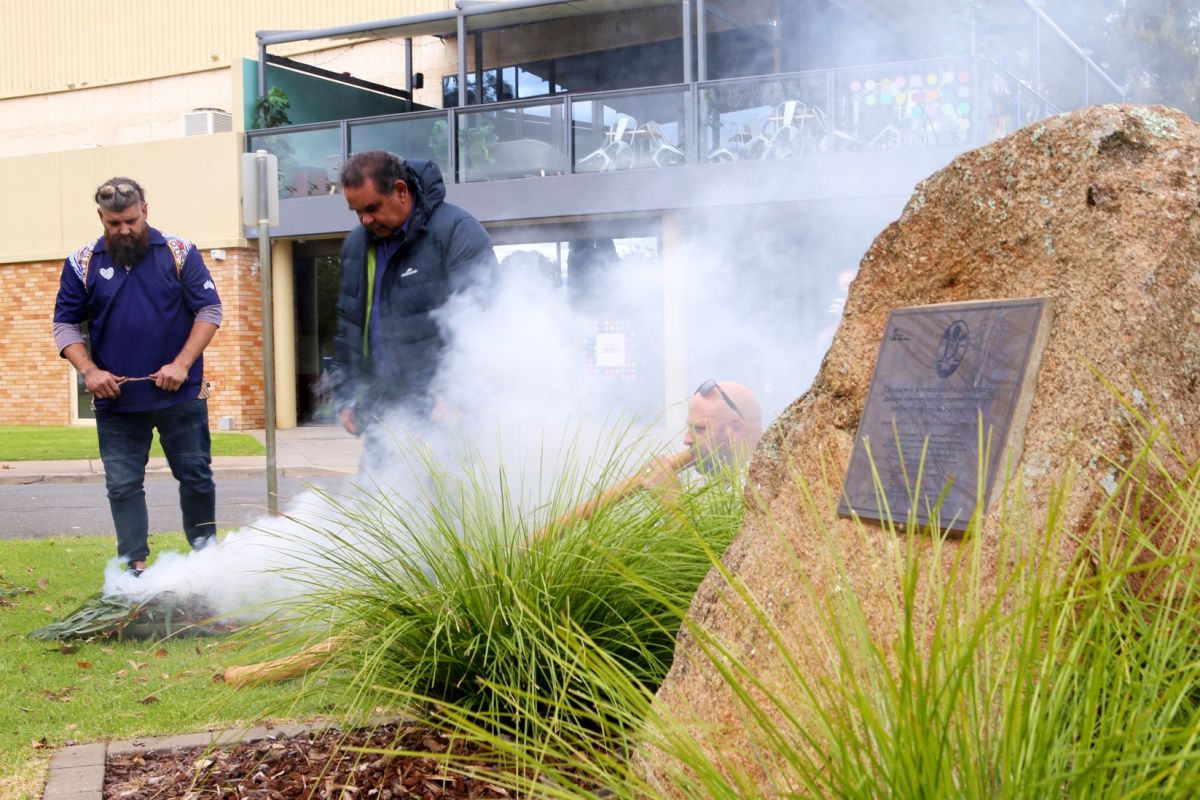 ---
Community
Remembering the Stolen Generations: National Sorry Day 2022
Published: 26 May 2022 1:29pm
Wiradjuri and First Nations Elders and community members gathered today (Thursday 26 May) at the Sorry Day Rock to commemorate National Sorry Day.
The day provided a chance for people to come together in the healing process for the Stolen Generations who were forcibly removed from their family and communities.
Wiradjuri Elder Aunty Isabel Reid performed a Welcome to Country, before joining two other Wiradjuri elders to light candles in remembrance of the Stolen Generations Survivors.
Those gathered observed a minute's silence in remembrance of the Stolen Generation Survivors, families, and the children who did not return home, before Peter Ingram performed a smoking ceremony, accompanied by Luke Wighton playing the didgeridoo.
Mayor of the City of Wagga Wagga Cr Dallas Tout noted that the ongoing healing process was of great importance to the whole community.
"Sorry Day is an important day for recognising and acknowledging the devastating effects which the forced removal of children from their families has had in terms of spiritual, emotional, and physical trauma," Cr Tout said.
"It cannot be underestimated how important the continued healing process is and that it is of great importance to our whole community."
Bringing Them Home
This year's National Sorry Day marks 25 years since the 1997 Bringing Them Home report – the national inquiry into the separation of Aboriginal and Torres Strait Islander children from their families.
The Sorry Day Rock, located in the Wollundry Lagoon precinct, was unveiled in 2018 to commemorate the children sent to the Cootamundra Girls Home and Kinchela Boys Home where they were taught farm labour and domestic work.
Reconciliation challenge
National Sorry Day is followed by National Reconciliation Week 2022 from Friday 27 May to Friday 3 June.
This year's theme, 'Be Brave. Make Change', is a challenge to all Australians – individuals, families, communities, organisations and government to Be Brave and tackle the unfinished business of reconciliation.
Reconciliation Australia is asking everyone to make change beginning with brave actions in their daily lives – where they live, work, play and socialise.
---
A curated program of events will be held in Wagga Wagga across National Reconciliation Week 2022:
For more information about National Reconciliation Week: