---
Arts & Culture
Celebrating Wiradjuri stories: The Australian Ballet performs at Art Gallery
Published: 11 Nov 2022 12:14pm
Local students joined dancers from The Australian Ballet in a special performance for members of our Wiradjuri and First Nations community at the Wagga Wagga Art Gallery this week.
The Australian Ballet Education and Outreach team, with Lead Dancer, Coordinator and Wiradjuri artist Ella Havelka, visited the city to perform with local students at the community opening of the exhibition mayinyguwalgu nunggirrdyu | I will share with other people.
Art Gallery Director Lee-Anne Hall said the performance was a contemporary adaptation based on the Wiradjuri creation story Pomingalarna and Gobbagombalin.
"It was a very moving performance, and beautifully complemented our two Wiradjuri exhibitions opening this week," Dr Hall said.
"We're very excited that Ella will be returning to do more workshops with local young people in late January. Look out for details on our website."
mayinyguwalgu nunggirrdyu | I will share with other people tells three Wiradjuri stories.
Walan gugaa | strong goanna tells the story of how Wiradjuri people became a matriarchal society and the importance of having a strong identity.
Pomingalarna and Gobbagombalin is about the consequences of not listening to the advice of elders, whereupon a young couple turn into pair of frogs.
Wirramari | big fish is the story of how the Marrambidya (Murrumbidgee River) was formed by the mighty Murray cod.
In the exhibition, First Nations members of The Hands On Weavers group share the many layers of culture, language and heritage using objects and animation.
The Art Gallery also opened The Home Program; a series of workshops, virtual excursions and embedded framework within primary schools culminating in the exhibition gindaymilanha: laugh whilst walking along.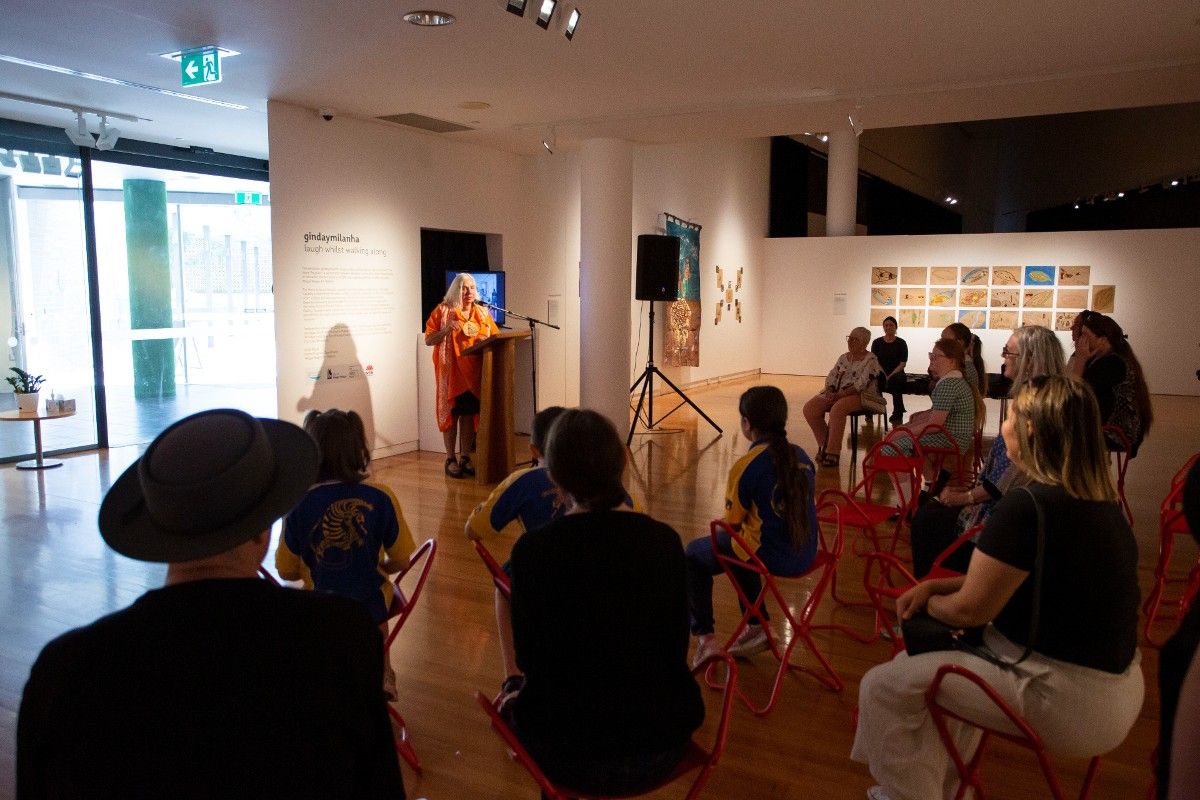 The Home Program is a partnership between Wiradjuri community, Wagga Wagga Art Gallery, NSW Department of Education and the Art Gallery of NSW and connects schools to First Nations artists, community, language and culture.
gindaymilanha | laugh whilst walking along is open until 29 January 2023, and mayinyguwalgu nunggirrdyu | I will share with other people is open until 5 February 2023.
For more information, visit waggaartgallery.com.au/whats-on