---
Events & Tourism
Raiders v Dolphins: NRL game in Wagga Wagga in 2023
Published: 10 Nov 2022 2:44pm
Wagga Wagga City Council and Canberra Raiders' commitment to bring the National Rugby League back to the city next year was today confirmed with the 2023 NRL draw including a premiership game at McDonald's Park next season.
The Raiders will play a round nine home game against the NRL's newest team, the Dolphins, in Wagga Wagga on Saturday 29 April 2023, kicking off at 3pm. Tickets will go on sale early next year.
Councils' Strategic Asset Planner (Parks and Recreation) Ben Creighton said the Raiders' ongoing commitment to bringing one of their home games to Wagga Wagga reflects the strong partnership forged between the club and the city.
"Seeing the date locked in for the round nine clash next April is exciting news for Wagga Wagga and for regional sporting fans who take every opportunity to support big sporting events in our city," Mr Creighton said.
"We have one of the premier regional venues in the state and we're looking forward to welcoming a capacity crowd at McDonalds Park to see the Raiders take on the Dolphins, who'll be travelling down from Queensland for the clash.
"But it's not just the footy fans who will benefit from having the game here. These events deliver major flow-on effects for local businesses who can capitalise on the visitors to our city and region."
📷NRL action Raiders v Storm in Wagga Wagga earlier this year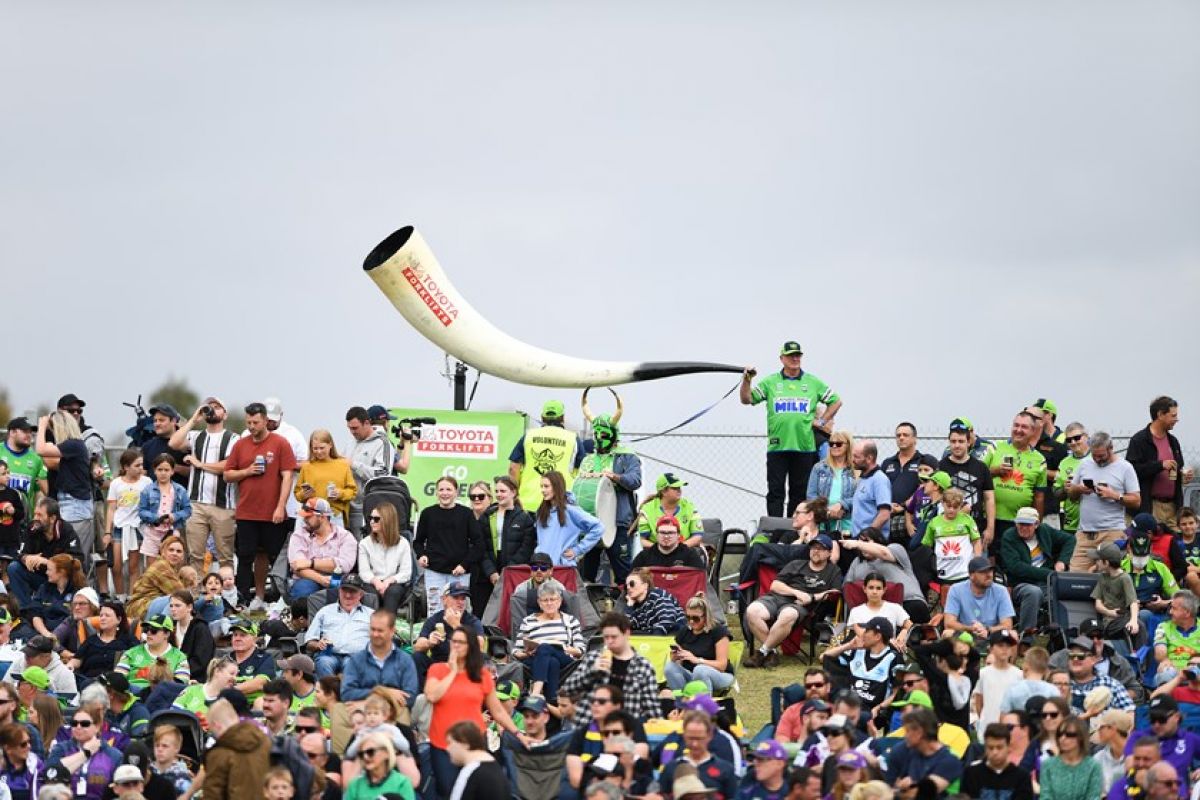 This will be the fourth game in the past five years the Raiders have played here, with the 2020 fixture called off due to the uncertainty of the COVID-19 pandemic.
The game is scheduled for the weekend before the Wagga Wagga Gold Cup Carnival, giving rugby league supporters the opportunity to extend their stay in the region.
Canberra Raiders CEO Don Furner said he welcomes the opportunity to make the trip out to Wagga Wagga again, giving their many Riverina supporters the chance to watch an NRL game in their own backyard.
"We're once again really looking forward to coming out to Wagga Wagga and playing one of our home matches regionally in 2023," Mr Furner said.
"The players and Coach Ricky Stuart really enjoy getting out to regional areas and the Wagga Wagga match has become one of our favourite fixtures.
📷NRL action Raiders v Storm in Wagga Wagga earlier this year
"Fans coming along to the match will also have the opportunity to see the NRL's newest team in action in the Dolphins and we're hoping to see plenty of support for the Raiders when we head out in round nine."
Tickets for the match will go on sale early next year. Council will keep the public updated on when and how tickets can be purchased.