---
Projects & Works
$8.6 million Museum of the Riverina officially launched
Published: 01 Feb 2023 1:39pm
The redeveloped Museum of the Riverina Botanic Gardens site has been officially launched today after a $8.6 million upgrade creating a new and inclusive experience for residents and visitors to our city.
The event was held this morning with Wiradjuri/Wiradyuri Elder Aunty Isabel Reid performing a Welcome to Country before the museum was officially launched by NSW Minister for Aboriginal Affairs, the Arts, Regional Youth and Tourism, Ben Franklin MLC, and Mayor of the City of Wagga Wagga Councillor Dallas Tout.
Designed and built by Cumnock Constructions, the museum integrates renovated and revitalised collections with a spectacular new building, creating a new exhibition gallery, learning studio, collection storage facility, public spaces, and staff offices.
A landscaped living outdoor area will complement these works once the heat of summer has passed.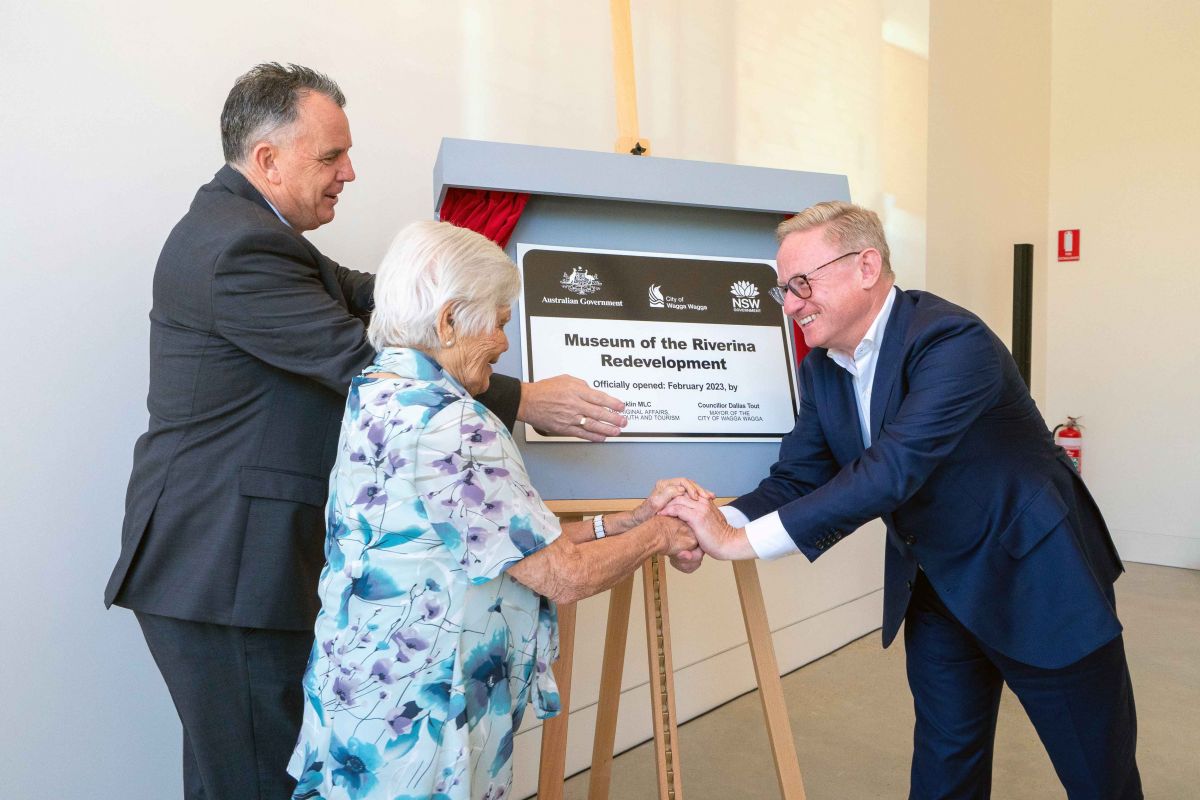 Councillor Dallas Tout said the museum redevelopment will be a fantastic asset to the city.
"The upgrade brings significant economic benefits and will lift the status of the precinct from a local to a regional attraction," Councillor Tout said.
"It will position Wagga Wagga as a centre for cultural excellence and showcase the region as an exciting and unique tourism destination.
"It is expected to bring almost 20,000 visitors to the site when it reopens, and the increased visitation will generate an additional 39 jobs through direct and indirect impact.
"We have constructed a new exhibition space and upgraded storage areas to manage the museum's large and diverse permanent collection holdings which are valuable community assets.
"Ongoing community consultation and implementation of Wiradjuri cultural heritage perspectives as part of the research and development of the new exhibition spaces was a key focus of this project."
Wiradjuri/Wiradyuri Elders and Cultural Knowledge Holders were engaged to work on the research and development of the new exhibitions and programs that will be presented when the museum opens to the public.
"Wiradjuri and First Nations creative practitioners' works have been commissioned, loaned or acquired as part of this project," Councillor Tout said.
Mr Franklin said the project was made possible thanks to the NSW Government's record $100 million Regional Cultural Fund, which is a cornerstone of the $1.3 billion Regional Growth Fund.
"We know that arts and culture are at the heart of our regional communities, which is why this investment in the redevelopment of this cultural institution for the people of Wagga Wagga is so important," Mr Franklin said.
"Regional museums have the power to invigorate communities by delivering many positive social, cultural and economic benefits. This spectacular museum will attract locals and tourists of all ages to connect, learn and enjoy the many wonderful exhibitions and cultural experiences."
The $8.6 million project was managed by Wagga Wagga City Council and funded by the Australian Government ($4.3 million), NSW Government's Create NSW Regional Cultural Fund ($3.18 million) and Restart NSW - Infrastructure NSW ($739,466), and Wagga Wagga City Council ($400,000).
The Museum of the Riverina Botanic Gardens site is expected to open to the public this autumn.
---