---
Environment
Smiles all around as students celebrate Schools Tree Day  
Published: 28 Jul 2023 12:06pm
Students are bringing gardening gloves and a smile this week for Schools Tree Day on Friday 28 July, followed by another community planting to celebrate National Tree Day on Sunday 30 July.
Wagga Wagga City Council collaborated with local schools to celebrate this occasion by donating seedlings to 25 local schools and preschools to be planted by the students.
The students at Kapooka Public School enjoyed a day out in nature this week to plant the seedlings given to them by Council.
Students Arielle, Lilly, and Toby are particularly fond of being outside.
"I like plants because they make my heart grow, and they look so beautiful. I like growing plants so you can breathe clean air." said Arielle.
Lilly expressed she loves being outside because she likes seeing animals happy.
"I am very excited for the planting day. It's important to plant more trees so animals won't go extinct as quickly."
Despite the forecast of rain, Toby was also excited for the Friday fun planned at Kapooka Public School, as being outside is one of his favourite places to be.
"I love being outside having fun with my friends. When I am outside, I can relax and look at the trees. My favourite animal is a koala."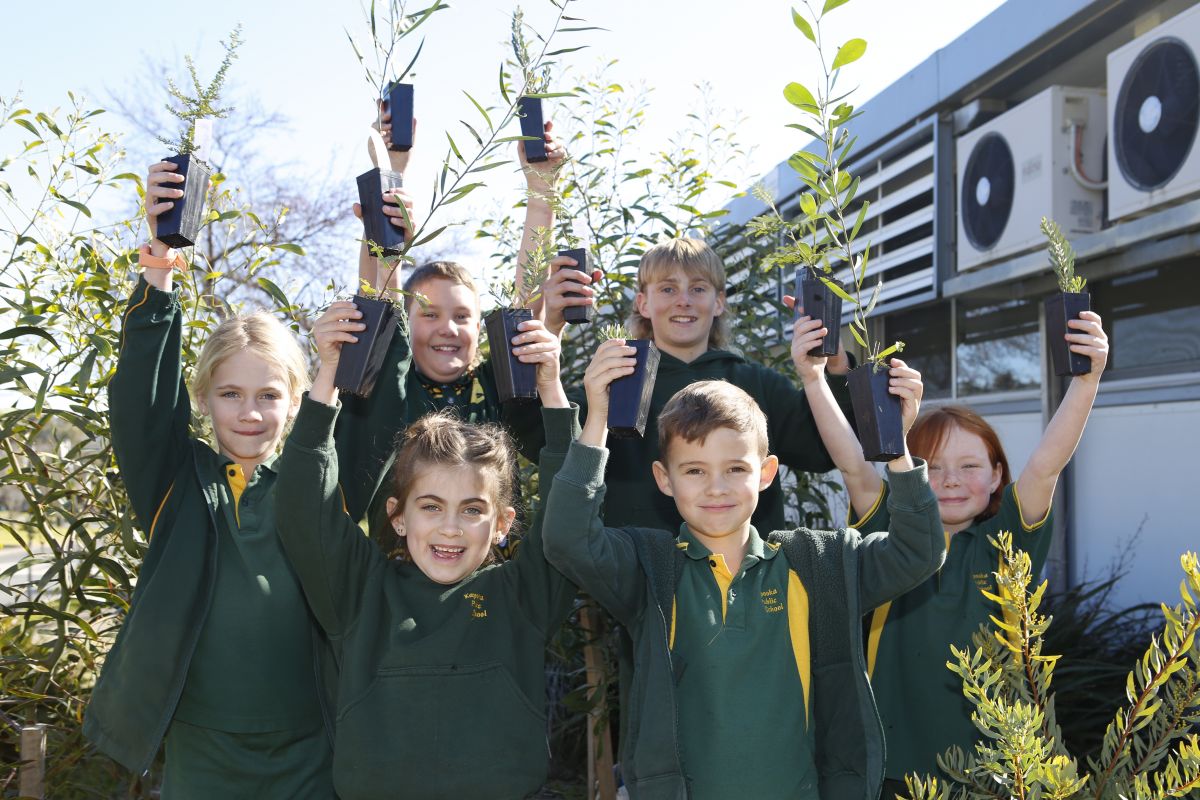 Each school gets to choose local native seedlings that suit the school environment, often tall trees to produce shade, bushes, or plants that provide large ground cover.
Principal Lyn Eacott said the response from students to get involved in this celebration is always incredibly positive.
"They get so excited. We are a small school, and we try and make sure there is one seedling for each student to plant, but they love it so much they always want to plant more than one," Ms Eacott said.
More than 3000 seedlings will be planted for both Schools Tree Day and National Tree Day, with every seedling planted counting towards the total 'One Tree for Me' Council initiative, a campaign that aims to get 65,000 seedlings planted in Wagga Wagga and surrounds over six years, wrapping up in 2026.
Currently the count is over 24,900.
Environmental Education Officer Christina Reid said 2000 seedlings have been donated to local schools and preschools.
"It's a wonderful way for students to learn about the environment while gaining land care skills," Ms Reid said.
"It is important for our young people to recognise impacts on the environment and how everyone can play their part.
"Initiatives like this show that small actions, or people can make a big difference."
The seedlings Council have offered to schools have been chosen to boost the local ecosystem, with endangered animal species in mind.
"The plants we select are chosen to support our local environment and the species that live here, increasing habitat for our local wildlife," Ms Reid said.
Another 1200 seedlings will be brought along to the community planting event on Sunday 30 July at Charles Sturt University Farm, located off Cambourne Lane, Gobbagombalin.