---
Arts & Culture
2023 Bald Archy Prize for caricature portraits announced
Published: 22 Mar 2023 12:15pm
In a "shock" move, Australia's tallest poppies were snubbed in the announcement of this year's $10,000 Bald Archy Prize for caricature portraits.
Considered Australia's premier satirical art prize, the Bald Archy Prize celebrates the lighter side of art and the larrikin Australian spirit.
The famous and infamous personalities were plentiful among the 22 finalists, but in the end, Albo, ScoMo, Dutton, George Pell, Gina Rinehart, Ash Barty, Costa and even King Charles failed to take the crown in this year's hard-fought competition.
The 2023 prize instead went to a portrait by Brisbane based artist Marty Steel of the founder of the Bald Archy Prize, Peter Batey OAM.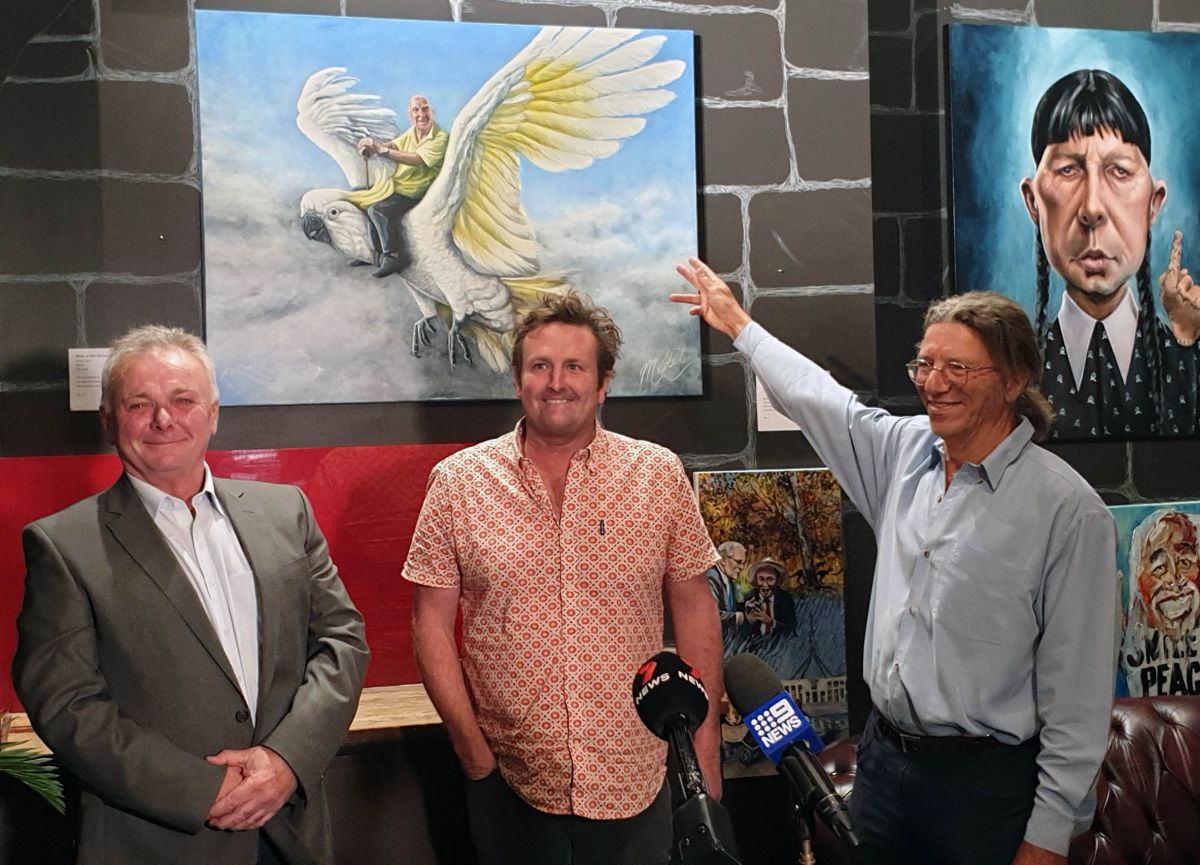 Titled 'Never a Dull Moment', it depicts Batey riding aloft the airborne figure of the chief judge of the Prize, Maude the cockatoo.
Peter Batey was a distinguished arts administrator and pioneer of contemporary Australian theatre. After a long and successful career, he relocated to Coolac, where he contributed significantly to the regional community and created the Festival of Fun, of which the Bald Archy Prize was a key part.
After the passing of the founding director in 2019, the administration of the Bald Archy Prize along with the collection was bequeathed to Wagga Wagga City Council's cultural facility, the Museum of the Riverina.
Museum of the Riverina Manager Luke Grealy said the return of the prize after a three-year hiatus drew a strong field of entries from Australia's satirical painters and cartoonists, capturing the famous and infamous characters that dominated the headlines in 2022.
"Not surprisingly, given that 2022 was an election year, Albo's ascension to the PM throne, ScoMo's deposing, and Dutton's new 'voice' as Liberal leader provided key themes for this year's finalists," Mr Grealy said.
"Other dominant power figures represented include Gina Rinehart, Rupert Murdoch and King Charles, with Australia's very own claim to royalty – Dame Edna – sharing the canvas.
"Subjects weren't restricted to politicians though, with celebrities such as the late Olivia Newton-John, Costa Georgiadis and Maggie Beer making the cut, while sporting stars are also included in the collection, with Wayne Bennett, and Ash Barty framed for posterity."
"The fact that the Bald Archy has been operating for almost 30 years is testimony to the competition's popularity and relevance."
The portraits will be on display at ibis Sydney Barangaroo until 14 April before touring eight venues across urban and regional NSW, wrapping up in Wagga Wagga from 22 December 2023 to 28 January 2024.
📷 Hero Image: the winner of the 2023 Prize, a caricature of Bald Archy founder Peter Batey OAM, 'Never a Dull Moment', by Marty Steel.
---
For more details on the tour: