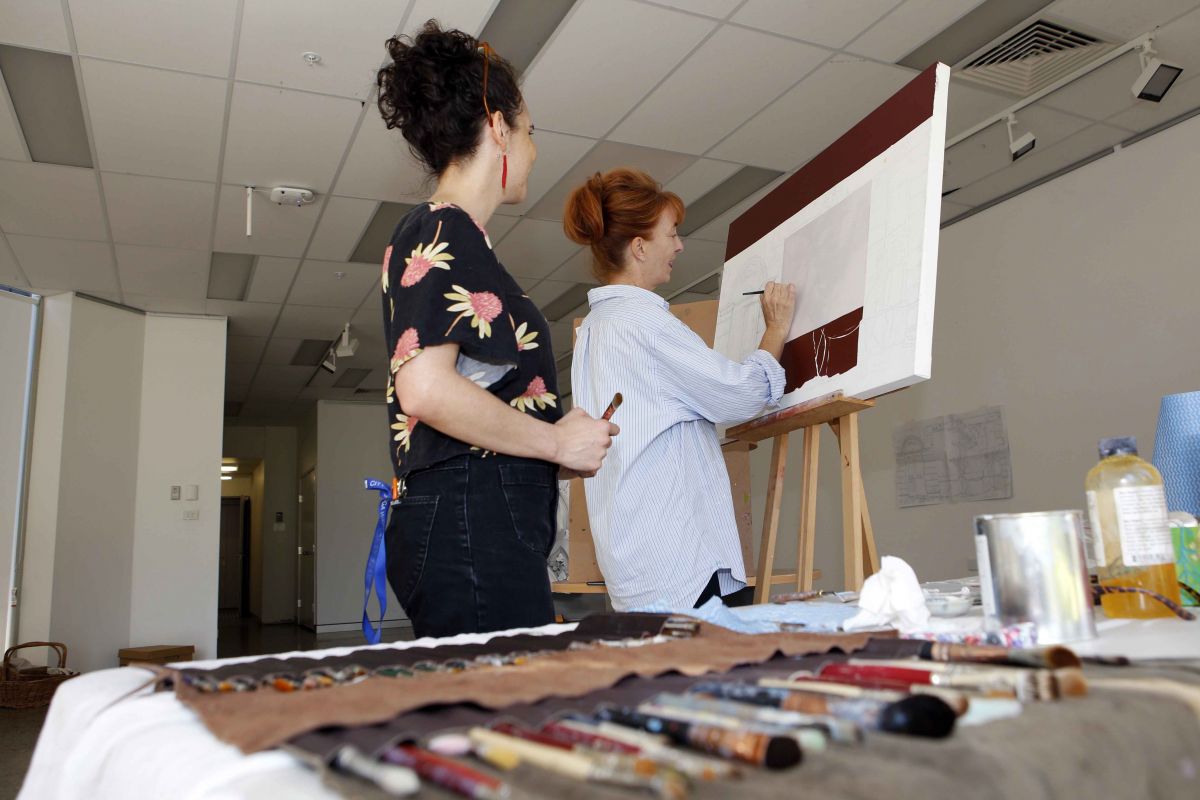 ---
Arts & Culture
Art Gallery announces Regional Artist Program for 2023
Published: 06 Mar 2023 2:25pm
Wagga Wagga Art Gallery has kicked off this year's Regional Artist Development Program with six artists and collectives participating in exhibitions and residencies throughout the year.
The list includes artists Tracey Jones, Linzie Nardi, Lyndall Phelps, Elaine Camlin, Brittany Hefren, and Vanessa Keenan and Nat Ord.
Art Gallery Director Dr Lee-Anne Hall said there was a strong interest in the program from the region's creative community.
"The program aims to provide a platform for regional artists to develop their skills, connect with new audiences and showcase their works, while also supporting the growth and vibrancy of our local arts community," Dr Hall said.
Wagga Wagga oil painter Tracey Jones recently commenced her residency, 60 Miles as the Crow Flies. During her residency, Ms Jones will travel to, and paint the landscapes of small towns around Wagga Wagga. In May, she will return to the E3 Art Space to present a solo exhibition of the resulting new body of work.
In June, Leeton painter Linzie Nardi will begin her residency, View From My Studio, which will explore the beauty surrounding the E3 studio. Mrs Nardi will bring to the studio the energy and rush of painting "alla prima", wet-on-wet, manipulating the paint on the surface of the canvas as well as painting en-plein-air.
Northern Rivers-based artist Lyndall Phelps will travel to Wagga Wagga in September as the recipient of the first RAD x Earth Canvas residency, a partnership between Earth Canvas and the Art Gallery.
The residency aims to connect artists with regenerative farmers and encourage a creative approach to landscape management. Ms Phelps will spend two weeks on a regenerative farm in the Riverina to research land management practices and develop inspiration for her art, followed by a two-week studio residency at the gallery.
"Being selected for the RAD x Earth Canvas residency is a unique opportunity, one that I will relish," Miss Phelps said.
In October, local printmaker Elaine Camlin will spend the residency creating a new body of work exploring her identity as an artist after many years working as an art therapist and community arts facilitator.
"I look forward to creating work that will contribute to a renewed sense of belonging, with the opportunity to examine how relationships and experiences with artists, gallery staff and visitors contribute to reflexive art practice," Ms Camlin said.
In August, the exhibition program will continue with emerging photographer Brittany Hefren's first solo exhibition Windows of Wonder. Miss Hefren blends botanical photography and portraiture to draw parallels between patterns observed in nature and human experience.
The final exhibition of 2023 will start in September, when Snowy Valley photographers Vanessa Keenan and Nat Ord unveil Mid Stories II. This new collaborative exhibition will explore the ongoing effects of the devastating Black Summer bushfires on landscapes and communities.
"It's important for surrounding communities to understand that not only are the impacts on our landscapes and community from the Black Summer fires ongoing, but that regeneration and healing remains a constant," Ms Keenan said.
"It's vital for a regional gallery to tell regional stories and the Art Gallery's RAD exhibitions program presents a unique opportunity to showcase our communities and voices through art."