---
Projects & Works
Maintaining the tempo on rehabilitating our local roads
Published: 10 Mar 2023 12:22pm
Night works are set to commence on Sunday evening on rehabilitating and resurfacing another key road in the industrial area of East Wagga Wagga, as part of Council's ongoing road rehabilitation program of works.
The pavement renewal and improvement works are in Nagle Street, from the Sturt Highway (Hammond Avenue) heading south for a length of 550m.
Nagle Street will be closed to through traffic between 6pm and 6am for the duration of the works, which are expected to run from Sunday 12 March to Friday 17 March.
Businesses will still be able to access to their premises during the night works from the Copland Street access to Nagle Street via Sutton and Jones Streets only.
Council's Manager Transport & Traffic Jamie Harwood said Nagle Street carries a lot of commercial and industrial traffic accessing the businesses in this area.
"We are undertaking the works at night to minimise inconvenience to road users and surrounding business, as well as for the safety of crews working on the site," Mr Harwood said.
"We apologise for any inconvenience this work may cause and appreciate the patience of business operators and road users."
Detours via the Sturt Highway and Copland Street will be in place during the night works.
The road will reopen to traffic during the daytime.
In the meantime, road stabilisation and reseal works on Avocet Drive in Estella and on Watson Boulevard at Lloyd are expected to wrap up on Monday, while crews this week completed the rehabilitation of Bourke Street, between Holbrook Road and Bourkelands Drive.
The first stage of the upgrade of a 5.4-kilometre section of unsealed road on Old Narrandera Road, near Council's boundary with the Narrandera Shire Council, is about to reach a milestone.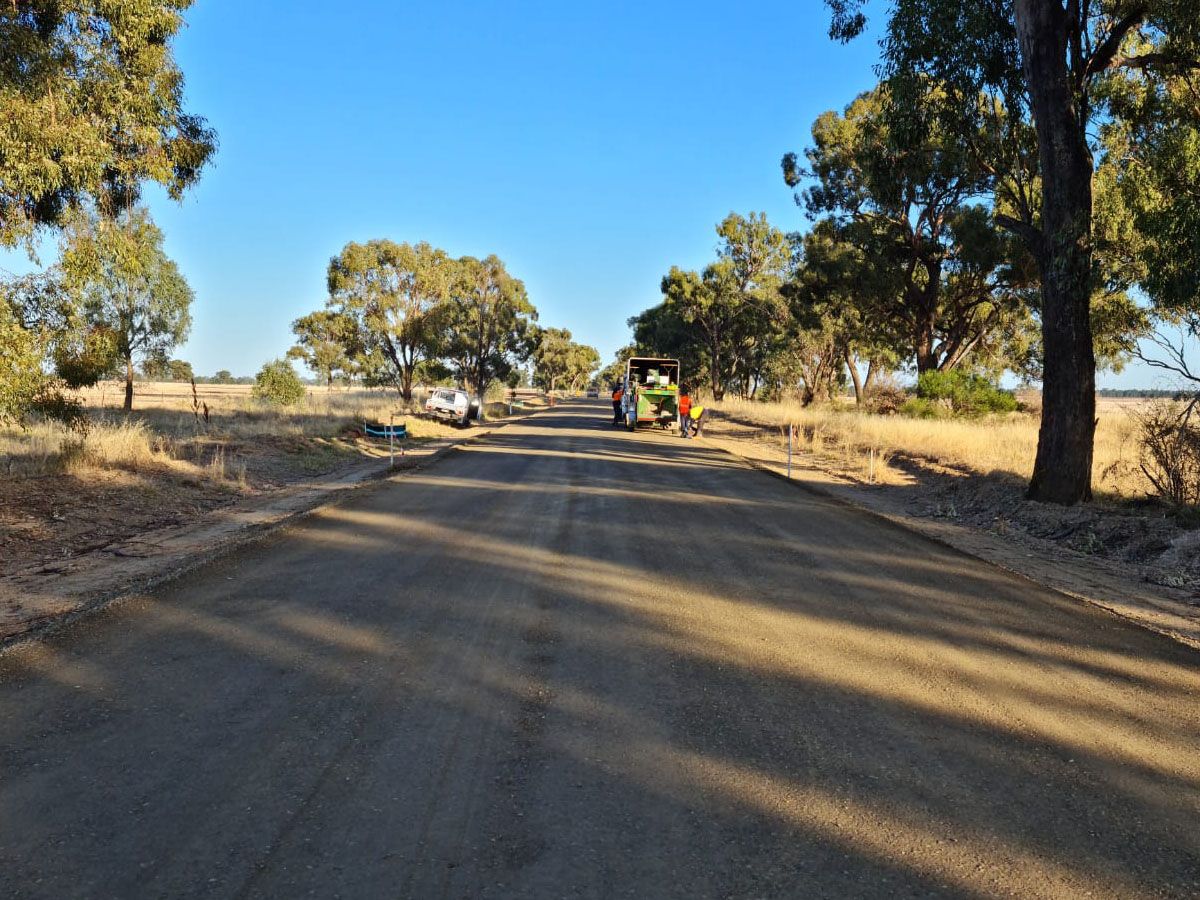 Crews have almost finished the pavement reshaping and formation work on the initial three-kilometre section, and sealing is scheduled for later this coming week.
The program of works is being funded by Council, the Australian Government through its Local Roads and Community Infrastructure Program as well as its Roads to Recovery Program, and the NSW Government through its Regional and Local Roads Repair Program as well its Fixing Local Roads Program and REPAIR Program.
Roadworks Program
| | | |
| --- | --- | --- |
| | | |
| | Old Narrandera Road – between Olympic Highway and Pine Gully Road | |
| | Inglewood Road – from Mitchell Road east for 2.4km | |
| | Mitchell Road – from Inglewood Road to Brunskill Road | |
| | Copland Street – between Blaxland Road and Tasman Road | |
| 30 January – late March / early April | Old Narrandera Road – approximately 24 km west of Currawarna | |
| | Lloyd Road – from Plumpton Road to Holbrook Road | |
| | Bourke Street – from Holbrook Road to Red Hill Road | |
| | Huthwaite Street – between Pratt Street and Hopkins Street | |
| | Avocet Drive – from Boorooma Street to Franklin Drive | |
| | Watson Boulevard – between Red Hill Road and Lingiari Drive, including the roundabout | |
| | Nagle Street – from Sturt Highway south for 500m – NIGHT WORKS | |
| | Macleay Street – between Erin Street and Urana Street | |