---
Projects & Works
Livestock Marketing Centre Sheep Yard concreting ramps up
Published: 12 May 2023 10:58am
The upgrade of the Livestock Marketing Centre (LMC) continues with the concreting of the sheep yards this week.
The existing bitumen surface of the sheep yards was laid more than 50 years ago in the mid-1970s during the initial establishment of the LMC.
It is now in poor condition and poses risks to visitors and livestock that come into the facility on a weekly basis. Potholes and uneven surfaces present a danger within the fast-paced environment.
The removal of the bitumen and its replacement with concrete looks to rectify these issues by leveling out walkways where buyers move between pens, and smoothing out holding pens, reducing the risk of injury to livestock.
The holding pens also have textured surfaces to minimise slipping and directing waterflow to the drainage systems.
Excell Gray Bruni was awarded the $1.9 million concreting contract by Wagga Wagga City Council in August 2022 and the concreting of the sheep yards commenced in October 2022.
LMC Manager Paul Martin said it is being undertaken in stages between sales days to ensure the operations of the facility can continue with little or no disruption.
"We have been working with the contractor to coordinate the pour of the concrete and allow enough time for it to set between sheep and lamb sales days, which are held every Thursday," Mr Martin said.
"It's a tight schedule and is dependent on other factors such as the weather. So far it has gone reasonably smooth and is running on time."
An estimated 60 cubic meters of cement is required for each of the 34 rows of pens.
The concreting of the sheep yards is another step in the overall upgrade of the LMC which commenced in 2017.
So far works have included the expansion of the cattle yards, relocation and roofing of the calf pens, and the installation of an elevated pedestrian walkway.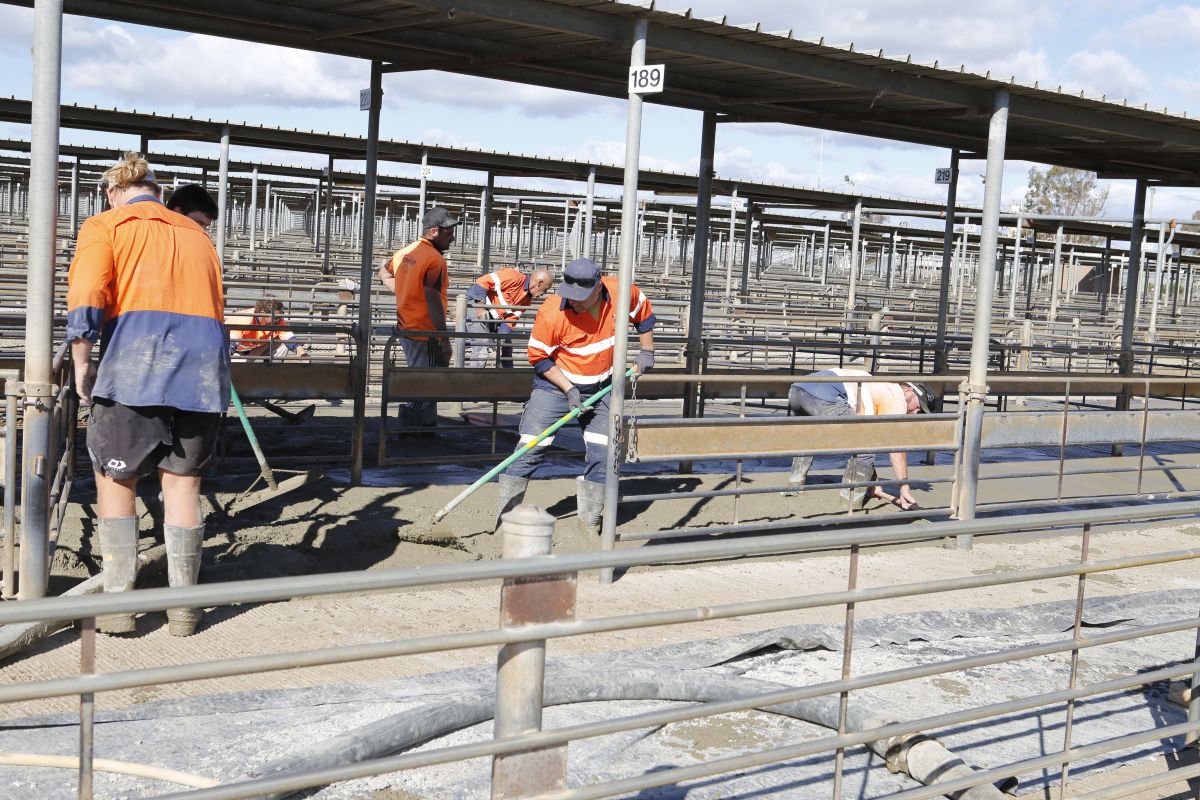 The LMC is the largest livestock sales facility in Australia in terms of animals that pass through each year, making it a leader in the industry and an asset to Wagga Wagga.
Maintaining the functionality, appearance, and potential for growth of the facility is an investment into the future of the livestock industry in the region.
In 2018/19 the value of the livestock sold through the LMC was $430 million. It is estimated this brings a contribution of $32.6 million to the local economy.
The concreting of the LMC sheep yards is expected to be completed by the beginning of June 2023.