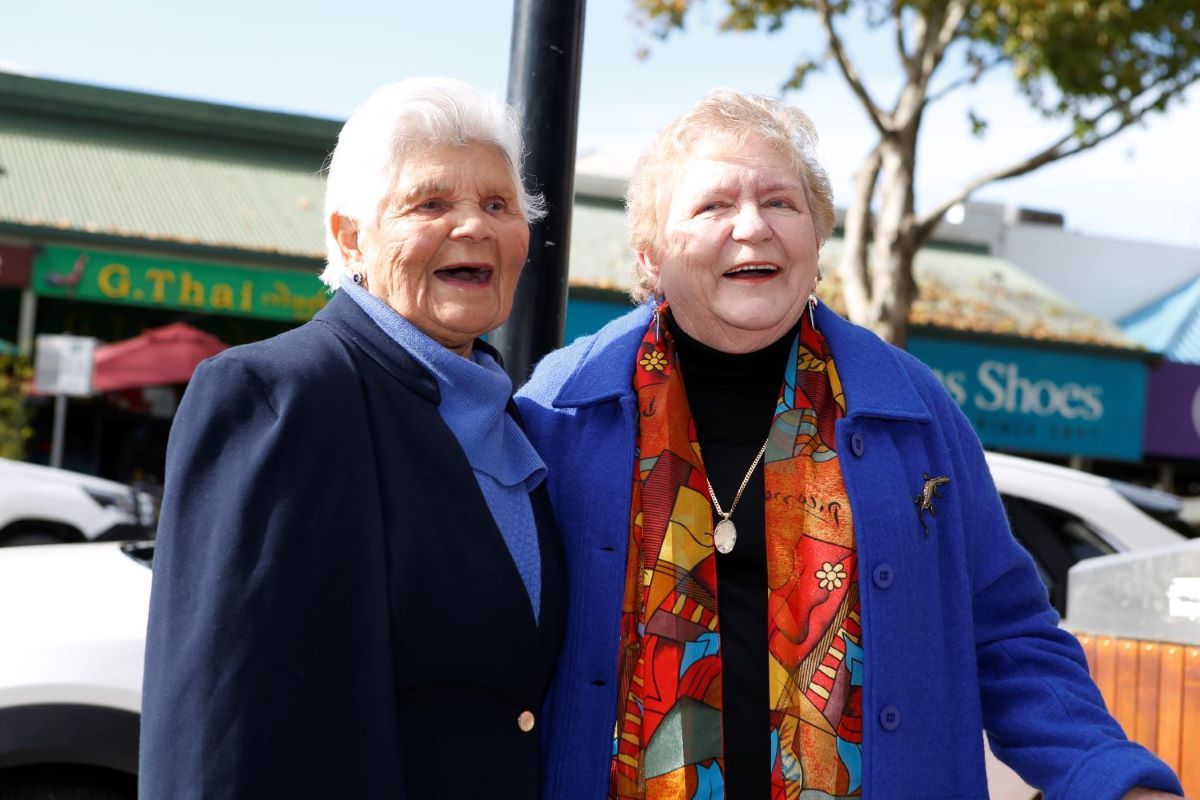 ---
Community
Plaques for 2023 Walk of Honour recipients officially unveiled
Published: 25 May 2023 4:19pm
Two plaques for Wagga Wagga's 2023 Walk of Honour recipients, Wiradjuri/Wiradyuri Elders Aunty Isabel Reid and Aunty Kath Withers, were officially unveiled in the city's Baylis Street precinct today.
The Walk of Honour was established in 1998 and recognises individuals who have made significant contributions to the community of Wagga Wagga.
Mayor of the City of Wagga Wagga Councillor Dallas Tout said he was pleased to see widely respected Wiradjuri/Wiradyuri Elders, Aunty Isabel Reid and Aunty Kath Withers, become the 39th and 40th inductees respectively.
"These plaques are recognition of their dedication over their lifetimes to the community," Cr Tout said.
"Senior Wiradyuri Elder Aunty Isabel has spent her life advocating for the Stolen Generation survivors receiving redress and inspired all First Nations people by conducting herself with Yindyamarra (respect).
"Aunty Isabel is an effective leader and advocate in the areas of education, juvenile justice, reparations for survivors of the Cootamundra Domestic Training Home for Aboriginal Girls, the need to follow cultural protocols, and for Australia to be a united and harmonious country."
Aunty Isabel Reid said it was a great honour to be recognised by her community.
"It's very exciting and over-whelming, and a great honour" said Aunty Isabel.
"I've loved having my family here to see the unveiling of the plaque".
Aunty Isabel was named as the 39th Walk of Honour inductee during Wagga Wagga's Australia Day Awards ceremony in January. Her plaque is displayed along eastern side of Baylis Street, near the entrance to the Sturt Mall.
Aunty Kath Withers has spent her life supporting families in crisis and her First Nations community through foster caring.
Aunty Kath has served as a carer for more than 100 children over several decades.
"Today's unveiling is a celebration of Aunty Kath's contribution to many education initiatives and her support for Wagga Wagga early childhood centres," Cr Tout said.
"Her time in those centres had included teaching children about Wiradyuri culture through storytelling, art programs or Welcome to Country ceremonies."
Aunty Kath Withers was excited about today's event, and saw it as great recognition in Wagga Wagga.
"I just love this city, and I am honoured to have this plaque here for people to see" said Aunty Kath.
When asked why she has been the foster carer for so many children her answer was simple "because every child needs love".
Aunty Kath was named as the 40th Walk of Honour inductee. Her plaque is located on the western side of Baylis Street, near the entrance to Diamonds on Baylis Street shopfront.