---
Events & Tourism
Record crowd for Raiders NRL clash at McDonalds Park
Published: 02 May 2023 3:40pm
A record number of fans converged on Wagga Wagga's McDonalds Park on the weekend to watch the NRL Premiership round 9 blockbuster between the Canberra Raiders and the Dolphins.
The clash on Saturday 29 April did not disappoint, going into extra time after the score was locked at 30 – 30 at full-time: a Golden Point field goal giving the Green Machine a 31 – 30 win over the Dolphins.
The official attendance was 10,445, breaking the record set at the Raiders' first NRL game in Wagga Wagga in 2019, where 10,079 people watched the Green Machine defeat the Penrith Panthers.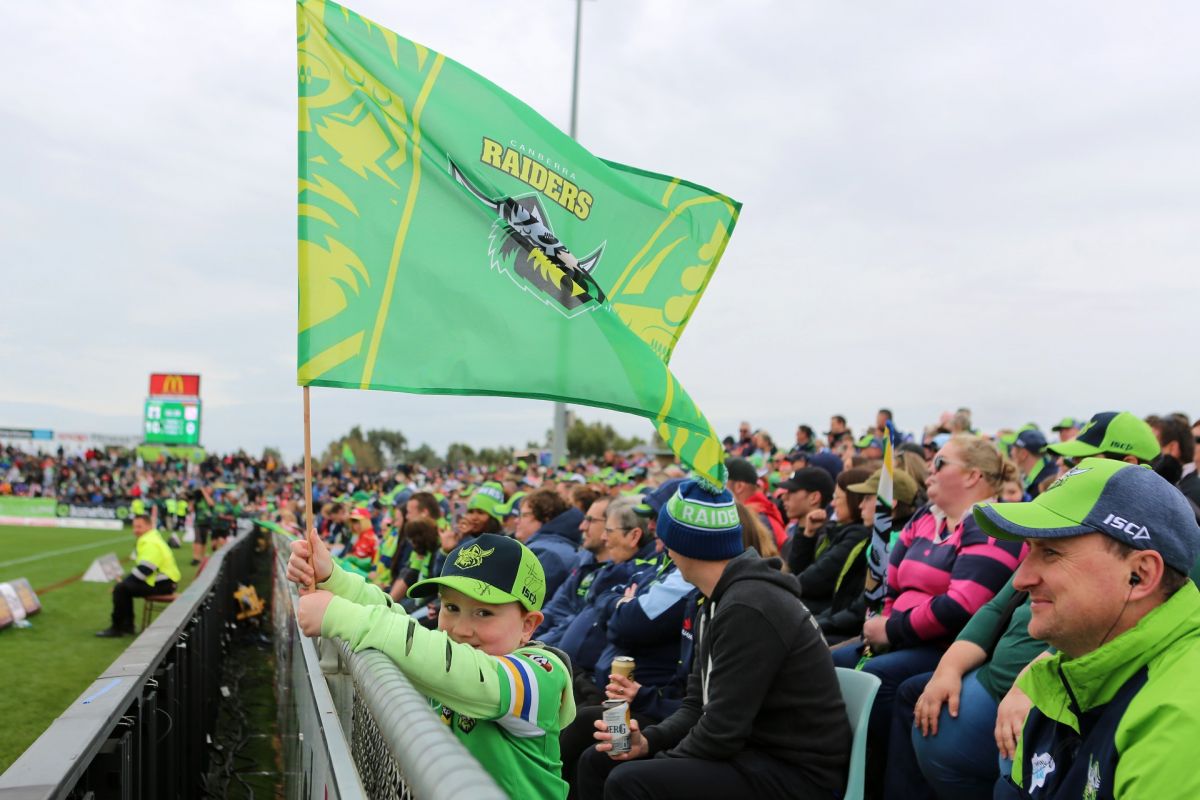 Mayor of the City of Wagga Wagga Councillor Dallas Tout was pleased to see so many people of all ages cheering on the teams last weekend.
"It was a thrilling game and I think everyone who came to McDonalds Park, from near and far, had a great day, even if their team wasn't the winner on the day," Cr Tout said.
"Our city has been fortunate to have the Raiders play here four times in the past five years, and hopefully there will be more to come in the future."
In 2018, the Raiders and Council originally entered a partnership for Wagga Wagga to host two NRL Premiership games over 2019 and 2020, with the option for a third in 2021.
After the 2020 game was postponed due to COVID-19, the Raiders returned in 2021 and then extended the partnership for 2022 and again for 2023.
"Council will be holding further discussions with the Raiders executive in the coming months with the view to securing elite level Rugby League content into the future," Cr Tout said.
"The exact nature of the future Raiders presence in the city is currently unknown but discussions to date have been positive, with the Raiders indicating they are keen to continue the strong relationship with Council and the Riverina region.
"The hosting of these events brings millions of dollars of economic benefit to the city and surrounding region. It's estimated that the game on the weekend would have delivered close to $3 million in economic benefit, which is a boost to local businesses coming off the back of the COVID impacts of recent years.
"Wagga has a great track record of hosting and supporting sporting events and Council will continue to explore all options regarding bringing future events to the city."
Manager Recreation & Economic Development Ben Creighton said Council appreciated the support of the NSW Government, after receiving $110,000 under the Regional Events Acceleration Fund.
"Funding plays an important role in bringing events like the NRL game to Wagga Wagga," Mr Creighton said. "The event provided an opportunity to bring visitors to the region and created a positive economic impact for local businesses."
The NSW Government's Regional Events Acceleration Fund supports the social and economic recovery of regional communities who have been affected by floods, droughts, bushfires.