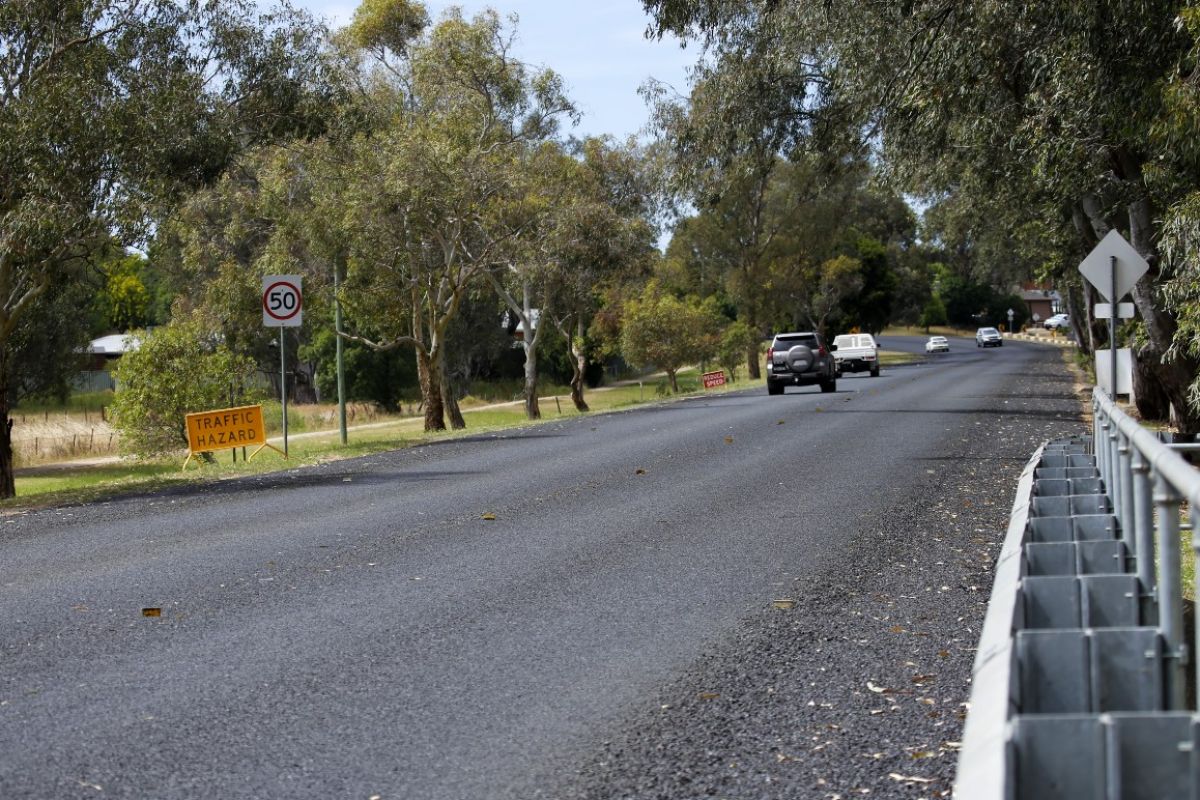 ---
Projects & Works
Works to apply the final seal to several key roads in our network
Published: 16 Nov 2023 12:02pm
Wagga Wagga City Council is advising motorists to be aware contractors are in the process of applying the final bitumen seal on a number of road work projects across the Local Government area.
The crews will carry out sealing works on Coolamon Road at the Houlaghans Creek Bridge on Saturday 18 November, and then on the section of Bourke Street between Fernleigh Road and Urana Street the following Saturday, 25 November, weather permitting.
Director Infrastructure Services Warren Faulkner said this work is the penultimate stage of completing the 2022-2023 program of pavement renewal and improvement projects undertaken on several key connector roads within the Council area over the last 11 months.
"We're now moving full steam ahead on completing those works by spraying the final bitumen seal on the roads which we stabilised and rehabilitated in May and June this year," Mr Faulkner said.
"We did not apply the final seal back in June as the weather conditions were too cool and damp to allow for the bitumen to stick to the pavement effectively.
"Instead, due to the timing of the construction completion in the cooler months of the year, an initial primer seal was applied during the works back in Autumn as a temporary wearing course and seal to protect the rehabilitated pavement until the weather conditions were more suitable for applying the final seal.
"Council's intent has always been to start the final seal program on these projects once the weather had warmed up, and that is what we're doing now."
The last stage of this work is to remark the lines on the road. This will not occur for at least a month after the final seal works are completed to allow the impurities in the bitumen to settle.
Earlier this week, the final seal was applied to a 1.6-kilometre stretch of Lake Albert Road between the Kooringal Road roundabout and Eastlake Drive, as well as a 1.1-kilometre stretch of Old Narrandera Road west of the intersection with Pine Gully Road.
Mr Faulkner said there had been some instances of the initial primer seal stripping off the pavement on Lake Albert Road and Bourke Street, particularly at higher-stress locations such as intersections where vehicles brake and turn.
"These issues are being addressed as part of the final seal application process, currently underway," Mr Faulkner said.
Motorists and other road users are advised traffic control measures will be in place during the sealing works on Coolamon Road and Bourke Street on 18 November and 25 November respectively.
To stay up to date on road works taking place across the Wagga Wagga Local Government Area: