---
Parks & Recreation
Council recognised for resilient Riverside with State award
Published: 08 Sep 2023 1:10pm
Wagga Wagga City Council was recently awarded a major Statewide Mutual Risk Management Excellence Awards (RMEA) award 2023 - large regional and metropolitan councils - for its Riverside Stage Two Project.
Council was the winner of the operational risk category for its submission "Building Flood Resilience into Play", recognising the Riverside Stage Two Project, including the Regional Playground, for its resilience to flooding.
Riverside and the playground has transformed the former St Michael's Oval and Wagga Wagga Beach and caravan park site into an accessible and high-quality recreation and events precinct.
Given Riverside is located alongside the Murrumbidgee River and is prone to flooding, a key objective of Stage Two of the project was to incorporate design concepts and management plans to ensure flood resilience.
This included ensuring elements of the project were constructed so they could be quickly removed or could withstand a flooding event.
The softfall and footings of the playground equipment were required to be flood resistant, while elements such as electrical infrastructure were strategically planned so they could either be removed prior to flooding or were positioned high enough to be above the flood waters.
Stage Two of the newly redeveloped Riverside precinct was officially opened to the public in June 2022, and experienced its first flood in August 2022, followed by further floods in October and November.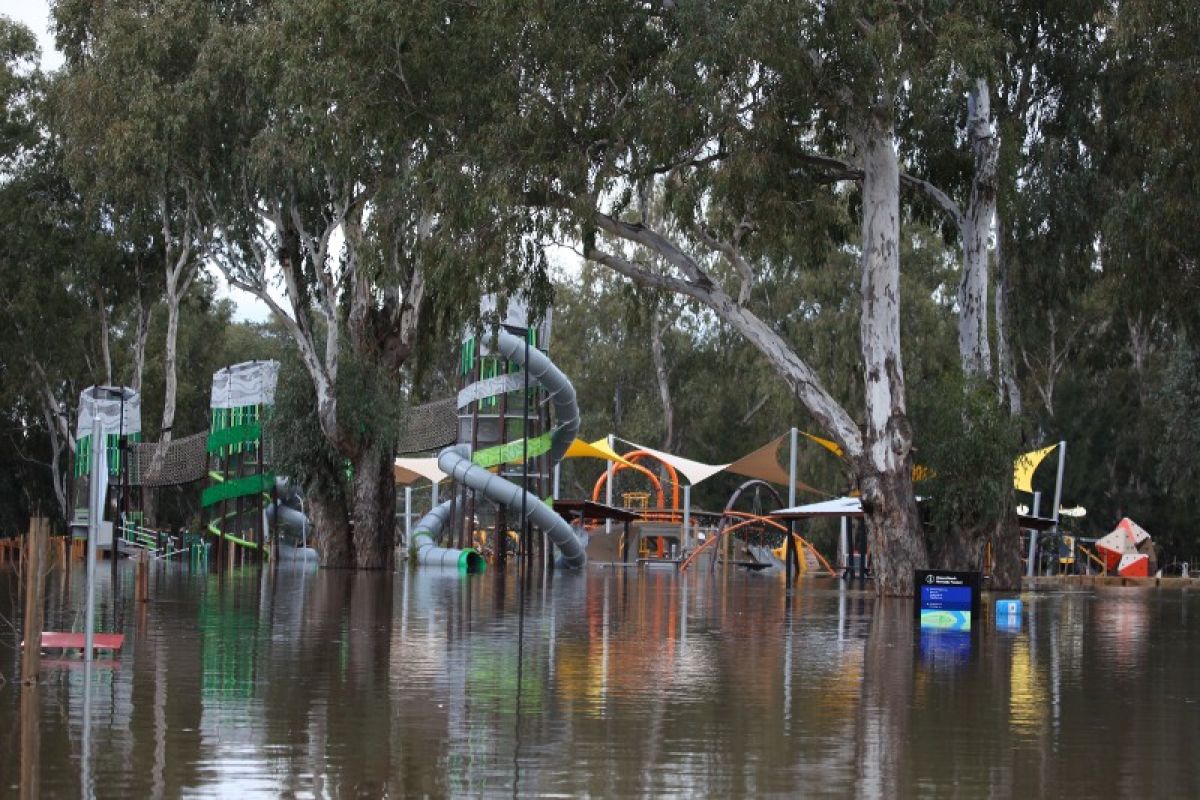 Manager Recreation & Economic Development Ben Creighton said the playground and precinct withstood the flooding as hoped.
"We knew the design was structurally sound and built to withstand a flood event, and despite the inundation the equipment fared well," Mr Creighton said.
"Once the water receded all that was needed was the cleaning away of the mud, disinfecting the equipment, and replacement of some mulch."
It is this planning and resilience that has earned Council the Statewide RMEA Risk Management Excellence Award.
"We are happy to be the recipient of this award which recognises the innovative design of our Riverside Stage Two Project and Regional Playground" Mr Creighton said.
Council also received a highly commended RMEA award for its submission "Stopping Incidents Not Trucks" - a risk management approach to reducing incidents involving truck-trailers at the Tarcutta truck interchange yard, a popular rest stop for truck drivers.
Council received several claims over successive years involving truck-trailers rolling off the slope in the yard while parked, causing damage to vehicles and council infrastructure.
Following a site inspection, risk assessment, stakeholder consultation and review, a simple and cost-effective solution was implemented; signage reminding truck drivers to put on their parking brake while at the site, rather than a very costly and lengthy redevelopment of the facility.
The Statewide RMEA acknowledges excellence by NSW councils in implementing risk management initiatives and promotes innovative risk management practices.
It also raises awareness of risk management challenges and the positive work being undertaken by local government councils to mitigate risk to people and places across NSW.
For more information about the Riverside Stage Two Project go to wagga.nsw.gov.au/projects/riverside-redevelopment-stage-2