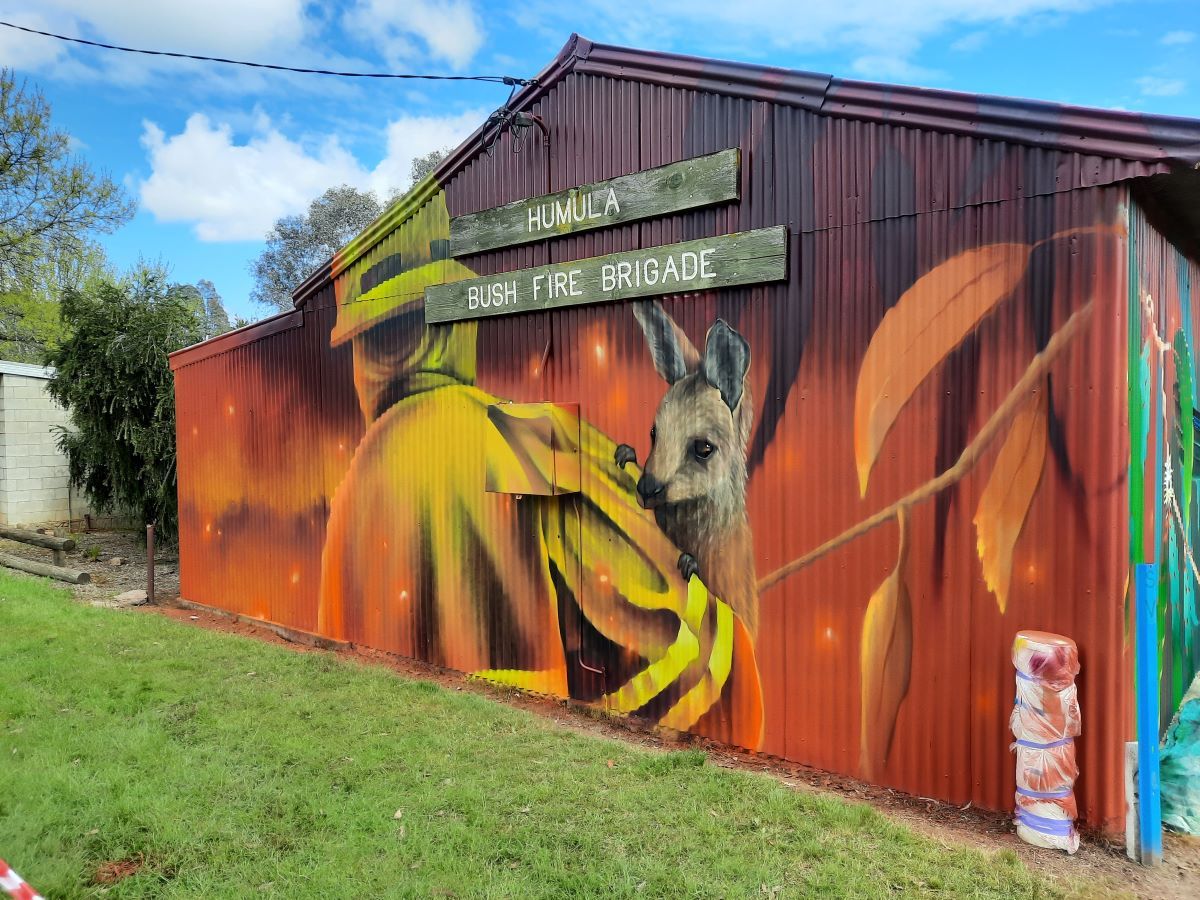 ---
Arts & Culture
Humula Bush Fire Brigade Shed brought to life with mural
Published: 26 Sep 2023 2:16pm
The Humula Bush Fire Brigade Shed has received a makeover with artist Alex Sugar in town last week painting a large-scale mural on the external walls.
In March 2023, Wagga Wagga City Council called for expressions of interest from experienced artists to design and install a mural artwork on the walls of the Humula Bush Fire Brigade Shed.
The purpose of the mural is to celebrate the community of Humula by invigorating this important piece of community infrastructure.
Artist Alex Sugar was selected by Council and the Humula community for his design that honours the spirit of the site, highlighting the important relationship between Humula's community particularly focusing on the incredible service of local volunteer firefighters and the rich natural environment.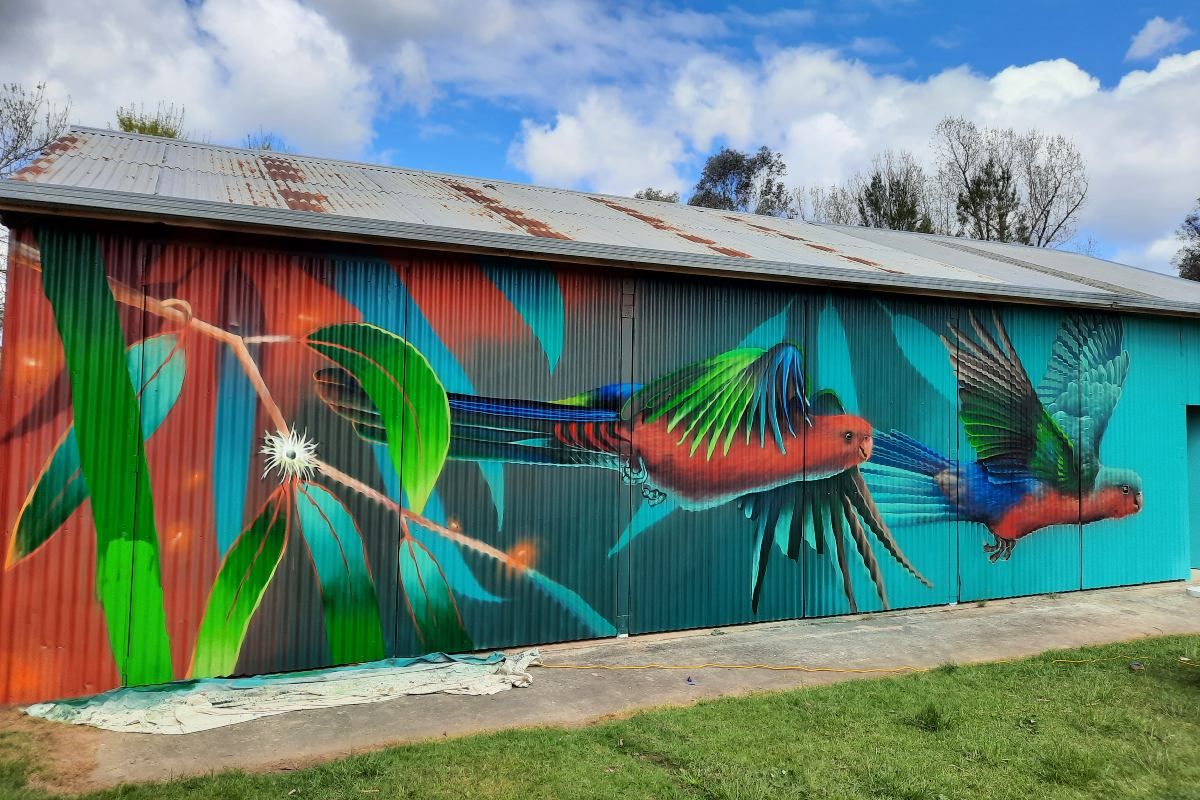 The completed mural features a NSW Royal Fire Service (RFS) volunteer carrying a joey away from a bushfire, beautiful king parrots soaring through the sky away from danger, and 'Elvis' the NSW RFS helicopter which has been so integral to fighting major bushfires in the area over the years.
Alex Sugar is a Melbourne-based realism painter well-known for his large-scale murals and studio works depicting native Australian flora and fauna.
To date, his mural work can be found in Melbourne, Brisbane, Adelaide, Sydney, Perth, Paris, Berlin, London and Barcelona, and now Humula.
"It's been great (being here in Humula) … some of the locals have come down to give their feedback, which has all been positive so far," Alex Sugar said.
The communities in regional towns are just amazing, especially Humula… I love coming out to the country."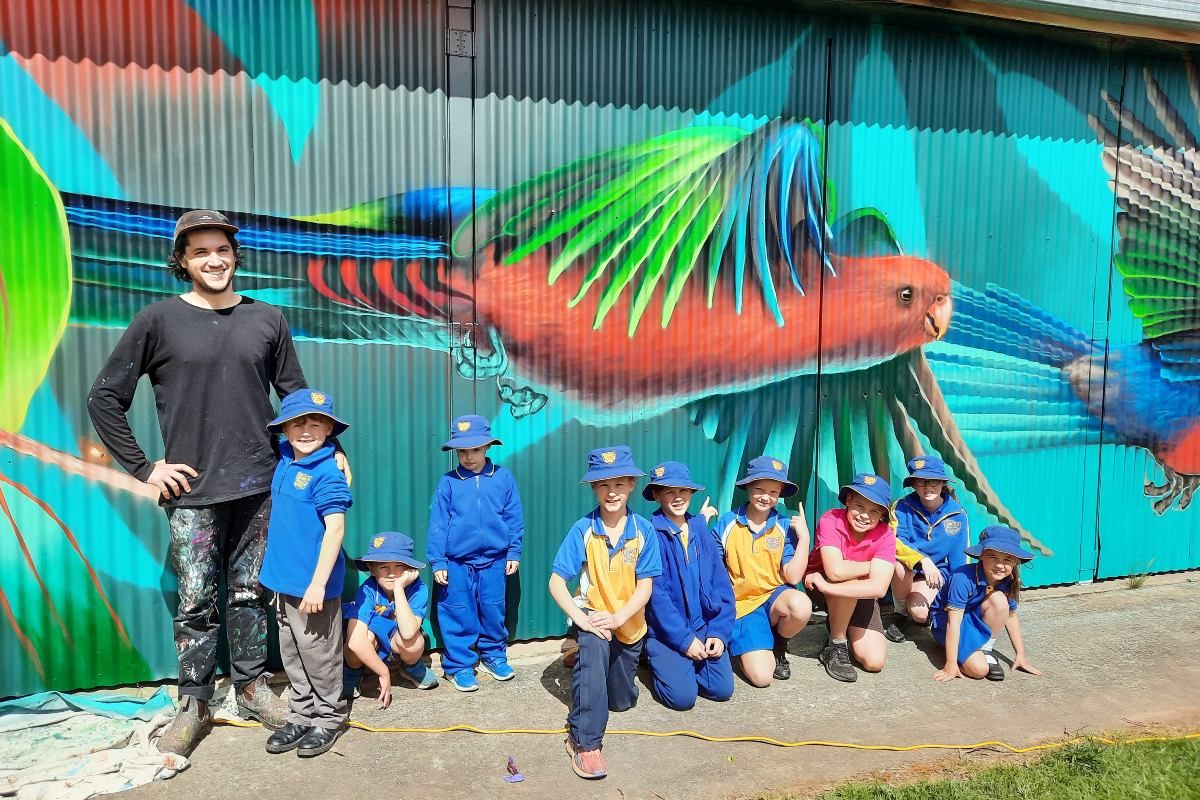 Last week students from Humula Public School visited the site to see Alex at work, allowing the students the opportunity to see how he works, what material and techniques he uses, and to ask questions.
This commission is a project of the Public Art Plan 2022-2026. To view the plan visit the Public Art Plan page on our website.