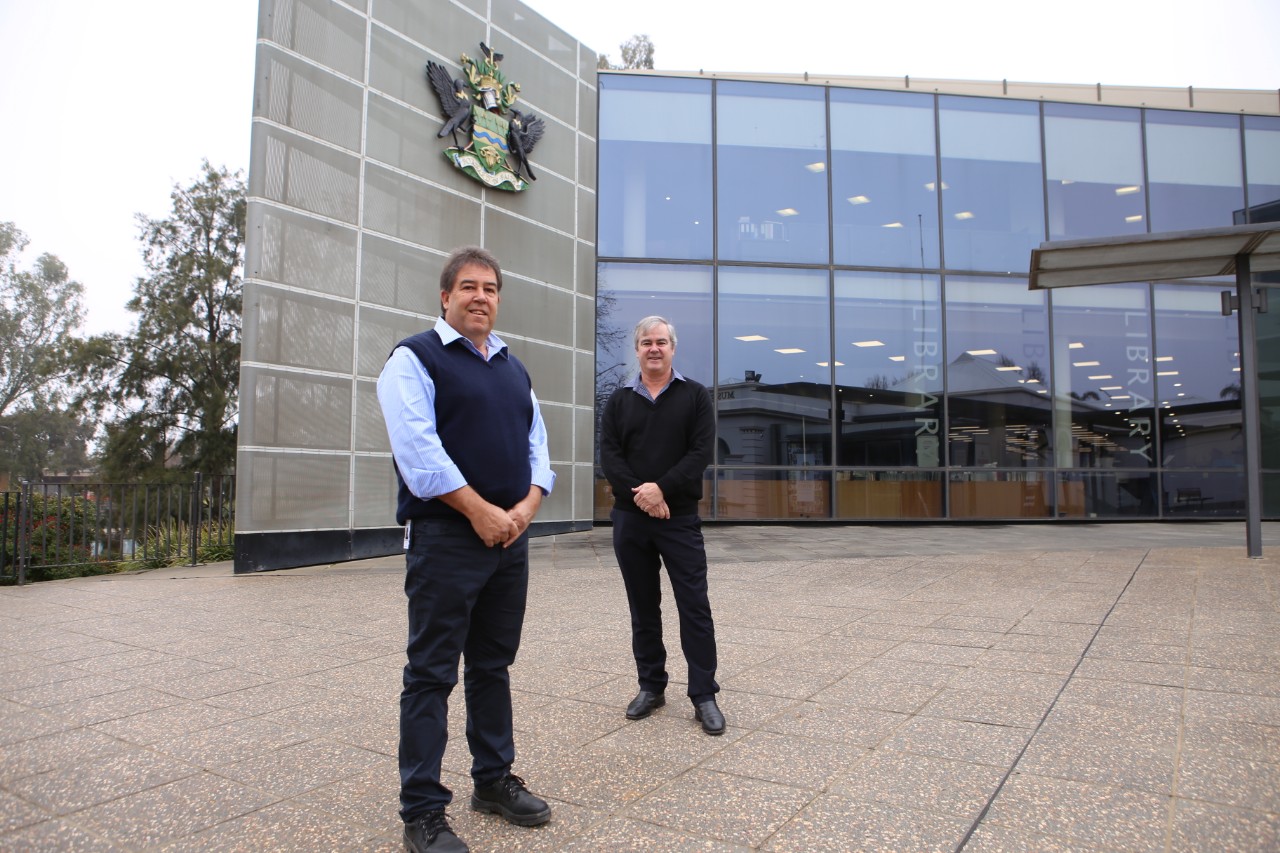 ---
Council
Council's new Directors set for challenge
Published: 31 Jul 2020 6:33am
Two new Council Directors set to lead the next wave of Wagga Wagga's infrastructure building boom have landed in the city ready to tackle everything the job promises.
The first few weeks of Warren Faulkner and Darren Raeck's time in the city has been spent on site at major projects and in meetings planning the next round of works.
Wagga Wagga City Council's Commercial Operations directorate has been split into two sections with Mr Faulkner charged with Operations and Mr Raeck in Projects and Strategy.
"We've hit the ground running, no doubt about it," Mr Raeck said.
"There is plenty to familiarise ourselves with and getting across the current book of works and what is coming up has been a priority.
"Wagga is moving ahead as a regional capital city when you see the number of shovel-ready projects and others that are not too far behind. There is many millions of dollars being invested in the city and now it's our job to build on that investment and bring the projects to fruition."
Mr Raeck, with a background in engineering and also a Masters Degree in Business, worked for 20 years in the North West region of Victoria with a focus on the water and waste water industries.
The past four years were spent with Narrabri Shire Council where he got an appreciation of the diversity of local government and working directly on community projects.
Mr Faulkner, a Civil Engineer with management qualifications as well, has worked at the City of Melville in Perth and the Liverpool Plains and Tamworth Regional Councils dealing in asset management including roads, water, sewer, floodplain management, strategic planning and sub-divisions.
He also did a three-year stint in State Government with the Roads and Maritime Services on the New England Highway, and brings six years experience as a director and 16 years as a manager of operations to the Wagga role
"Local government is exactly that, it's local … that's what I like about it," Mr Faulkner said.
"You're at the coalface of the community, dealing with infrastructure every day that will directly have an affect on the community you live in.
"I am particularly impressed with the growth of Wagga and that was an attraction for me … there's a big city feel with rural aspects as well."
Both Mr Faulkner and Mr Raeck highlighted the developments at Bomen's industrial precinct as a drawcard to the city.
"These types of developments – the Special Activation Precinct and the intermodal hub – will be the economic drivers for this city for many years to come," Mr Raeck said.
"It's an important project for this city and this region, and one we want to see reach its true potential in the very near future."
Pictured Above: Director Operations Warren Faulkner (left) and Director Projects and Strategy Darren Raeck.